Antonio Brown Bought His Dad a Rolex for Wasted Time — inside Their Complicated Relationship
NFL wide receiver Antonio Brown has football skills running in his genes through his father, retired AFL star, Eddie Brown. Unfortunately, the father and son cannot catch a break with their on-and-off relationship.
Over the last few years, there has been so much talk surrounding the enormous talent that NFL star Antonio Brown brings to the game. However, his off-field antics continue to threaten to end his promising career.
Despite having a father, Eddie Brown, a superstar footballer in his own right, Antonio has found it difficult to manage the fame that has come with his meteoric rise to stardom.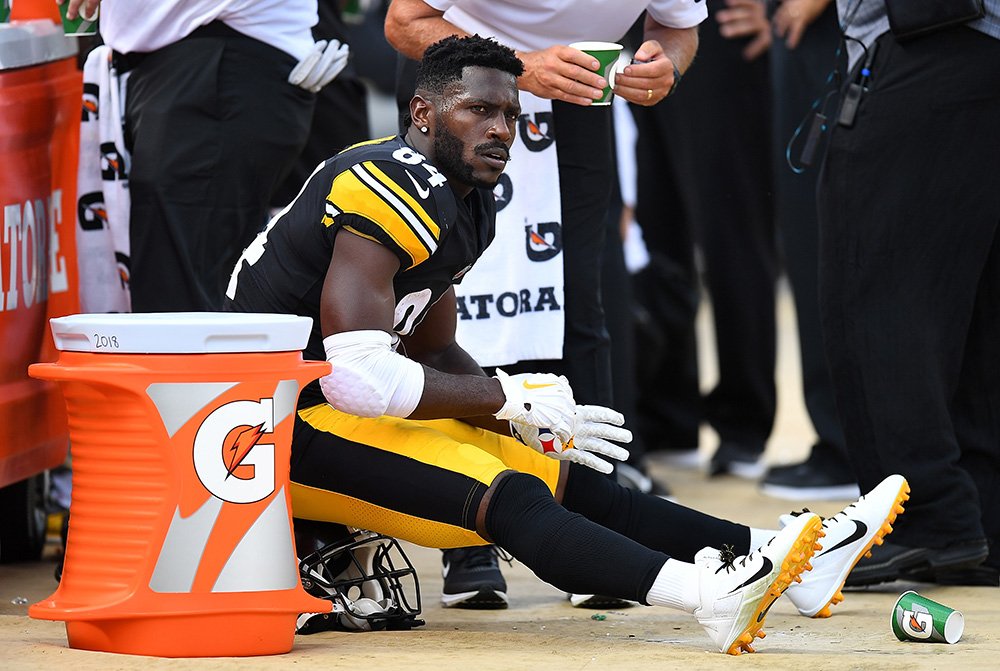 In fact, the well-documented relationship between the two can at best be described as complicated. In between all the drama, Eddie still tries to make up for the lost time. 
MEET ANTONIO BROWN'S DAD 
Even though Antonio Brown had no relationship with his father during his childhood, there is no doubt that he inherited some of his athletic ability from his father.
Eddie Brown is regarded by many as one of the best players in the Arena Football League history. Eddie is a Miami native, and he quickly earned a reputation as a junior college standout. 
He played two seasons at Louisiana Tech, where he racked up impressive statistics — scoring a total of 13 touchdowns. His exploits earned him a move to the then-Phoenix Cardinals, but Eddie Brown's NFL career ended prematurely after being cut during training camp in 1992.
Kyriss also requested that Antonio's time with the boys be supervised due to his incapacity to make decisions that serve their children's best interests.
After failing to make it with the Cardinals, Eddie got a second shot at a professional football career when he joined the Arena Football League's Albany Firebirds.
Eddie hit the ground running — scoring six touchdowns in his first game for the Firebirds. While playing for the Firebirds, Eddie became a fan-favorite and earned the nickname "Touchdown Eddie Brown" after scoring an astonishing nine touchdowns in a single game.
Eddie continued to post ridiculous statistics throughout his career, including 950 catches for 12,736 yards and 303 touchdowns between 1994 and 2003. His performances did not go unnoticed, and he was voted the greatest player in Arena Football history in 2006.
ANTONIO BROWN'S DIFFICULT CHILDHOOD
Eddie Brown's route to AFL stardom was not without its challenges, and realizing his professional football dreams ultimately came at the expense of his family life. 
The former Albany Firebirds star was 18 when his first son, Antonio Brown, was born. Barely a year after his son's birth, Eddie took off to play wide receiver for Louisiana Tech, leaving his newborn son and his mother, Adrianne Moss, behind.
In 1996, eight-year-old Antonio and his younger brother spent a few months with their father in Albany, but that summed up their relationship with him.
The absence of a father figure caused Antonio to have a challenging childhood. His mom Adrianne Moss moved on with a new partner Larry Moss, and Antonio did not get along with his stepfather. Moss raised her son until he was 16, but he became homeless at that point. According to ESPN:
"[Antonio] bounced among friends' sofas, sometimes sleeping in cars. If he could scrounge up the money, he'd stay in a cheap hotel room."
Antonio finally began to find some direction when he attended and played college football for Central Michigan between 2007 and 2009. It was while at college that he reconnected with his father.
EDDIE'S RELATIONSHIP WITH SON
While Antonio played college football, Eddie sought to make up for the lost time and tried to reconnect with his son. While speaking about his first interaction with his son after many years, Eddie said that he remembered going to the field after one of Antonio's games against Ball State. According to Eddie, Antonio walked past him at the game without acknowledging his presence. 
Today I'm celebrating my dad by partnering w/ @Toyota. Join us by sharing photos of your dad with #OneBoldChoice. pic.twitter.com/bBcZ8EJ6Ma

— AB (@AB84) January 19, 2015
Eddie was not discouraged by the snub and got to have a conversation with his son at a different game. The father and son finally put the previous years behind them and began making public appearances together.
In fact, the father and son seemed to have the perfect relationship as they regularly sang each other's praise in the media. In 2018, when Eddie's jersey was retired, Antonio was right by his side to celebrate the big day.
Antonio rolled out several events to celebrate his dad, including a boat ride and elaborate dinner. The 32-year-old NFL pro also revealed he was proud of his father's accomplishments.
Eddie Brown is even more impressed by his son's brilliance on the field and admits that there are no arguments about who is the better player between them. In 2019, the father and son brought everyone back to reality with their publicized row.
In the wake of all the drama surrounding Antonio on and off the field, Eddie was very critical of his son and claimed that he did not know how to handle the NFL's overwhelming pressures. Antonio could not ignore his father's criticism and responded with a weighted dig at the AFL legend. He tweeted:
"My dad a failure with 9 kids working @ups he still pays my mom child support do not take anything he says serious I just bought him a Rolex for waisted [sic] time!!"
ANTONIO'S CONTROVERSIAL LIFESTYLE
On September 19, 2010, Antonio made his NFL debut for the Pittsburgh Steelers against the Tennessee Titans. Over the last decade, Antonio has evolved into one of the NFL's best receivers. 
During that time, Antonio has mostly courted controversy, which has led to him changing teams three times in the last two years. From training ground bust-ups to confrontation to team handlers, Antonio has been surrounded by negative press.
It is not any different from the field as he continually finds himself on the wrong side of the law. More recently, Antonio Brown's family has been the source of media debacle after the wide receiver was slammed with a lawsuit by the mother of his three sons, Chelsie Kyriss. The latter is seeking full custody of their kids.
Apart from seeking sole parental responsibility, Kyriss also requested that Antonio's time with the boys be supervised due to his incapacity to make decisions that serve their children's best interests.
Antonio undoubtedly inherited some of his athleticism from his dad. Still, he would do right to avoid making the same mistakes with his family that inevitably scarred his relationship with his dad.