Rapper Megan Thee Stallion Displays Curves in a $105 Nude Dress — Check Out the Stunning Snaps
Rapper Megan Thee Stallion recently brought the heat to her Instagram fans with stunning snaps of the star in a nude dress that flaunted her show-stopping curvy physique.
Megan Thee Stallion is riding the wave of her latest hit song, "Body" which has been making waves on the hip hop scene and is currently sitting at number one on the Billboard streaming songs chart.
In a recent snap, the rapper, whose real name is Megan Jovon Ruth Pete, delighted her Instagram fans with a sexy photoshoot featuring her in a skintight nude dress.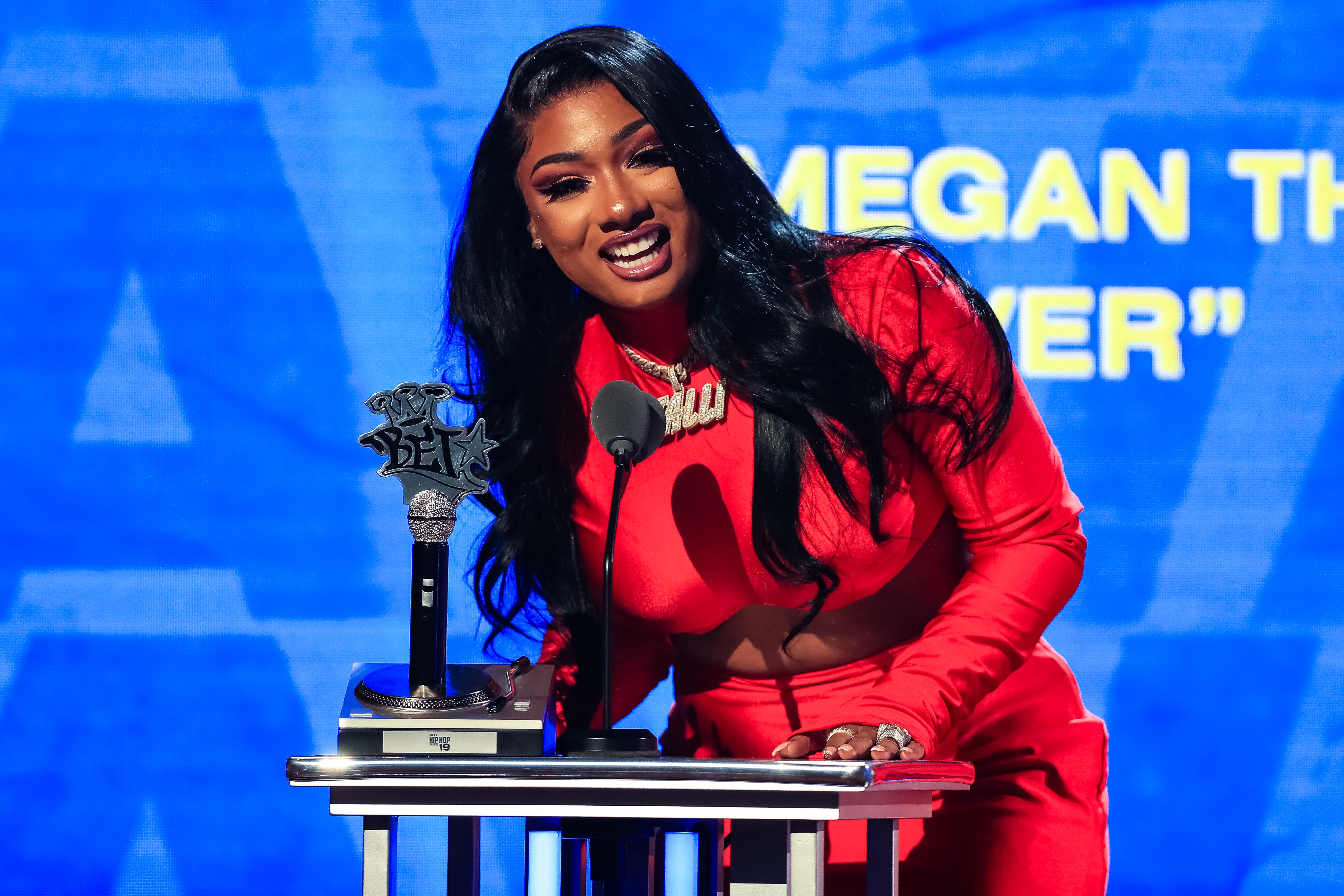 Megan was pictured standing tall in a unique figure-hugging dress from Sweet Talk. The strapless "Inuyasha" dress that retails for $105 was designed with one side shaped like a bodysuit and the other shaped like a pair of tights, with both sides meeting under the knee.
A second pic gave a close up of the "Savage" rapper whose hair was styled in a sleek low pony braid that reached below her waist. Her makeup was flawless, featuring long dramatic lashes and a shiny lip gloss from Revlon.
The sultry Megan looked wistfully at the camera, with her long white manicured nails and a shiny silver ring. On her neck was a huge statement necklace that glowed on her radiant brown skin. Her post was captioned:
"I could build a house with all the brick I got ?? I created this lip with my brown and crystal clear @revlon lip gloss"
Fans took to the comments section to express their impressions of the dress. One fan said, "[I don't know] if this is a dress, a jumpsuit, or what but it looks so good," while another commented, "It's the natural body for me ??❗️natural just hit different."
That natural body is what gave Megan her moniker, "stallion" as men used to call her because of her tall, sexy build. The "Big Ole Freak" rapper stepped onto the music scene in 2016 although she started rapping at the age of seven.
Her passion ran in the family as her late mother, Holly Thomas also had a rap career between 2001 and 2007 and was known by the name, "Holly-Wood." Thomas was Megan's manager until the time of her death in March 2019.
A year later, Megan released the song "Savage" which catapulted her into fame as it became a hit on TikTok and later, Beyoncé appeared in a remix of the song, making it one of the biggest songs of 2020.
The "Hot Girl Summer" rapper didn't stop there. Her collaboration with rapper Cardi B on the song "WAP" caused major controversy because of the highly sexual lyrics but she was not bothered. The rapper told GQ:
"Sometimes people are really not comfortable enough with themselves, and I don't think they like to watch other people be comfortable with themselves."
While her career was soaring high, her personal life hit a snag when she was allegedly shot by the Canadian rapper, Daystar Peterson, popularly known by his stage name, Tory Lanez. 
Megan suffered from some backlash and ridicule after Peterson denied the accusations but she also received outpouring support from fans and fellow musicians, including Beyoncé and Rihanna.