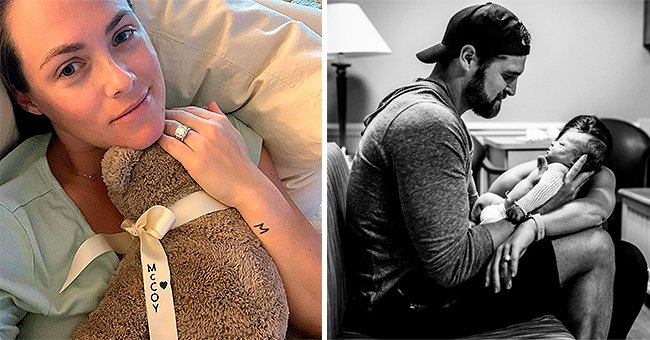 instagram.com/karakeoughboz
Kara Keough Pens Her Grief in a Heart-Wrenching Message 8 Months after Son McCoy's Death

Kara Keough shared a heartbreaking message of grief on her Instagram, 8 months after the death of her newborn son.
Kara Keough wrote a grief-filled tribute to her son, McCoy, 8 months after his death. She shared a photo of her husband, Kyle Bosworth holding their son during his last moments.
Keough's son passed away during home birth due to complications. He experienced shoulder dystocia, which is when the shoulder of the baby gets stuck in the mother's pelvis.
Keough's message to Instagram inspired many other mothers who had experienced the death of a child to share their moving and heartbreaking stories of loss in the comments of the post.
She shared that dealing with the grief of loss meant she has hard days and regular days and the heartache can be triggered by different things such as seeing a child who is McCoy's "woulda been age"
"But the other days, the regular days, I'd say it's more likely to be a good day with hard moments sprinkled throughout. "
McCoy was born on April 6th but passed away after complications on the 12th. His father and sister, Decker, were allowed in the NICU despite COVID-19 restrictions because of his condition.
Keough and her husband both got tattoos in his memory. She has an "M" on her wrist, his ashes were mixed in with the tattoo ink. While dad got his footprints tattooed on his arm.
Keough has been sharing her journey on grief on her Instagram. She has shared photos and powerful messages almost every month since McCoy's death detailing her journey with grief.
Keough had originally revealed he had passed away on her Instagram, sharing that he had donated his organs to save other's lives and that he will live on through his parents and sibling,
"He joined our Heavenly Father and will live forever in the hearts of his loving parents, his adoring sister, and those that received his life-saving gifts."
She also shared with her followers that she had written out a tribute for her son's organ/tissue procurement team. She wanted it to be read as a way to honor him and the lives he saved.
Grief is a difficult and heartbreaking journey but Keough acknowledges in her most recent Instagram post that is not about moving on but rather moving onward with the grief.
She is the daughter of "'Real Housewives of Orange Country " OG Jeana Keough. She was on the first 5 seasons of the show. Keough made a few appears during her mother's run on the show.
Keough wed Bosworth, a former professional football player in 2014, announcing soon after that they would be starting a family. Their daughter Decker was born in 2016.
Please fill in your e-mail so we can share with you our top stories!