Tom Selleck's Mustache Is His Hallmark — See How Celebrities Would Look like without One
Over the years, Hollywood legend Tom Selleck has distinguished himself as one of his generation's finest actors. Still, his most unique attribute is his signature mustache, which has stuck with him throughout his career.
The mustache has phased in and out of fashion, but it has never really disappeared at any point in time. Still, a few celebrities have become known by their signature mustache, and it is nearly impossible to imagine them without one.
Tom Selleck, Lionel Richie, Hulk Hogan, Steve Harvey, Eddie Murphy — all share two things in common. As much as they are known for their different arts, they have also gained popularity because of their uniquely cultivated facial hair.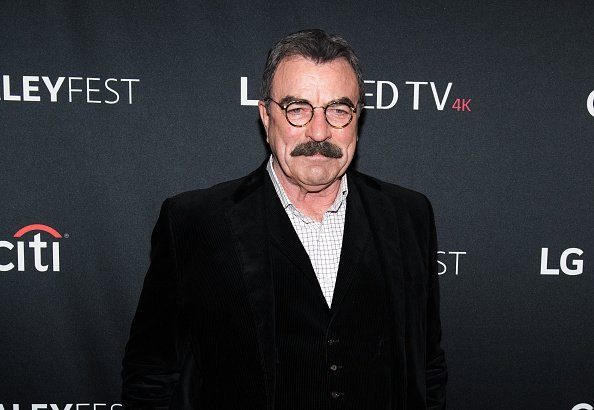 These superstars have become synonymous with their mustaches, and it is almost criminal to imagine them chopping it off. And for those of them who dared to shave, they quickly returned to the look that has become their comfort zone.
BORN WITH A MUSTACHE
During a 2017 appearance on BUILD, veteran actor Tom Selleck jokingly claimed he was born with a mustache while dishing on how his famous facial hair had impacted his television and film roles over the years.
In 1980, the 73-year-old actor got his career-defining breakthrough when he landed the role of Thomas Magnum on "Magnum P.I.," and he played the role sporting his mustache.
Since then, the iconic look has been difficult to shake off throughout his career. Selleck has gone on to feature in over 50 television and film productions since then, and he has mostly appeared sporting a mustache. 
The iconic actor was not born with a mustache, but it can be agreed that he is best suited with his thick upper lip "umbrella." Tom Selleck's no-mustache look is quite odd and kills off the star factor in the "Blue Bloods" actor.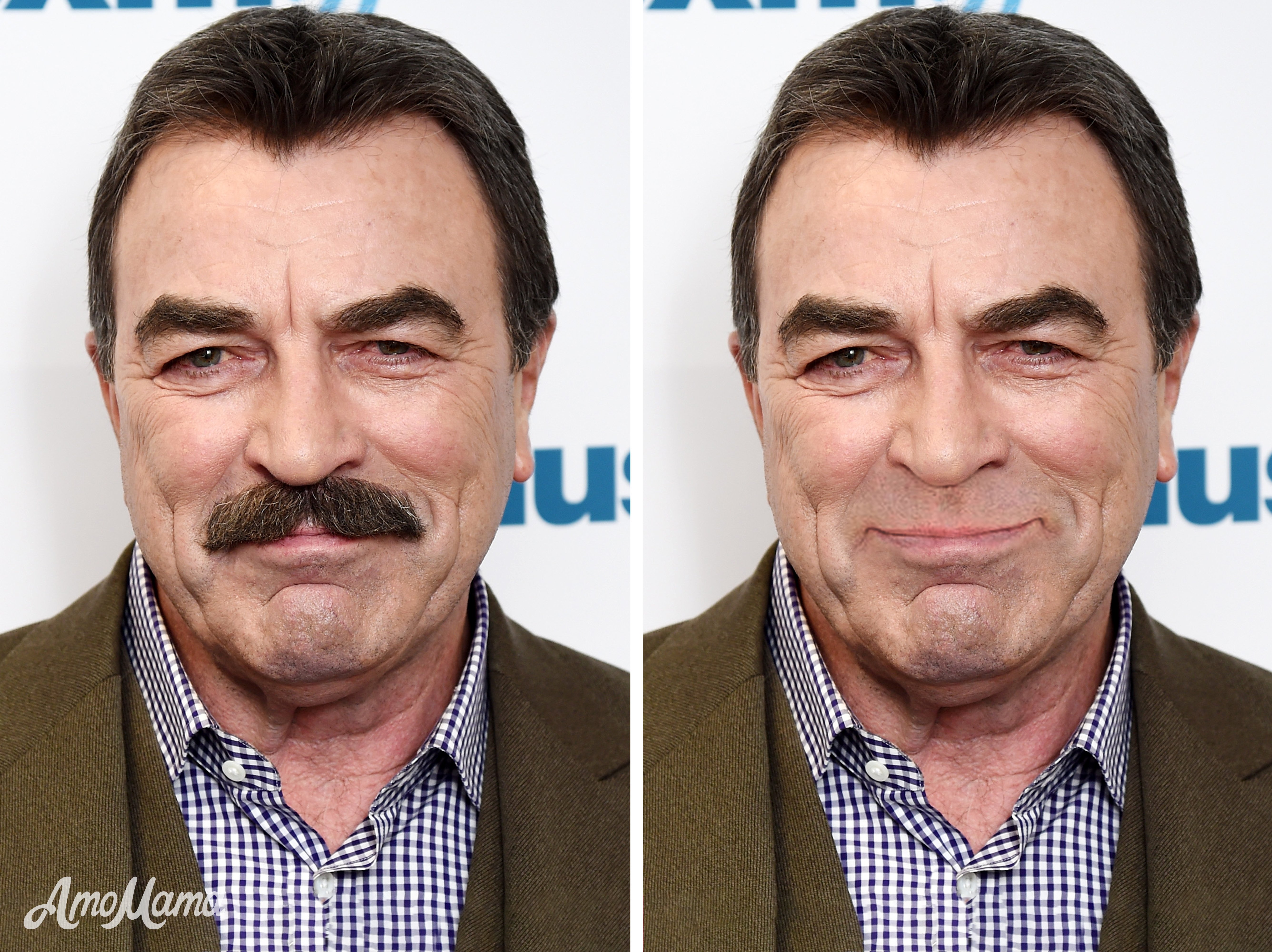 PROBABLY BORN WITH ONE TOO
When talking about actors with mustaches, the list can never be complete without mentioning veteran actor Sam Elliot. Along with Tom Selleck, he was one of the first actors from his generation to develop an attachment to their facial hair.
As much as Elliot is known for his mustache, he is also blessed with a distinct voice that sets him apart from the rest of his colleagues.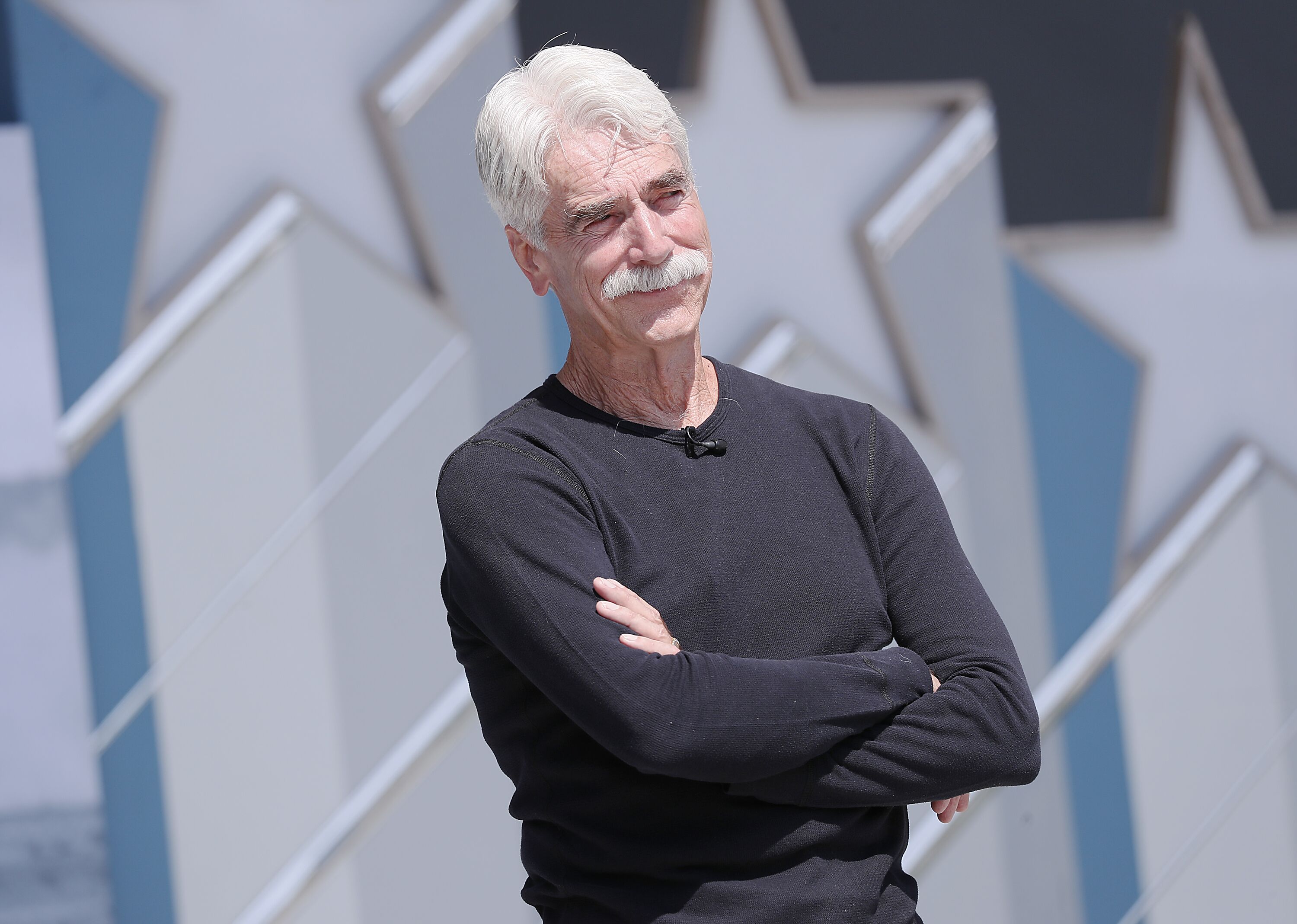 Elliot would always have his voice, but he did shave his mustache in 2015 while appearing on a show called "Justified." Elliot recalled the experience saying:
"I shaved clean and combed my hair straight back for a show called Justified on FX this year. It was fun transforming my look, but I did feel naked..."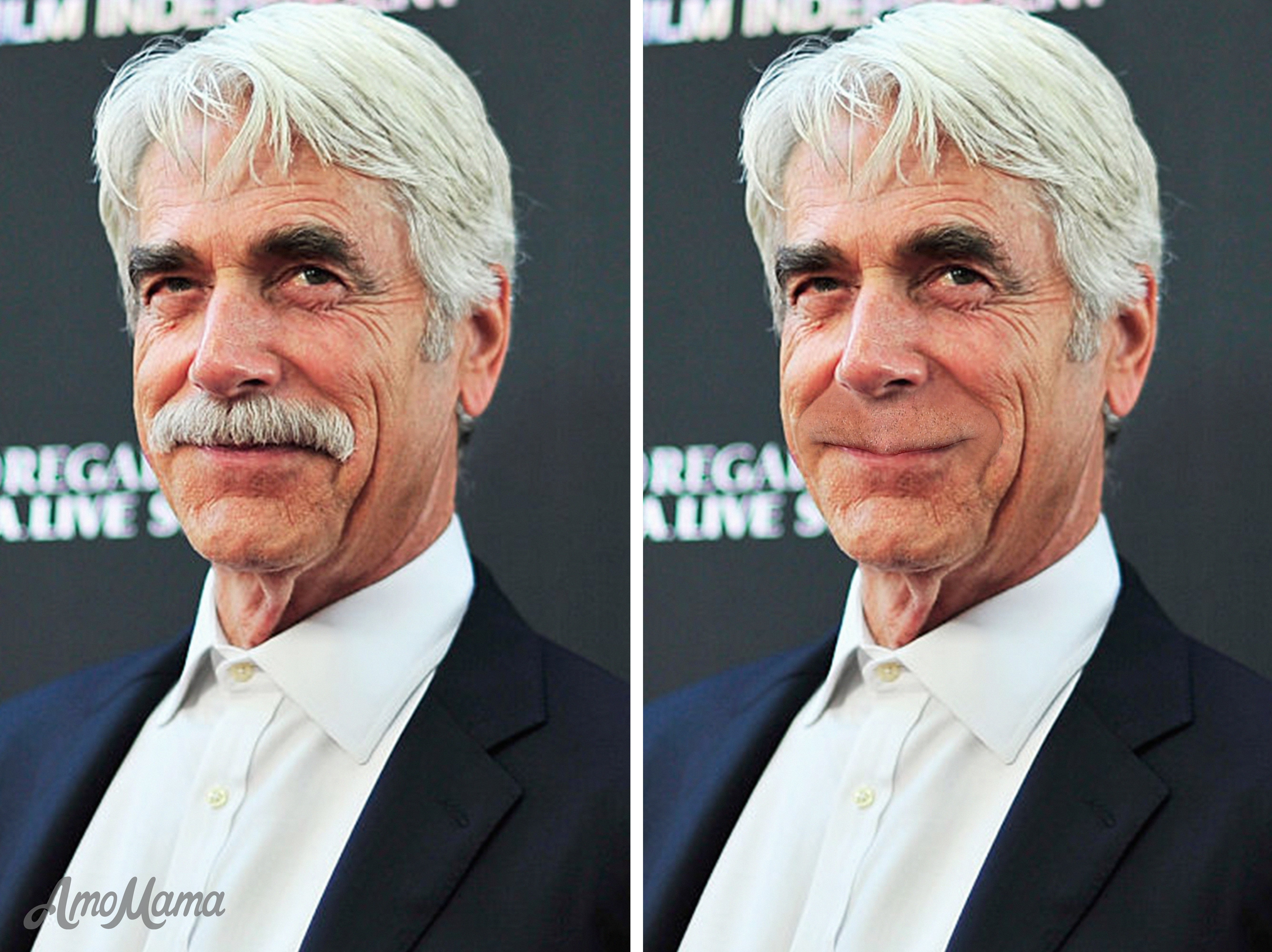 MURPHY WOULD LOOK FUNNY
Comedic actor Eddie Murphy is arguably one of the most successful comedians in the entertainment industry's history. He began doing comedy as a teenager and later joined "Saturday Night Live."
Eddie Murphy cemented his status as a Hollywood superstar by starring in several box office hits, including "Beverly Hills Cop," "Coming to America," "The Nutty Professor" and "Shrek."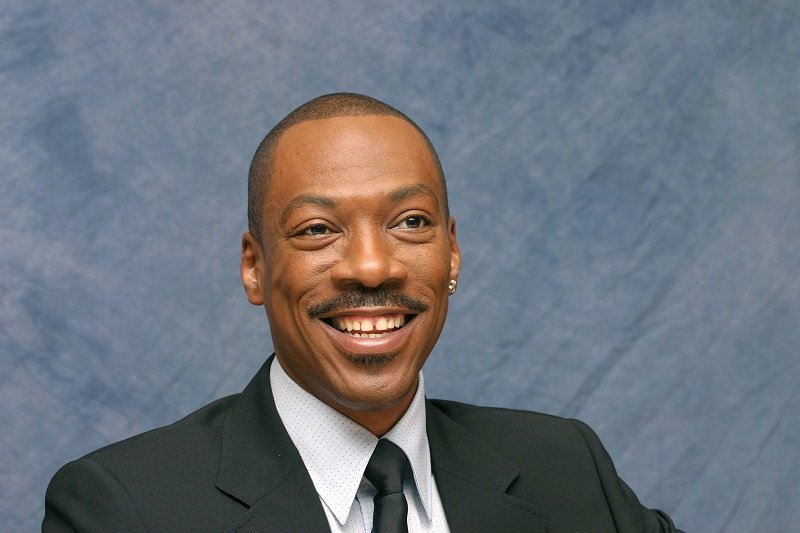 During that time, fans have unconsciously gotten used to seeing Murphy with his signature mustache. Why would anyone want to imagine the comedy guru without his stache if not that they are mischief-makers?
And taking it off not just makes him look alien, but it also feels like a bit of his intelligence is being chopped off.
Simply put, Eddie Murphy is his mustache, and that mustache is Eddie Murphy. The sight of a clean-shaven look on the "Coming to America" star would be pure comedy on its own.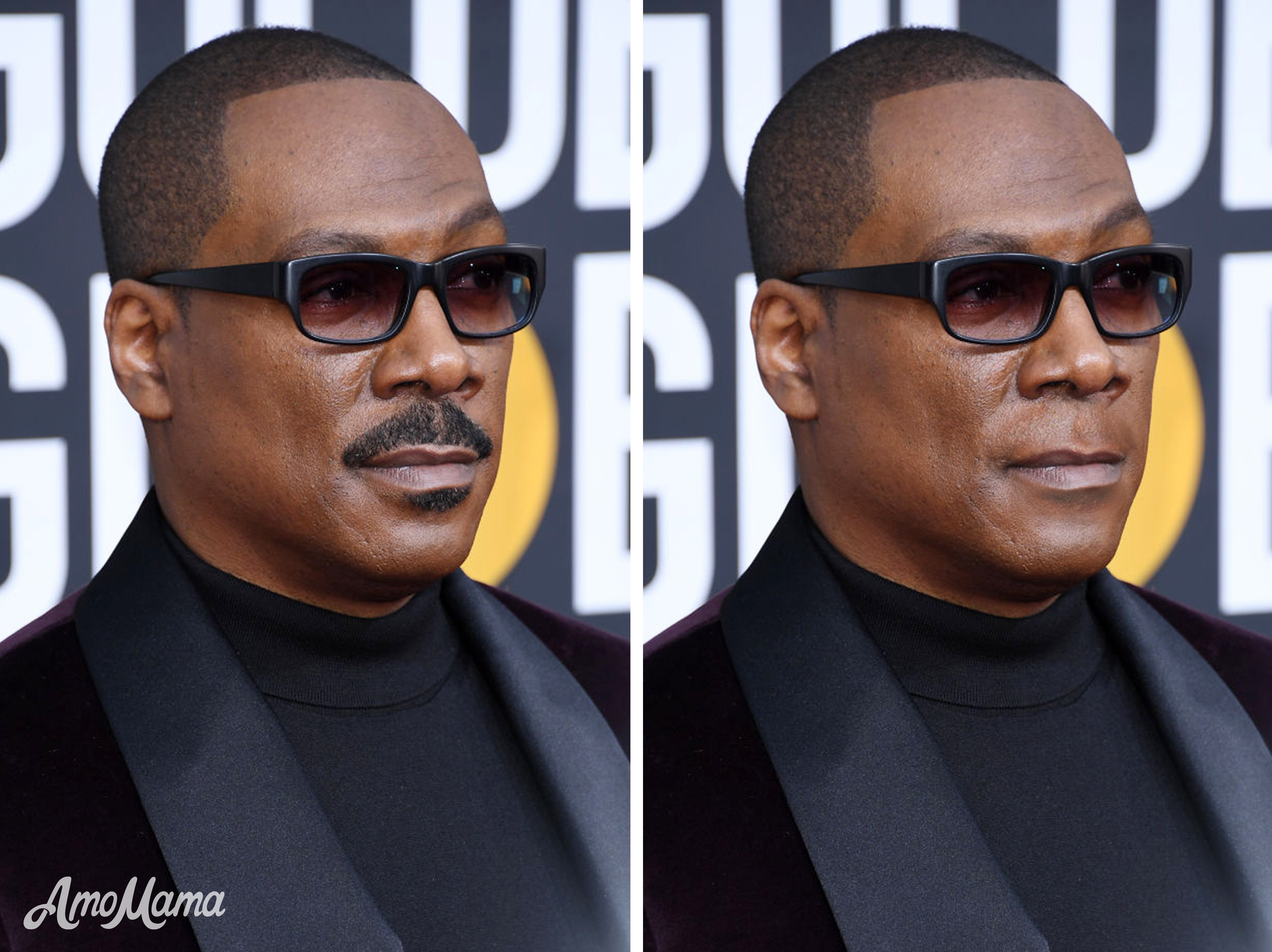 ATTEMPTS THE CHOP TOO
Hulk Hogan achieved unprecedented fame through his career as a professional wrestler in the World Wrestling Federation (now World Wrestling Entertainment). He was first discovered by WWF owner Vince McMahon and later won his debut match against Andre, the Giant.
He became known throughout the 1980s for his flamboyance and the legendary frenzy of his fans, which was nicknamed "Hulkamania." At the peak of his fame, Hogan also ventured into acting and reality TV.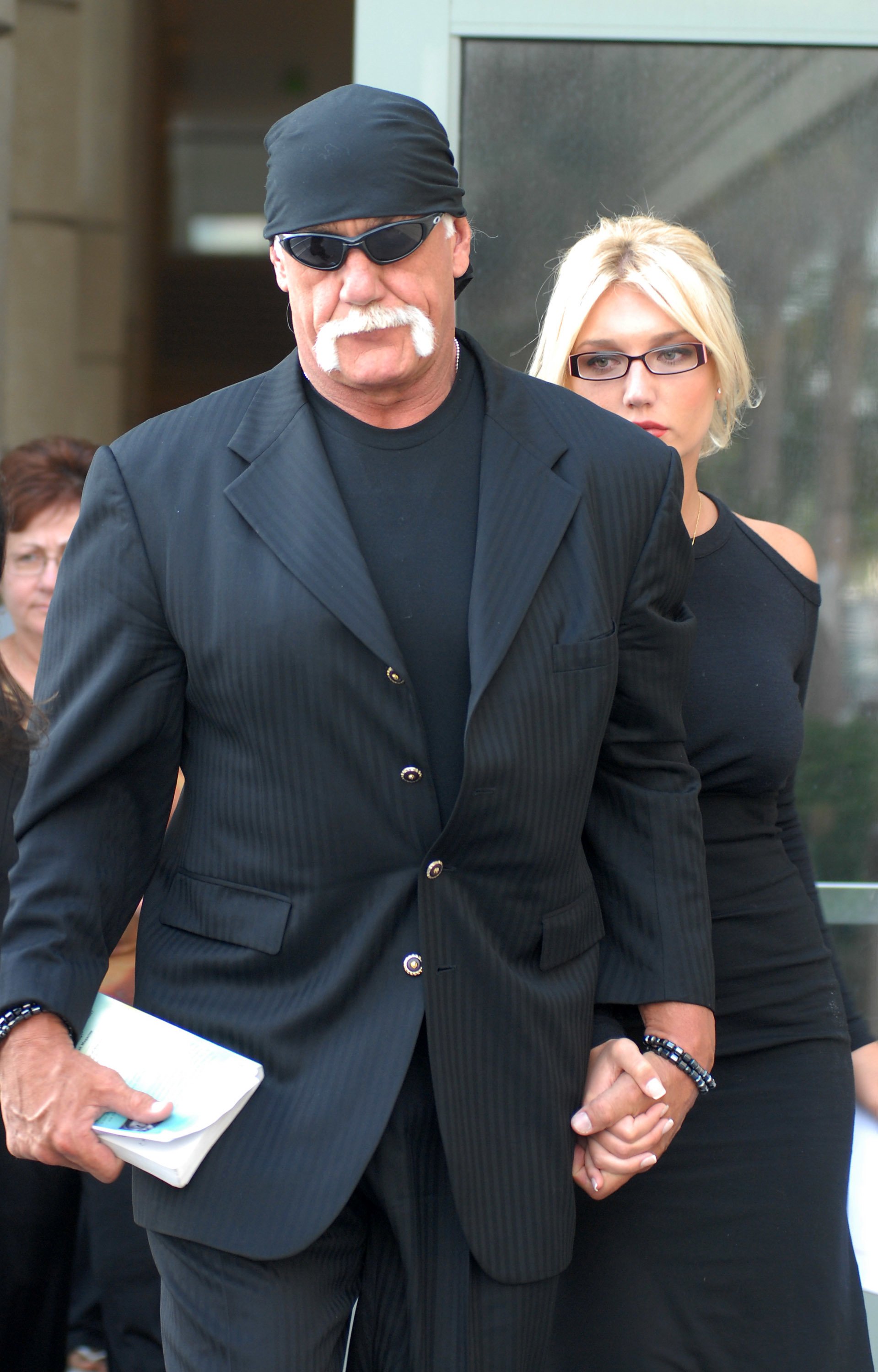 Throughout his career, Hogan became synonymous with his famous mustache, which was fondly described by fans as the cookie-duster. 
In fact, Hulk Hogan's trademark mustache had grown so much on him and fans that he described shaving it off for a movie as "scary." 
Even the leader of the American Mustache Institute, Dr. Aaron Perlut, decried Hogan's decision to get rid of his mustache and urged Hogan not to go on with it. 
Along with his mustache, Hogan also claimed he would be shaving his head. It is not certain if he carried on with his plan, but he would have been unrecognizable without his blonde facial hair.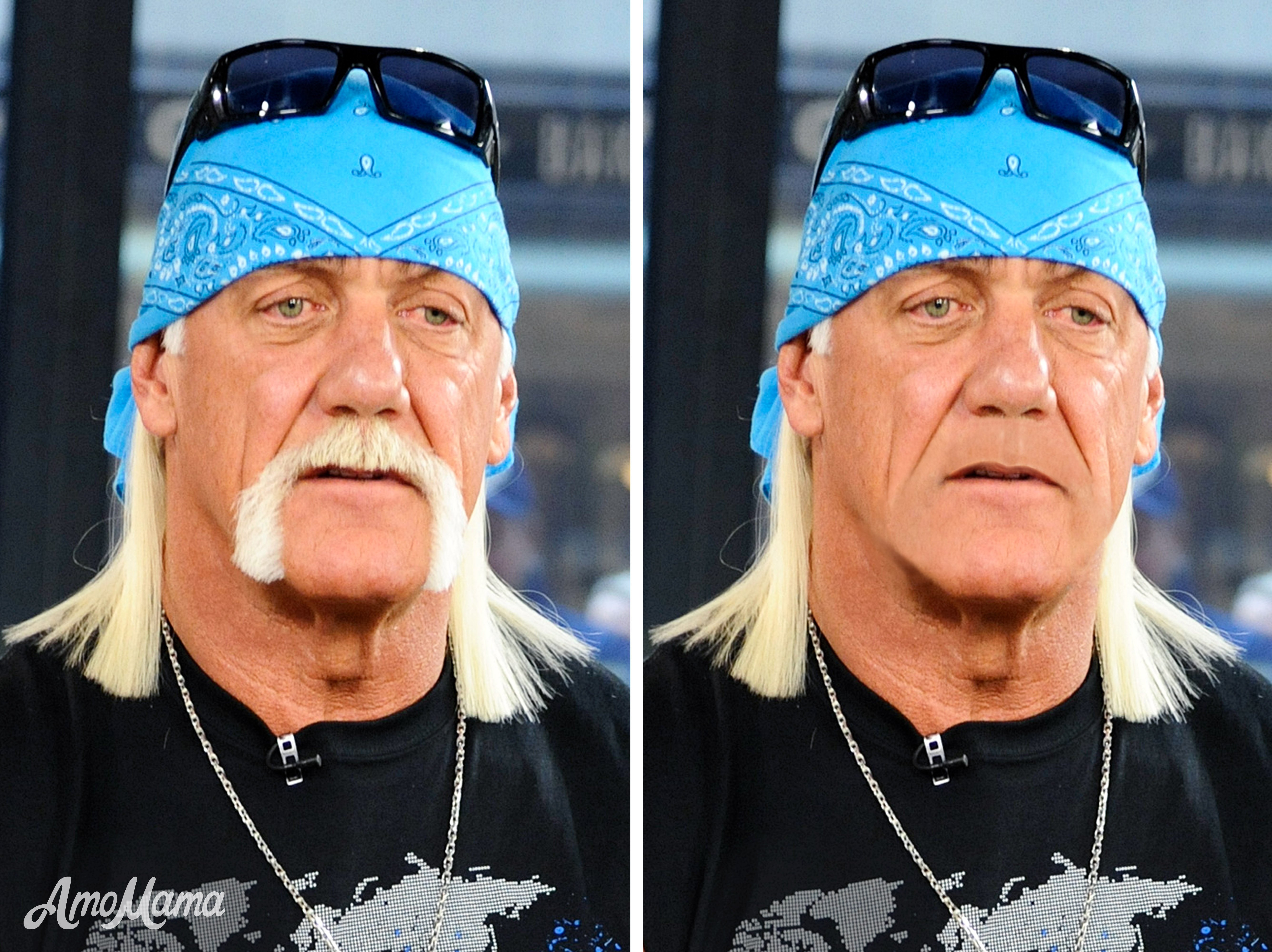 LIONEL RICHIE'S AGELESS MUSTACHE
When thinking about celebrities with iconic facial hair, one of the first names that come to mind is legendary singer Lionel Richie. The singer has sparked up a massive following through his career spanning over five decades. 
Many things have changed since he launched his career in 1968 as a member of the "Commodores." However, two things that have remained constant through the years are his passion for music and his unique mustache.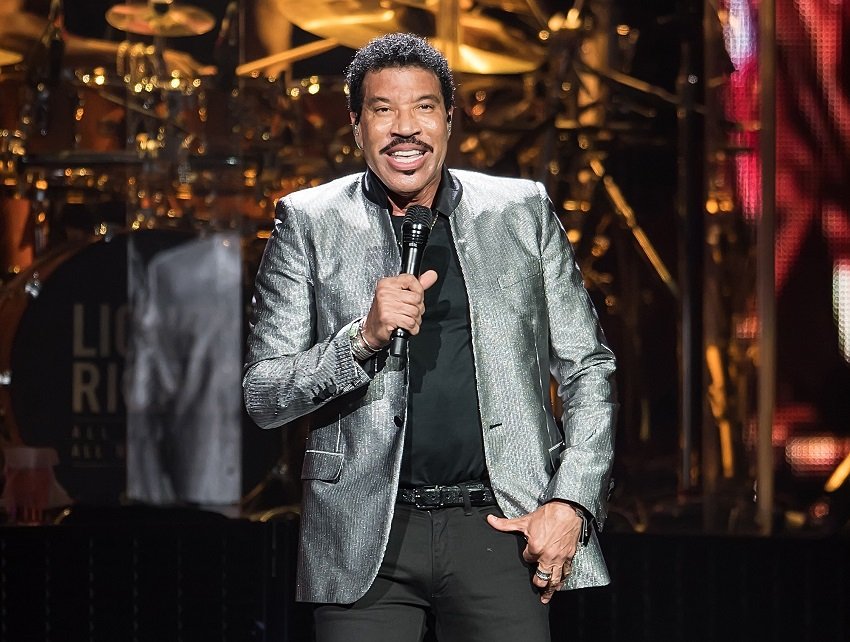 Richie's mustache would place up there in the league of best mustaches, and he is continuously questioned about how he has maintained the look for so long. He once explained:
"I had kids on American Idol ask me, 'Man, what do you do to get your mustache so good?' And I said, 'Oh, I tweeze.' And they said, 'Tweeze?' I said, 'Yeah.'
Now, it is going to be criminal even to imagine the handsome hitmaker without his famous mustache. It is safe to say it would be chopping up a fair amount of his charm by making his fairly large nose more obvious.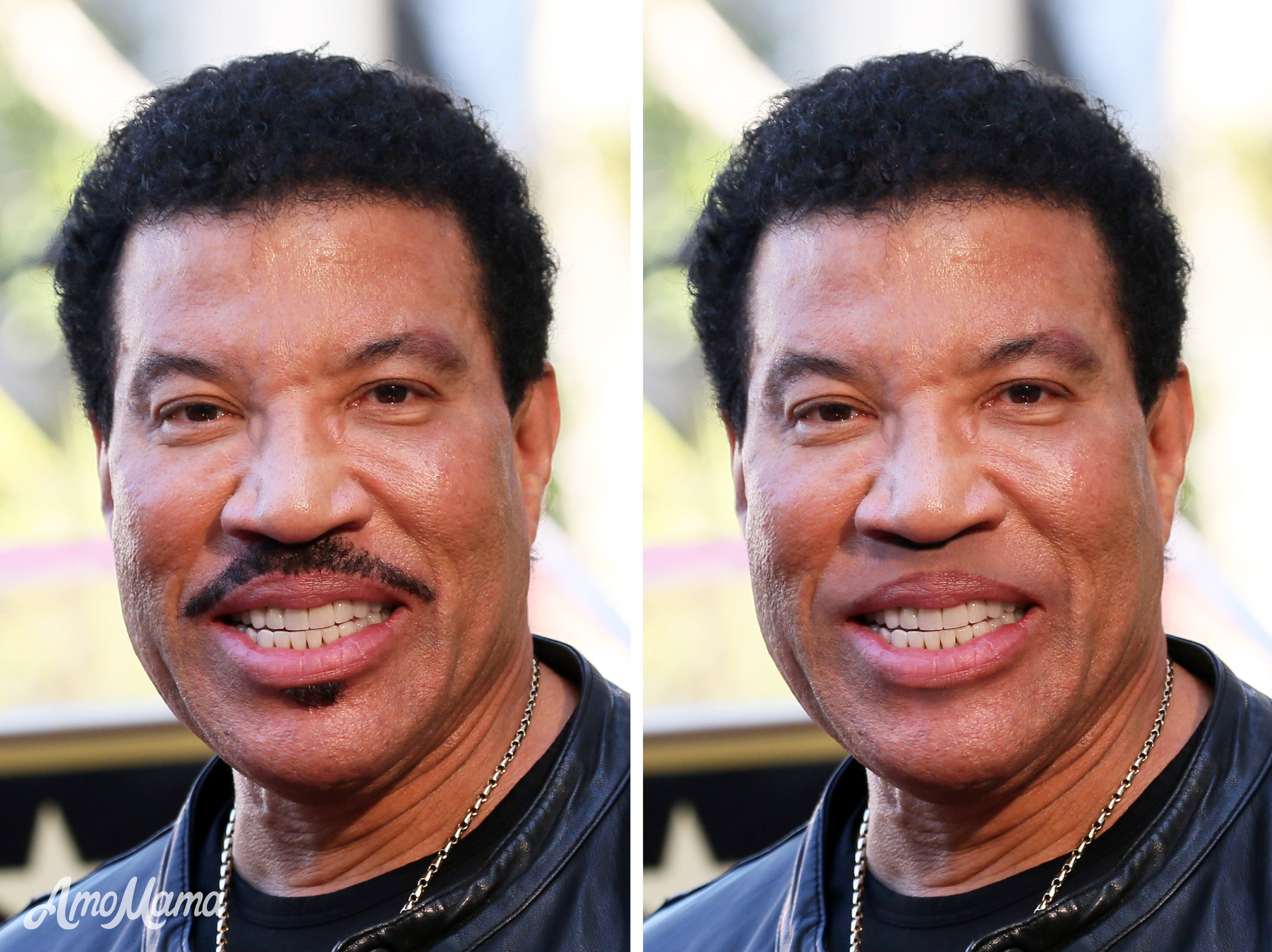 TRYING SOMETHING DIFFERENT
Veteran TV show host Steve Harvey is well known for his fiery comedy and overpowering confidence. Still, what jumps at most people when they think of the comedian is his carefully crafted mustache.
In August 2018, as he prepared to kick off the new season of his eponymous daytime talk show "Steve," Harvey decided it was time to tweak his physical appearance, and out went the mustache.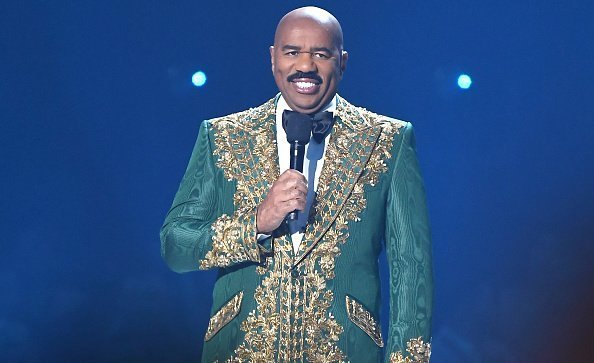 Instead, Harvey debuted a full salt-and-pepper beard that completely transformed his entire look. While speaking to ET about his new look, Harvey said:
"This year we launched a new season so every now and then I reinvent myself."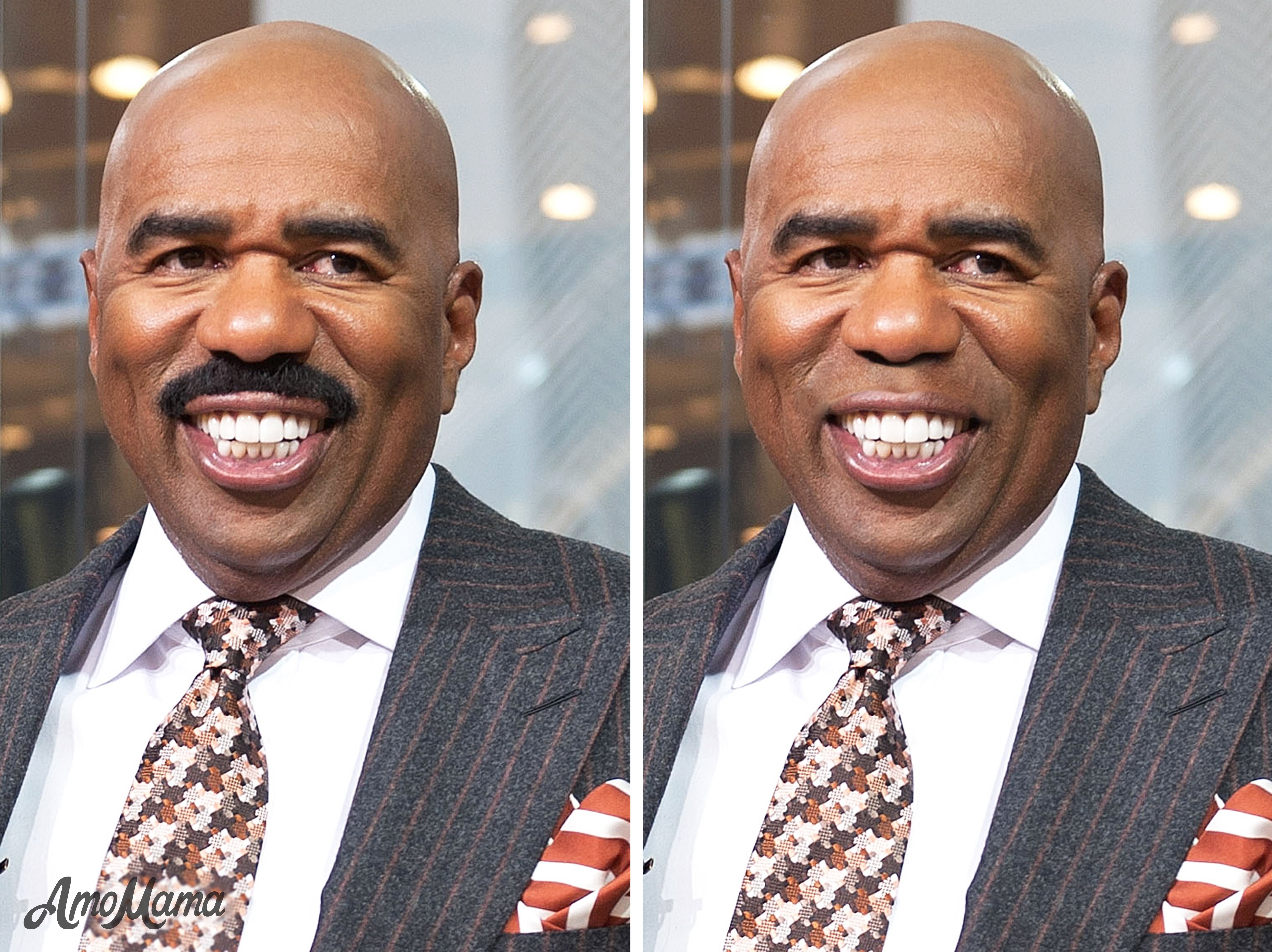 At the time, Harvey revealed that whether he keeps the beard was not entirely up to him as his wife would have the final say. And it seems Marjorie was not entirely sold on the beard look, with Steve Harvey bringing back the mustache by February 2019.
Apart from these stars, there is also the renowned physicist Albert Einstein, who was known for his groundbreaking theories as well as his mustache.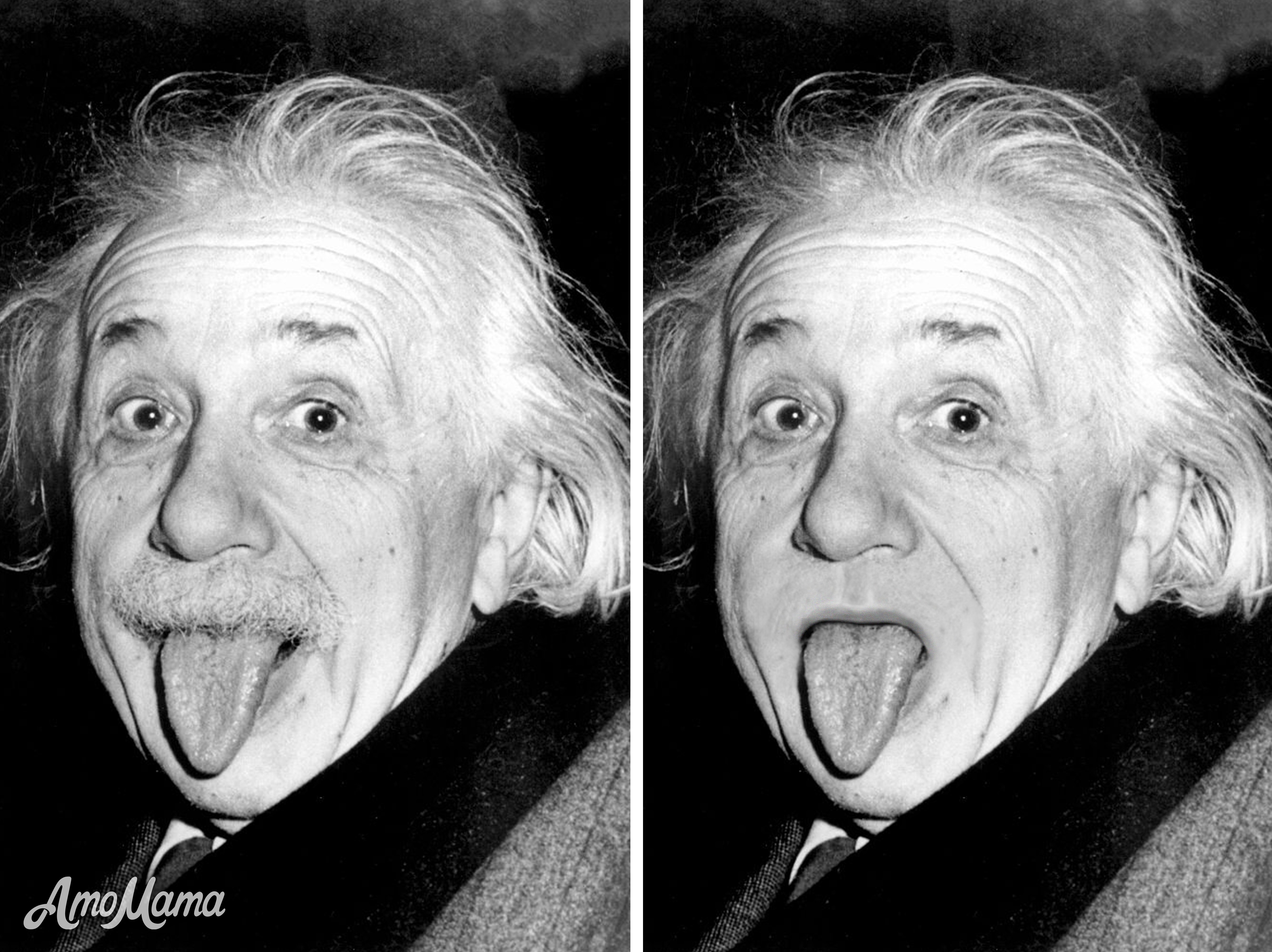 It is inconceivable to imagine Einstein without his mustache because the look is nearly always associated with genius. And taking it off not just makes him look alien, but it also feels like a bit of his intelligence is being chopped off.
For most people, the mustache trend is cyclical and often enjoys extended periods of popularity. However, these stars have worn the hairy look with pride through all seasons, making haters grin with envy.