Nikki Bella's Engagement to Coinciding Births — Look Back at the Bella Twins' Biggest Year
While 2020 was a challenging year for most people, Brie and Nikki Bella made the best of it as they welcomed children and, in Nikki's case, she got engaged to Artem Chigvintsev.
Things started off with the right foot for Nikki Bella, a retired wrestler who shot to fame next to her twin sister Brie in the WWE, as she announced her engagement to professional dancer Artem Chigvintsev in January 2020.
Nikki actually said yes in November 2019, when she and her fiancé were in France. However, they decided to wait a few months before going public with the big news.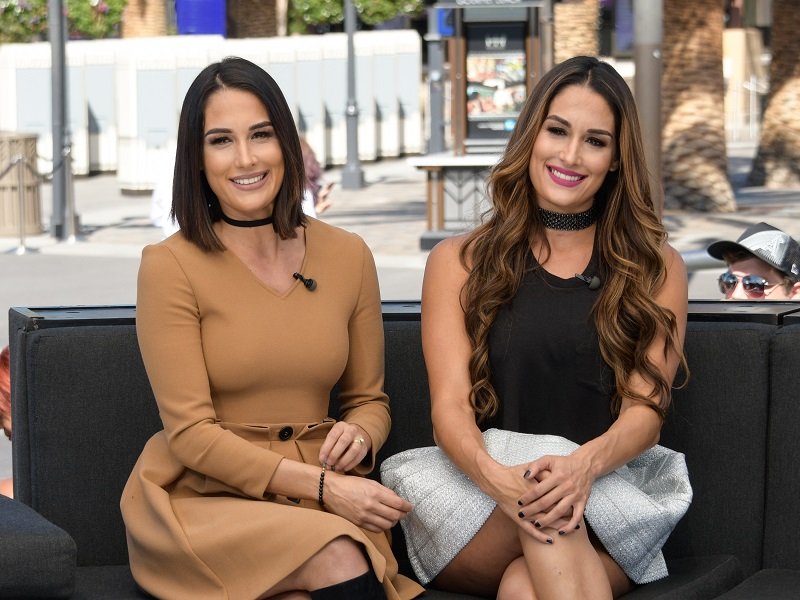 NIKKI AND ARTEM'S ENGAGEMENT
Artem and Nikki met back in 2017 when they were paired for the 25th season of "Dancing with the Stars." At the time, she was in a relationship with wrestler John Cena.
John and Nikki even got engaged during WrestleMania 33, but they called off their engagement in April 2018. Artem, on the other hand, was married to dancer Giselle Peacock between 2004 and 2005.
The Bellas and their families had plenty of reasons to celebrate in 2020.
Weeks after Nikki revealed her engagement to Artem, she and Brie surprised the world by announcing their pregnancies. The Bella Twins admitted that their due dates were less than two weeks apart from each other. Brie said:
"People are going to think that's a joke. We both are shocked. People are going to think we planned it, but you can't really plan pregnancy!"
HAVING KIDS ONE DAY APART
While Nikki pointed out that she was not ready to have a child, Brie confessed that she and her husband Daniel Bryan, also a pro wrestler, unsuccessfully tried to conceive for "seven or eight" months.
Eventually, they gave up and considered that it was a sign from God telling them that they were okay with just one child (daughter Birdie, born in May 2017). Shortly after giving up, Brie got pregnant.
On July 31, 2020, Nikki and Artem welcomed their first child, Matteo, together. Only one day later, on August 1, Brie gave birth to her second kid, a boy named Buddy.
As per their careers, Nikki and Brie released a new memoir titled "Incomparable." Through it, the Bella Twins give people a glimpse at their childhood and successful time in the WWE.
Apart from that, they both announced on "The Bellas Podcast" that they were moving with their families from Arizona to Napa Valley, California, where they have a wine label called Belle Radici.
If that wasn't enough, Artem and his dance partner Kaitlyn Bristowe won the 29th season of "Dancing with the Stars," so the Bellas and their families had plenty of reasons to celebrate in 2020.