Steve Harvey's Son & Daughter-in-Law Sport Chic Hair & Black Outfits for Sister Lori's Party
Amanda Harvey, the wife of Steve Harvey's son, Jason Harvey, shared a cute snapshot of her and her husband clad in black outfits and rocking stylish hairdos. 
Steve Harvey's son Jason Harvey and his wife Amanda Harvey brought forth their groovy side in a new post the latter made on her Instagram page. 
Amanda shared a lovely picture of herself and Jason posing in front of a mirror. Jason wore a black sweatshirt, which he matched with black pants.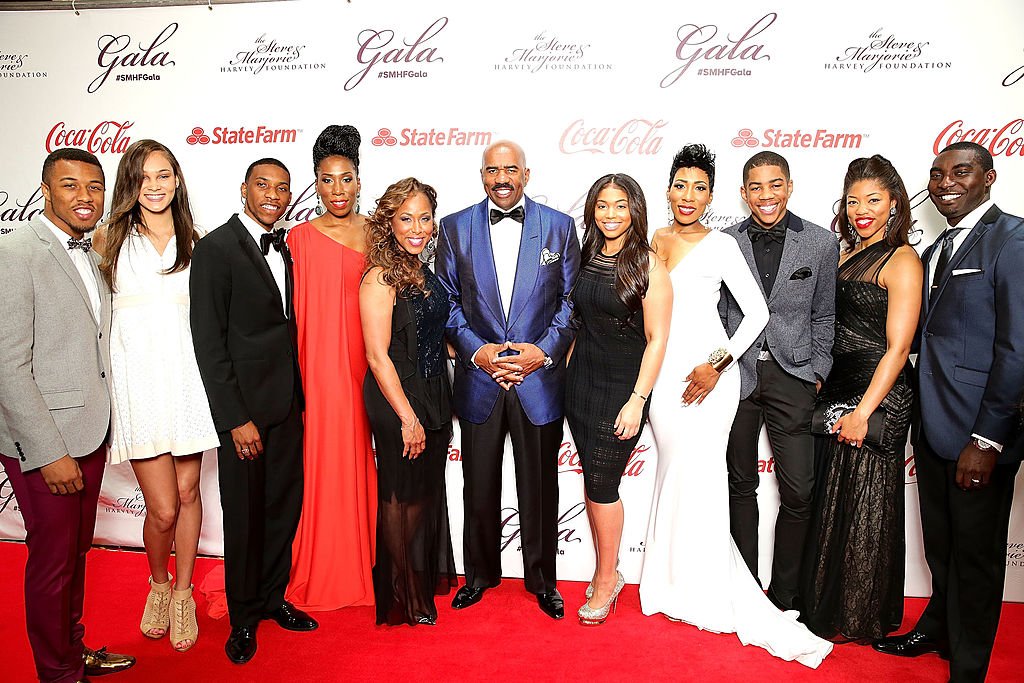 He raised his hands in the air in the picture as he posed in a dancing stance. Jason also wore funky-looking glasses and rocked an afro hairstyle. 
Meanwhile, Amanda wore a black suit jacket over an innerwear and leaned towards the mirror as she posed holding her phone. She rocked tutu braids which fit her well.
Amanda also shared a video that showed her and Jason's first son, Noah, flaunting his incredible dance moves on the dance floor while his younger brother, Ezra, ran past him. 
The last clip in the post was a moment from the party where the crowd hailed Jason's sister Lori Harvey as she walked in. Amanda captioned the post, 
"Get dressed. We're going downstairs."
Amanda's father-in-law, Steve, is the patriarch of the Harveys, a beautiful blended family he shares with his beautiful, loving wife, Marjorie Harvey. Steve is a father to four children from his first two marriages. 
He shares twin daughters Karli and Brandi and son Broderick Harvey Jr. with his first ex-wife, Marcia Harvey. Steve also shares a son, Wynton, with his second ex-wife, Mary Lee Harvey. 
One of those who wished the birthday girl a happy birthday was her boyfriend, actor Michael B. Jordan.
Steve married Marjorie in 2007 and adopted her three children from a previous marriage, Morgan Hawthorne, Jason, and Lori, who is the most famous of the Harvey kids. 
Lori celebrated her 24th birthday on Wednesday, January 13, and received loads of messages from her friends, loved ones, fans, and well-wishers.
She shared a picture of herself on Instagram wearing a Vivienne Westwood corset top. She matched the top with white leggings and pearl jewelry and rocked a ponytail hairstyle. 
One of those who wished the birthday girl a happy birthday was her boyfriend, actor Michael B. Jordan, who joined a host of other celebrities in commenting on her post. 
In his comment, Jordan wrote, "Gimmie!! ??Sheeesh!!" before revealing his pet name for her, saying, "Happy Birthday Turtle." Lori appreciated her boyfriend's post and also called him Nugget. 
The sweet exchange between the lovebirds came days after they made their relationship official on Instagram, with posts showing pictures of Jordan kissing Lori on the cheek, confirming rumors that they had been in a relationship for months.