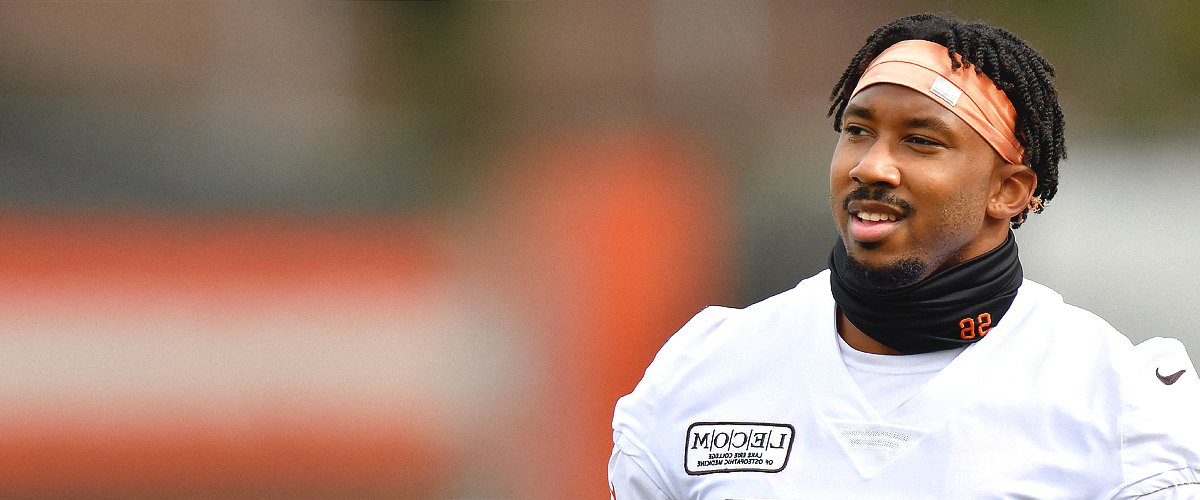 Getty Images
Myles Garrett's Dad Gave Him One Important Life Tip — inside the NFL Star's Family
NFL star Myles Garrett is leading a new generation of American football players. However, he would not be such a successful player without his family's overwhelming support — especially his parents.
Since making his professional debut in 2017, talented football player Myles Garrett has taken the stage without needing a second invitation.
In less than four years with the Cleveland Browns, he has dominated the NFL, especially at the defensive end. However, there is much more to Myles than just football.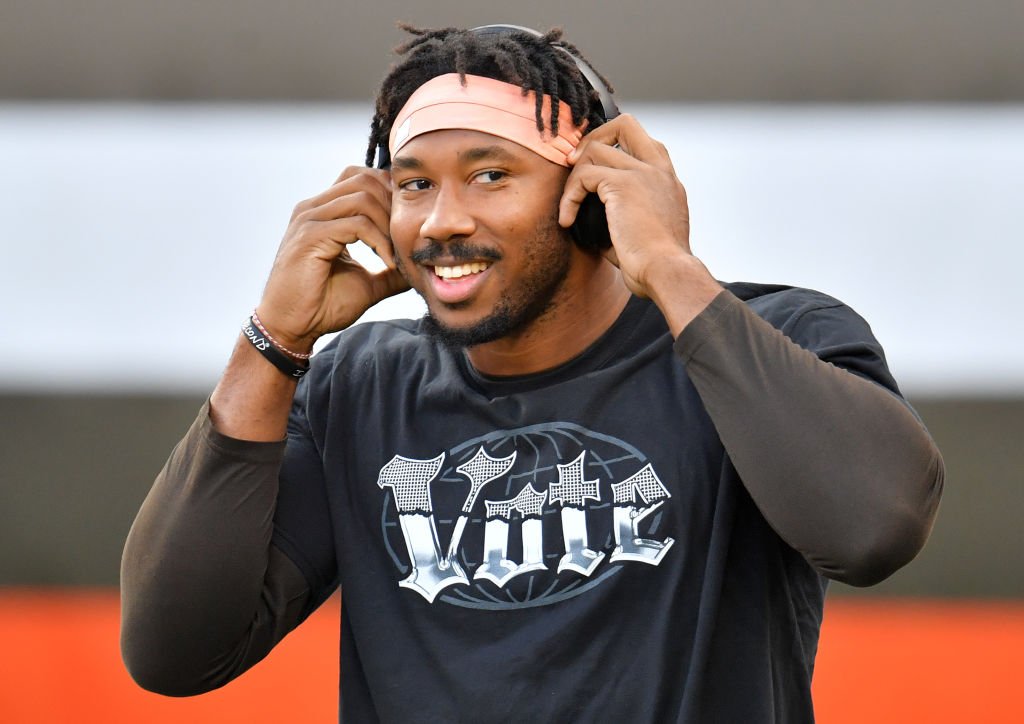 Myles Garrett #95 of the Cleveland Browns at FirstEnergy Stadium on September 17, 2020 | Photo: Getty Images
When the 25-year-old is not sacking opposition quarterbacks, he is a poet, activist, humanitarian, and animal lover. But the glue that brings all Myles' different parts together is his unquestionable devotion to his family.
INSIDE MYLES GARRETT'S FAMILY
Myles Garrett was born on December 29, 1995, in Arlington, Texas, to Audrey and Lawrence Garrett. Myles' closely-knit blended family also includes his sister Brea and Audrey's son Sean Williams from a previous relationship.
While Myles has been very consistent in putting in the work to push him to the top of his career, much of his talent and passion for sports boil down to genes — especially from his mother's side.
The interview was done shortly before the Cleveland Browns selected Myles during the first overall pick of the 2017 NFL Draft.
Myles Garrett's mom was an all-American track star at Hampton University in the early 1960s. Myles is not the only child who inherited Audrey's great sports genes.
Brea, his older sister, was an outstanding collegiate athlete who won the 2014 NCAA indoor championship 20-pound weight throw as a junior track and field player at A&M.
A Sports Illustrated profiling of Myles also revealed that Brea played a crucial role in helping A&M recruit Myles, as she regularly stopped by the football office to feed them tips and tricks on how best to recruit Myles to play for them.
Myles' older brother, Sean Williams, also played pro basketball. He played college basketball at Boston College before playing in the NBA from 2007 to 2012.
Sadly, Williams' promising NBA career was cut short due to several off-court problems stemming from his continued use of marijuana.
While Myles idolized his older brother throughout most of his childhood, learning from his missteps has guided him on his way to becoming one of the best defensive linebackers in the NFL. In 2015, he told Sports Illustrated:
"My brother was an example for what not to do. The weed, it's a distraction. A lot of other things can be distractions—girls, other drugs, fame, and ego."
MYLES GARRETT'S BIGGEST FAN
Myles Garrett's older siblings' sports careers have undoubtedly played a vital role in some of the choices he has made through the years. However, the most critical influence on Myles' successful career since day one has been his mother, Audrey Garrett.
It is perhaps telling of Audrey's strength in character that despite having a very devoted father, Myles still takes his mom as a mentor, teacher, and key decision-maker for his career.
In a 2017 interview with Sports Illustrated, Myles talked about his confidence in his mom's leadership. He said:
"All my trust is in her hands. Whatever she deems right… since she has my best interest at heart, I take one look at it and make a move."
And ahead of the 2017 NFL Draft, Babe Laufenberg caught up with Audrey to chat about her son's big moment. The proud mother expressed that she was proud of her son and happy he was finally getting closer to his dream.
When he is not playing football or catching up with family, Myles spends his time writing poetry and daydreaming about dinosaurs.
The interview was done shortly before the Cleveland Browns selected Myles during the first overall pick of the 2017 NFL Draft — making him the highest draft pick from Texas A&M in the NFL draft history.
Audrey's devotion to her son has occasionally meant she has had to jump to his defense against trolls and critics. And she has played that part with the utmost ferociousness.
While Audrey seems to take most of the shine when it comes to Myles, Lawrence has also been an exemplary parent. Through the years, he has been very supportive of his son.
He exhaustively detailed Myles' road to success in a 2017 story for The Player's Tribune, titled "The Myles I Know." In the article, Lawrence recalled he has always told his son not everyone is going to love him.
Lawrence also told his son that there would be people out there who would be hostile towards him, and he has to accept that. Myles has kept this advice at the back of his mind ever since.
MYLES GARRETT'S ROAD TO SUCCESS
Myles Garrett picked interest in various sports from his childhood, including basketball, baseball, and football. However, while it took some time to catch on with basketball and baseball, football came naturally to Myles.
With his sister pulling some strings, Myles went on to play college football at Texas A&M. During his freshman year, Myles obliterated Jadeveon Clowney's SEC freshman sack record of eight.
He also became a two-time All-American and subsequently emerged as a potential No. 1 pick in the 2017 NFL draft. In May 2017, he signed a multi-million dollar contract with the Cleveland Browns and made his official debut in October.
After an amazing first season, Myles announced his star quality in the NFL during the 2018 season. His 13.5 sacks made him one of only 15 pass-rushers at the age of 23 or under in NFL history to achieve the feat in a season.
During the 2018 season, Myles' reputation within the dressing room also increased remarkably, and he was voted as a captain by his teammates.
The professional football player has also won the respect of opposition fans, players, and coaches due to his talent and dedication to the game.
During the 2019 season, Myles' exemplary career was tainted during a bizarre on-field incident, where he struck Mason Rudolph over the head with the QB's helmet.
Despite accusing Rudolph of using a racial slur, Myles was handed an indefinite suspension. Myles Garrett's helmet controversy led him to consider quitting football.
However, his love for the game saw him through a difficult period, and he was finally reinstated to the team in February 2020. On July 25, 2020, he signed a five-year, $125 million contract extension with the Browns.
MYLES GARRETT'S LIFE OUTSIDE FOOTBALL
Myles Garrett's dedication to football is unquestionable. But for Myles, family always comes first, and he never shies away from showing them love on his Instagram page.
Apart from his family, not much is known about Myles Garrett's personal life. He is notoriously private about his romantic life, and since bursting into the spotlight, he has not been romantically linked with anyone.
When he is not playing football or catching up with family, Myles spends his time writing poetry and daydreaming about dinosaurs. At least, this is one part of his life he readily opens up about during interviews.
Last year, Myles shared his love of poetry with kids when he participated in an hour-long Zoom session with students from the Open Doors Academy. The defensive end made the kids happy as he read out one of his poems before leading the group in snaps.
Despite his love for poems, opposition quarterbacks know there is nothing poetic about Myles when he steps onto the field. And they would most likely have him to worry about for the next couple of seasons.
Please fill in your e-mail so we can share with you our top stories!