Maria Sharapova's $400k Engagement Ring from Prince Harry's Friend Alexander Gilkes — Take a Look
Former tennis star Maria Sharapova flaunted her engagement ring in a New Year's Day post she made on her Instagram page. Here are more details about the custom-made $400k diamond ring. 
On January 1, 2021, tennis star Maria Sharapova took to her Instagram page to post a reflective message about last year and talked about looking forward to this year. In the post, she said she and everyone else imagined 2020 to be very different. 
Sharapova admitted that 2020 sprinkled some brilliance amid harsh and heartbreaking realities and gave her the courage to let go of the only life and career she ever knew—a decision that still makes her pinch herself daily.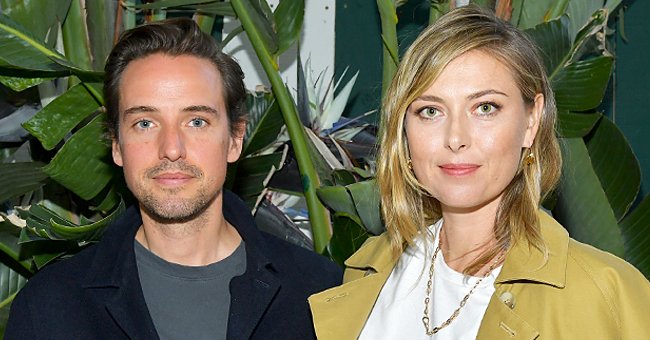 2020 also gave Sharapova the gift and commitment of a lifetime, waking up next to her best friend every morning. She ended her caption by saying she is incredibly inspired for what is to come this year before wishing her fans a Happy New Year. She wrote:
" Incredibly inspired for whats to come in 2021. Happy New Year!! ✨✨."
Accompanying Sharapova's post was a selfie of her sitting inside a car, clad in a grey turtle neck. She posed by placing her left hand on her jaw, flaunting her $400k custom-made emerald cut diamond ring. 
Sharapova had announced on December 17, 2020, that she was engaged to her boyfriend, Alexander Gilkes, an art dealer, and businessman, and friend of Prince William. 
The retired tennis player announced on her Instagram page when she shared a series of romantic pictures and videos of her and Gilkes, revealing she said yes from the first day they met. 
She announced a partnership with "Therabody," where she would serve as a strategic advisor for the brand.
While Sharapova's New Year's Day Instagram post gave fans a glimpse of her engagement ring, an insider had revealed to Dailymail that the custom-made ring features five carats. 
The ring was designed by Jessica McCormack and is handcrafted in 18 carats rose gold and oxidized silver. It also features a central emerald cut diamond. 
As she said in her New Year post, Sharapova retired from tennis in February 2020 after 19 years in the game. After her retirement, the 33-year-old revealed what is next for her. 
In August, she announced a partnership with "Therabody." She would serve as a strategic advisor for the brand behind the popular smart percussion device called the Theragun. 
In a chat with PEOPLE, Sharapova said she was drawn to Therabody's amazing technology and how they help bring a better road to recovery for all athletes. 
The new partnership shows Sharapova has no plans of slowing down after her retirement, and her engagement with Gilkes also promises a year filled with love and happiness.