Kenya Moore's Daughter Brooklyn Delights Fans as She Eats Sauce Instead of Her Sushi (Video)
The "The Real Housewives of Atlanta" star's little baby girl Brooklyn had fans in stitches when she was filmed not wanting to eat her sushi, opting for the sauce instead!
It's safe to say that social distancing and quarantining at home have been a real challenge for everyone, especially for moms who have been trying to get their tots to eat healthily. Such is the case of Kenya Moore, who is enjoying life with her daughter, Brooklyn Doris.
Parents know the struggle of trying to get kids to eat healthily, and in this hilarious video, little Brooklyn is seen wielding chopsticks and going straight for the sauce instead of her actual dinner.
Fans reacted with bemusement to Moore's baby daughter's latest antics. The little tot was clearly more interested in watching videos on her bubble gum pink mobile phone and dipping her chopsticks into the sauce than she was in actually eating the sushi dinner.
Little Brooklyn is no stranger to Instagram praise. Moore is fantastic at posting about the goings-on in Brooklyn's life and adoring fans can't seem to get enough. The tiny tot has a massive amount of Instagram followers - not bad for a 2-year-old.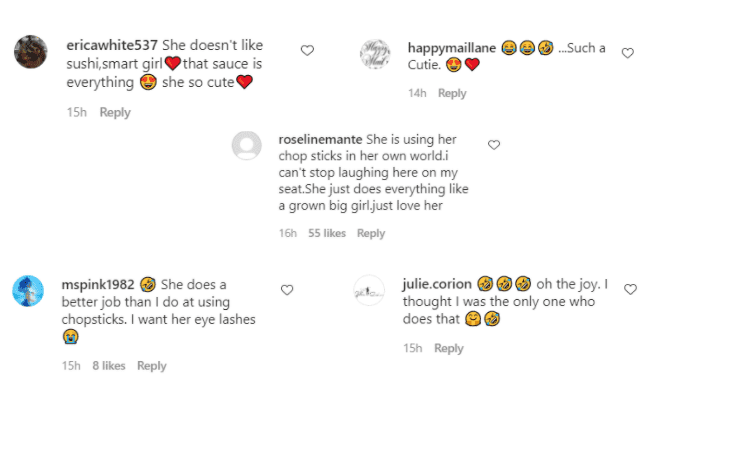 Who could forget the moment when the "RHOA" tot confidently counted to 10 in French, repeating the numbers after her mom. Proud momma Moore was cheering her little girl on in the background, "Good job, baby!" after her daughter successfully finished counting. 
The heartwarming post was captioned "I do it for the gram! Counting to 10 in French," along with the hashtags "miracle baby," "smart baby," and "Brookie cookie."
10 months after the little one's arrival, the new parents headed to splitsville.
But life hasn't been all sunshine and roses for the star. Moore and her estranged husband, Marc Daly, welcomed little Brooklyn under difficult circumstances in November 2018.
The little girl was born a little earlier than expected due to Moore suffering from Preeclampsia, a pregnancy condition characterized by high blood pressure. 
Sadly, 10 months after the little Brooklyn Doris's arrival, the new parents headed to splitsville. Moore broke the news in a statement to Us Weekly and said:
"Due to recent and ongoing circumstances, I can no longer continue in the marriage."
Moore was candid about the lack of intimacy between herself and Daly which was mainly due to the star's decision to co-sleep with baby Brooklyn. Hopefully, the two will figure things out and rekindle their love now that Brooklyn is a little older.
Brooklyn Doris sure is growing up to be a delightful bundle of joy. With several wholesome posts on her Instagram account managed by her mother, Kenya Moore, the cute child never fails to warm hearts. 
With Moore as her mom and proud dad, Daly looking out for his precious princess, little Brooklyn is sure to have a bright future ahead of her, after all, how many toddlers out there can speak French!