RHOP's Gizelle Bryant Slammed for Wearing $700 Silk Versace Shirt in a Video — See Comments
Gizelle Bryant is not getting the comments she would like on her Instagram account. Some of her followers left comments criticizing her taste in dressing.
Gizelle Bryant, 50, is a model and reality television personality who is part of the all-female cast of "The Real Housewives of Potomac." She was married to Jamal Bryant and has three teenage daughters: Grace and twins Angel and Adore.
During the last season, Bryant and some of her teammates have had some problems. One of the things she is constantly criticized for is her taste in choosing what to wear.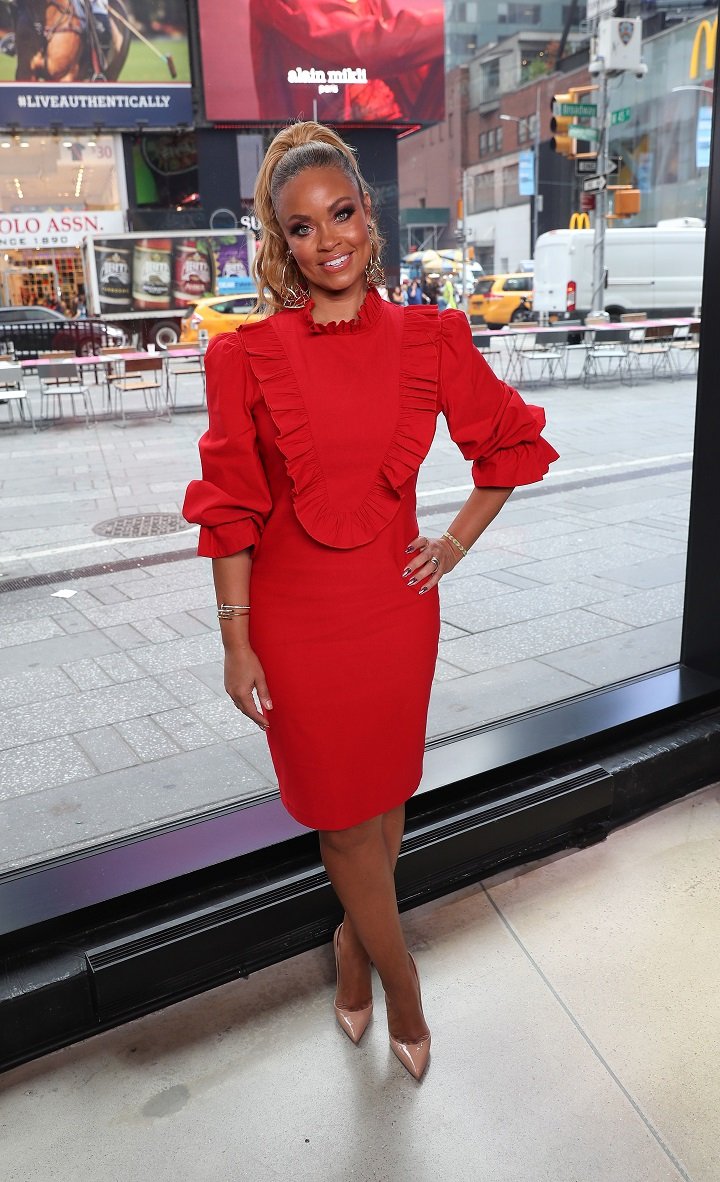 In a video that the model posted on her Instagram account, she appears wearing a colorful and patterned Versace blouse, and although she looks good with the garment, she did not stop receiving criticism. One of her followers wrote: 
"she's in a $1200 shirt with the party city wig propped on top of her head...It's a no for me"
MORE CRITICS
But that wasn't the only negative comment the RHOP star received about her outfit. Another follower commented: "She's been wearing all this designer lately like sis we did not ask for labels we asked for you to learn how to dress."
Another person who didn't like the shirt either wrote: "It's alright…. but I just feel like if you gonna pay $ 1200 for a button-up it should give more… ..they got the same shirts at TJ Maxx in the Misses Section for 39.99: "
DIVIDED OPINIONS
However, there were other followers who did like the shirt that Bryant wore, and who also wrote how good it looks. One of the comments has four purple hearts followed by: "that blouse girl" with flame emoticon and smiling face.
Other comments from people who also praised how good the reality star looks were: "@gizellebryant you are so beautiful !!!!!!!." "Beautifull." and "My fav !!!" 
SPECTACULAR OUTFIT
During Cynthia Bailey and Mike Hill's marriage, star Bryant made everyone proud of her. She appeared wearing a beautiful curvy black dress with long sleeves decorated with rhinestones from her shoulders.
Her hair was arranged in a ponytail and her doll-lash makeup highlighted her beautiful green eyes. High-heeled sandals with pearls completed the look that Byant wore on that happy occasion.
HOT MEETING
During the first meeting that the protagonists of the reality show "The Real Housewives of Potomac" had, things were quite hot due to an exchange of strong words between Bryant and Monique Samuels.
Samuels brought her binder of recipes to the meeting and gave Bryant the first reading of her notes. In it she called her relationship with her ex-husband, now boyfriend, Jamal Bryant a "fake." Samuels said that she had proof that he was with another woman.
MUST WATCH THE SHOW
During the last five seasons of RHOP,  it attracted more and more followers who did not miss the details and problems of these ladies who live in an area where the overwhelming majority are white.
However, now that the leads are no longer living in the same place together, the show is no longer about Potomac, but about them, the ladies who share their lives with the audience that follows them. That is why Bryant recommends following the show and enjoying them.