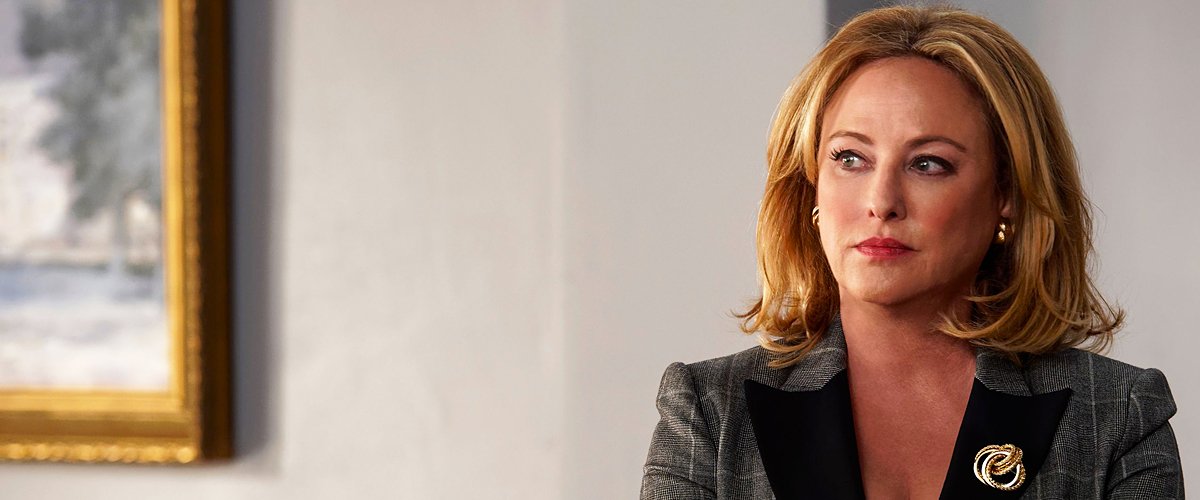 Getty Images
Virginia Madsen Got Married to Nick Holmes during Quarantine — inside Her Personal Life

"Sideways" star Virginia Madsen let COVID-19 play Cupid and married her 20-year-younger boyfriend "Guardians of the Galaxy" actor Nick Holmes during quarantine.
Actress Virginia Madsen, one of the stars of ABC's thriller series "Designated Survivor" has been dating fellow actor Nick Holmes for over 10 years. Madsen is Holmes senior by 20 years, but that didn't stop the couple from falling in love.
In November 2020 Madsen stunned her fans with an unexpected announcement: she and Holmes had tied the knot at an intimate ceremony. Holmes became 59-year-old Madsen's second husband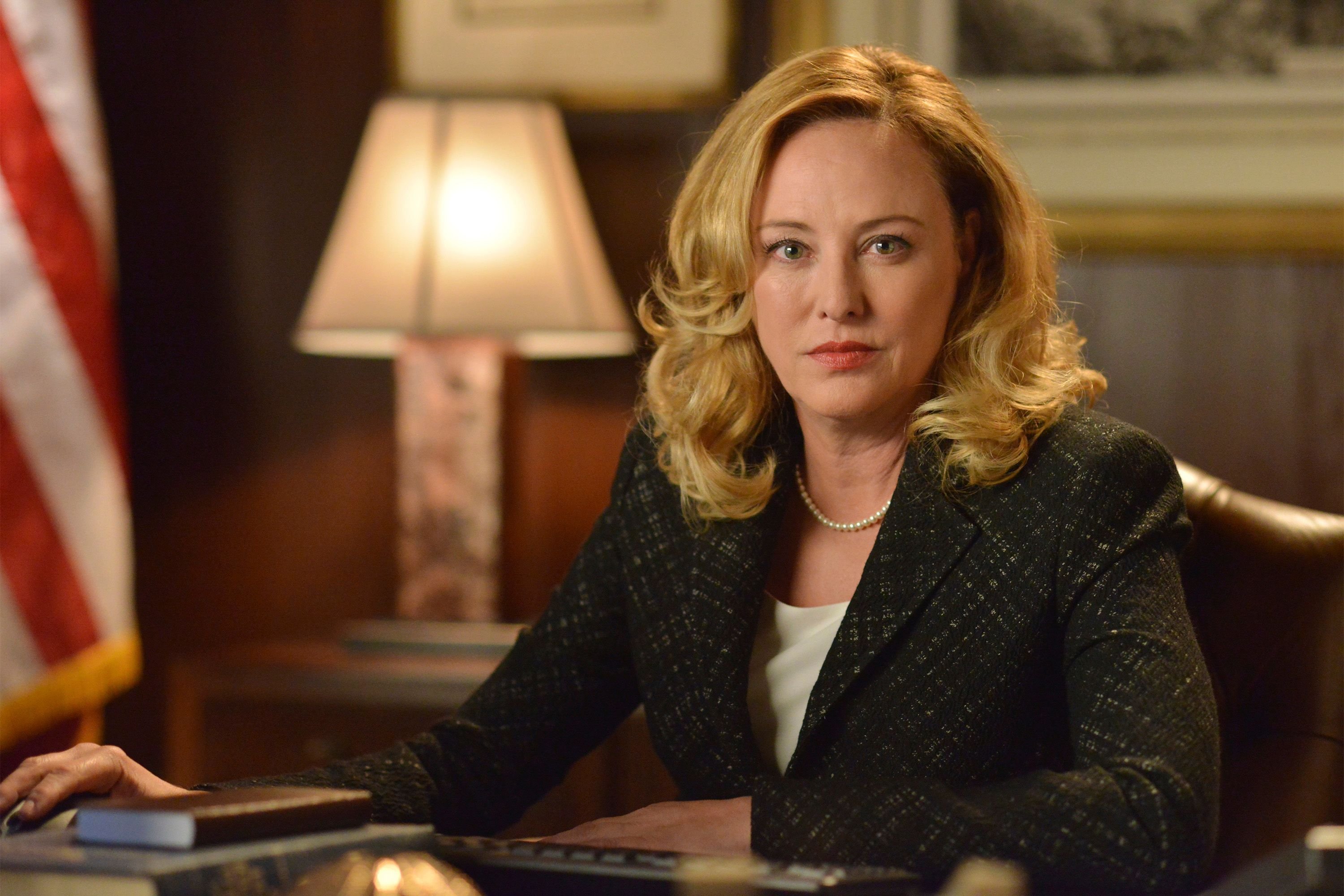 Virginia Madsen on the set of "Designated Survivor" in 2015 | Source: Getty Images
HERE COMES THE BRIDE
On November 22, 2020, Madsen shared a post on Instagram announcing that she and Nick Holmes -- the man she called not her boyfriend, but her "lover" -- had married. And she shared two photos to prove it. She captioned the post:
"Hitched in quarantine (don't tell anyone)."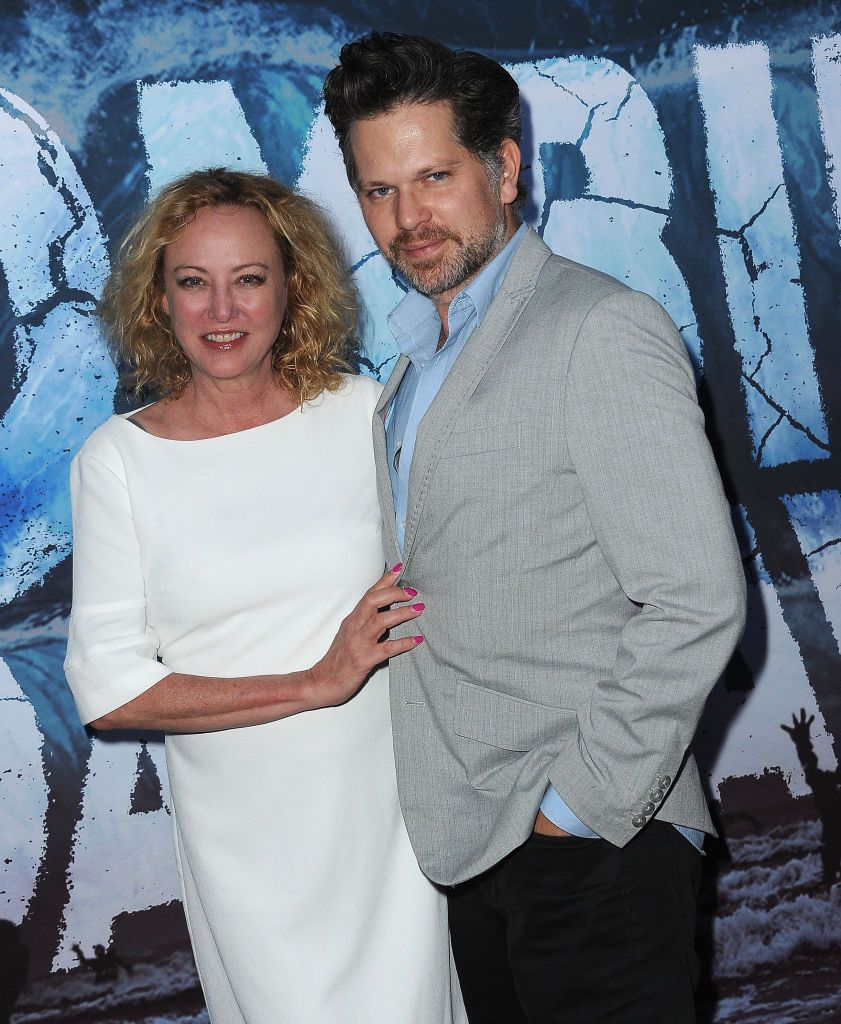 Virginia Madsen and Nkick Holmes at the premiere of "Zombie Tidal Wave"in 2019 in North Hollywood, California | Source: Getty Images
THE BRIDE WORE SNAKESKIN
The photos show Madsen and Holmes posing in front of a patio door. The bride is wearing an elegant knee-high white shift dress with three-quarter sleeves, and a pair of dizzy heels in caramel snakeskin.
Madsen carried a sweet bouquet of mauve roses, and instead of a bridal veil, she adhered to COVID-19 safety regulations, she wore a visor. And so did her groom, looking dashing and handsome in a tuxedo with a matching mauve buttonhole.
Madsen mended her broken heart in the arms of handsome Italian former model and actor Antonio Sabàto.
SHARED PASSION
The wedding was a surprise for fans, who had been watching Madsen and her "lover" conduct their sweet love affair for nearly a decade. Both devoted gourmets, Holmes and Madsen have been sharing their passion for food on an app.
The couple -- in the pre-COVID-19 era -- traveled the world together and introduced their fans to the delights of experiencing the cuisine of exotic destinations, including Bucharest, Fiji, London, Paris, Istambul, and Aruba.
TIMELESS LOVE
If fans were initially shocked by their 20-year age difference, that is now long past. The love and devotion between Madsen and Holmes are genuine and unbound by the conventions -- it's timeless.
While Madsen speaks about his extraordinary poetry and his lighthearted approach to life, Holmes raves about her beauty and her amazing talent. They are definitely each other's greatest fans.
FIRST MARRIAGE
In 1989 Madsen married actor, Danny Huston. The couple had met on the set of the film "Mr. North," and tied the knot after a whirlwind romance. Unfortunately, the marriage was almost as brief and by 1992 the two were divorced.
Madsen mended her broken heart in the arms of handsome Italian former model and actor Antonio Sabàto. The two started dating in 1993 and would be together for five years, during which time Madsen had her only child, Jack Sabàto, now 26.
Jack has followed in Academy-Award nominated mother's footsteps into the entertainment world -- in fact, the entire Madsen clan is in the movie business. His grandmother, Elaine Madsen is an Emmy Award-winning producer.
Madsen's brother, Michael Madsen, who has starred in "Reservoir Dogs," "Thelma and Louise," "Kill Bill," and "Once Upon a Time in Hollywood," is one of Quentin Tarantino's favorite actors, and her nephew Christian Madsen is also an actor.
Like true romantics, Virginia Madsen and Nick Holmes have turned the isolation of the quarantine into an opportunity to deepen their loving relationship, strengthen their bond, and commit to each other for life.
Please fill in your e-mail so we can share with you our top stories!