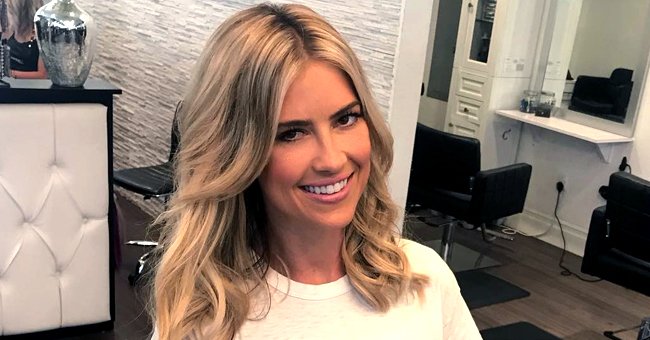 instagram.com/christinahaack
Christina Haack Tries on a Wedding Dress Amid Divorce from Second Husband Ant Anstead
Christina Haack played dress-up with a wedding gown amid her divorce from British TV personality Ant Anstead.
"Flip Or Flop" star Christina Haack shared a video of herself wearing a gorgeous wedding gowning amid her divorce from "Wheeler Dealers" Ant Anstead.
Haack, who recently changed her surname to her maiden name, shared a video of herself posing in a gorgeous floor-length wedding dress from the Walter Collection Brand.
The dress had a deep neckline and lace detailing throughout. The stunning gown had jewel details that matched the sparkle of Haack's bracelets and rings.
She wore her beachy-blond hair down in loose curls for the wedding gown dress-up with the high-end gown brand. Her white nail polish was even a perfect color for the occasion. She wrote on the video:
"Playing dress up with my fav @watlercollection."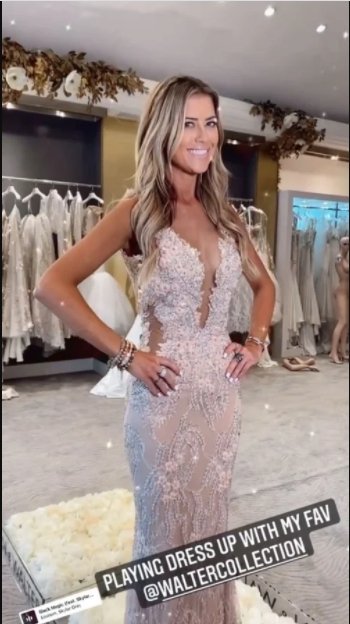 Christina Haack posed in a gorgeous gown from Walter Collection. 2021. | Photo: Instagram/christinahaack/
The TV star who used to go by "Anstead" recently updated her surname on her social media platforms. Haack has not gone by her maiden name for ten years.
Before she married Anstead, she was married to her "Flip or Flop" costar, Tarek El Moussa, for seven years. The couple shares two children, Taylor and Brayden. She kept El Moussa after their divorce until she married Anstead.
Anstead and Haack were married for 2 years and share an adorable son.
Haack shared a post dedicated to her grandmother, Mildred "Biddy" Haack, in which she shared her decision to change her surname from "Anstead" back to "Haack."
She shared sweet throwback family photos. One included her grandparents and her father when he was a small boy, and the other was of Haack and her brother with their grandmother. Part of the caption reads:
"Taking back the family's last name and know my grandparents are smiling from above. ?? ...."
Haack filed for divorce from Anstead at the end of 2020. The ex-couple both shared their feeling about the situation on Instagram. Haack had announced they were splitting up a month before she filed for the divorce.
Anstead and Haack were married for two years and share an adorable son. His name is Hudson London Anstead, and he is the third child of both his parents.
Anstead had two teenage children, Amelie and Archie, who he had with his ex-wife, Louise. His children live with their mother in England. However, Anstead regularly makes plans for them to get together.
Haack had shared an Instagram post in which she wrote that she never thought she would be divorced, let only divorced twice. But that life had curveballs and looks at the challenges as opportunities to grow.
Please fill in your e-mail so we can share with you our top stories!