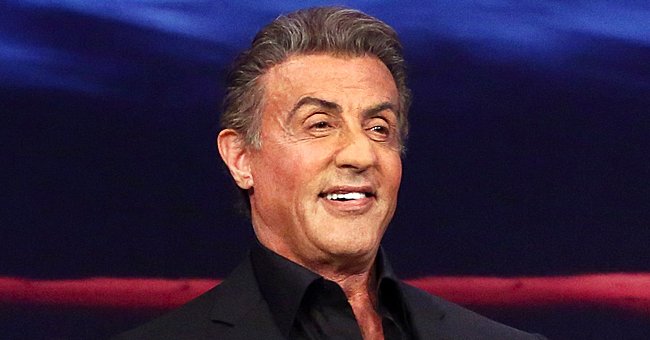 Getty Images
Sylvester Stallone Posts Rare Throwback Photos & Shares Secret to His Strict Diet for 'Rocky 3'

Sylvester Stallone recently shared a series of photos remembering one of his greatest fitness successes in preparing a film.
Sylvester Stallone is one of the most celebrated actors in Hollywood known for several films, but before all the fame, he worked a few odd jobs, including as a gym teacher and a dorm bounder.
In a recent post on Instagram, Stallone hit his fans with a series of throwback photos as he shared memorable gems from the time he prepared for the third installment of the "Rocky" film franchise.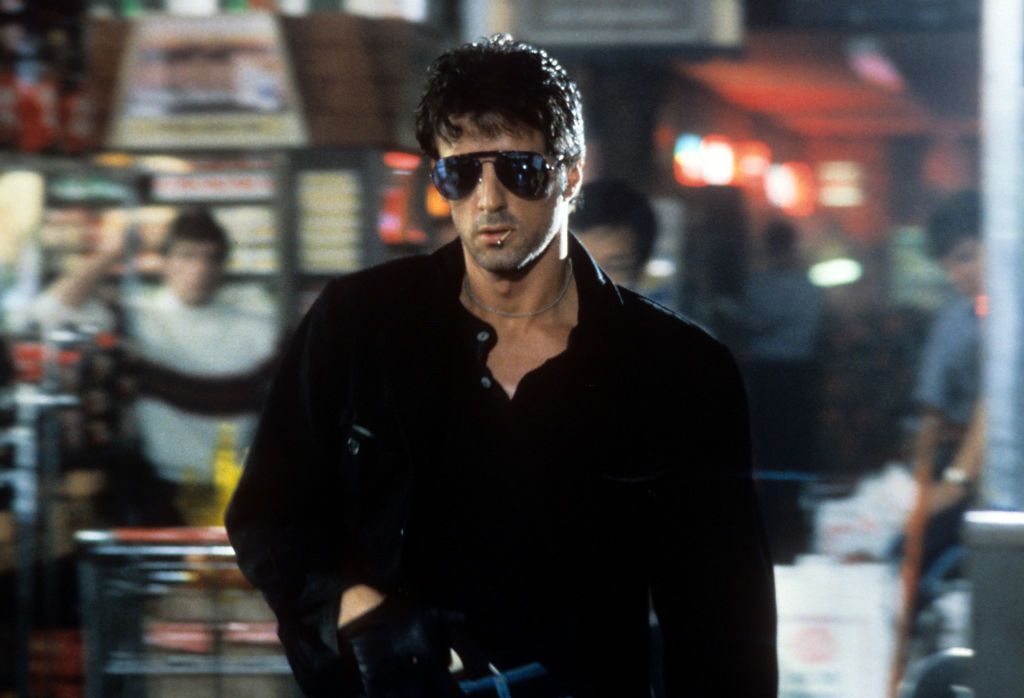 Sylvester Stallone during a scene taken from the film "Cobra," 1986. | Source: Getty Images
The post began with a vintage photograph of Stallone taken from the back, capturing his tapered physique playing a professional boxer. Another photo shows the star posing in an old gym, while the other images are from his on-screen bout with Mr. T, who played the infamous Clubber Lang in the 1982 film.
"I have nothing interesting to report today. This is prepping for the Mr. T fight. He was one strong dude. Trust me. This is also the lowest weight and body fat I ever was. 166 pounds and 2.8% body fat," Stallone recalled, even mentioning that it was one of the toughest.
Stallone's fitness journey throughout his films wasn't an overnight process, starting as early as his teen years. Stallone shared a photo of his 19-year old self doing an overhead press exercise using a grown man as his weights in a previous throwback post.
Stallone was thankful to MGM for the opportunity to do the upcoming version.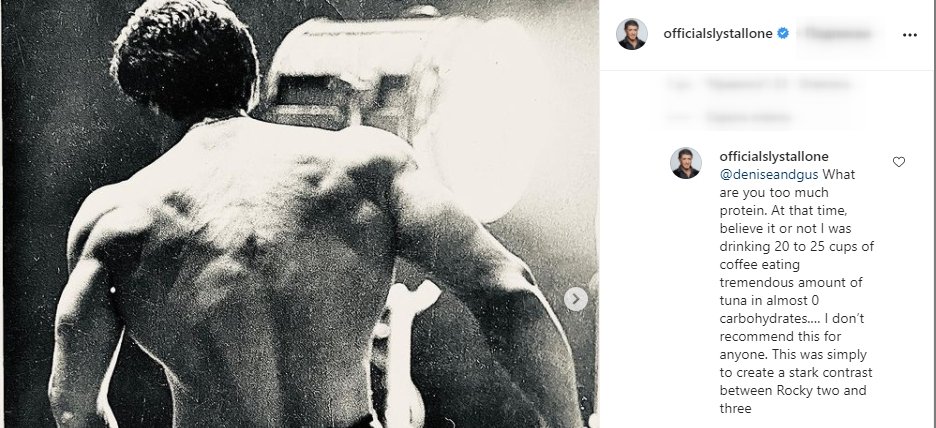 Screenshot of Sylvester Stallone's comment on his Instagram photo. | Source: Instagram/OfficialSlyStallone
The actor-screenwriter explained that when he couldn't go to the gym physically, he tried to lift absolutely anything. As he approached his age today, the "Rambo" star toned down his workout intensity to safeguard his knees and joints.
Through the "Rocky" franchise, Stallone faced countless fighters in pursuit of his character's story, one of them being professional wrestler Hulk Hogan. He shared a photo of himself carrying Hogan, who played "Thunderlips" in Rocky III, nearly over his head with his bare hands.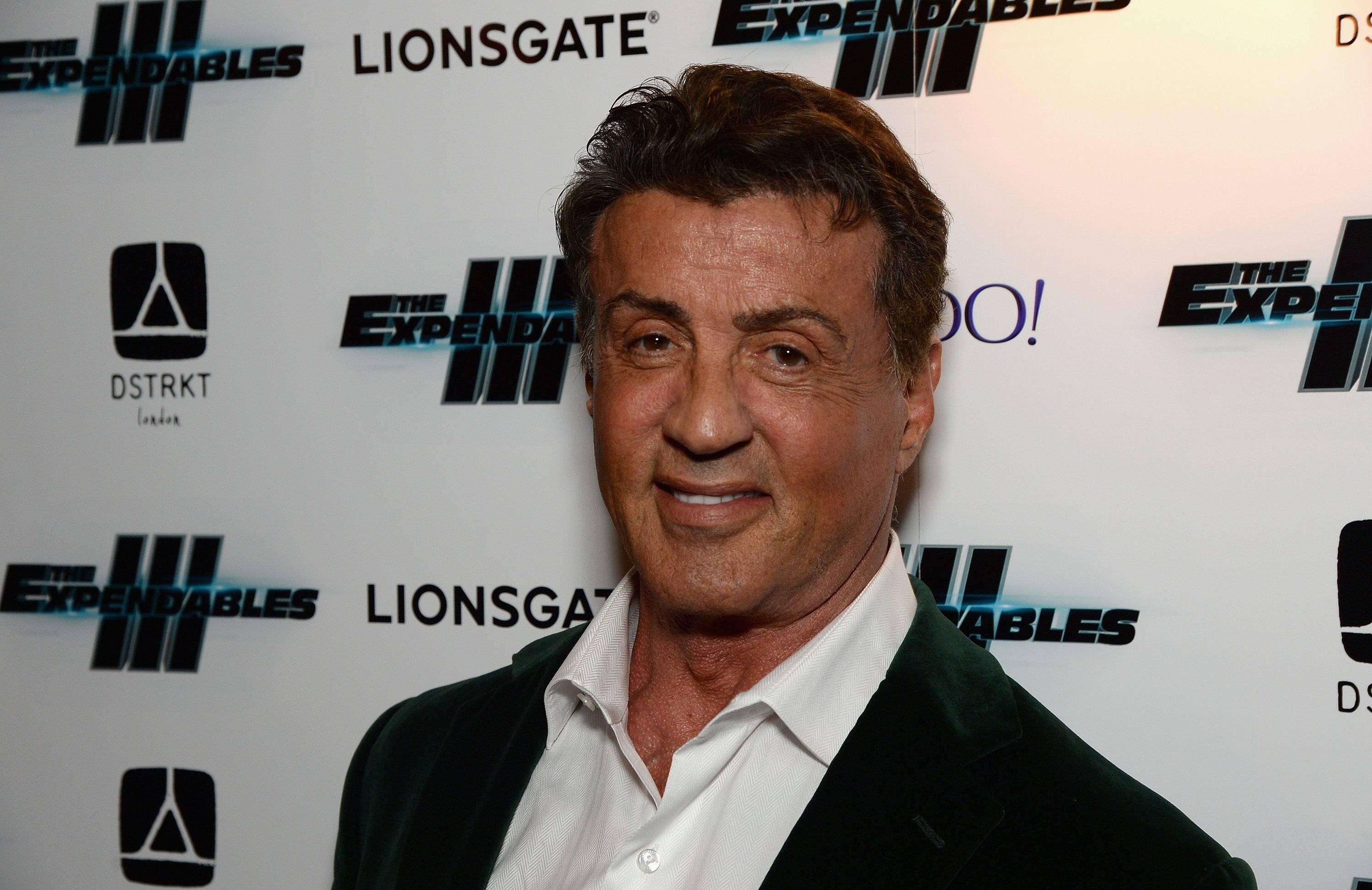 Sylvester Stallone during "The Expendables 3" after party at Dstrkt on August 4, 2014 in London, England. The Expendables 3 is released on August 14, 2014. | Source: Getty Images
The director-producer commended Hogan's great physicality as an athlete, praising his ability to connect punches. It's hard to separate Stallone from his world-renowned characters, especially that of Rocky Balboa.
In commemoration of the 35th anniversary of the "Rocky IV" film, Stallone announced a director's cut version of the storied franchise. However, the actor couldn't give an exact release date just yet. Nevertheless, Stallone was thankful to MGM for the opportunity to do the upcoming version.
Through the years, Stallone has accomplished great success both on and off the camera, inspiring people who know that he once worked in a theater to sell tickets and clean lion cages. At 75 this year, he holds a studded background as an icon in the industry.
A fellow veteran action star, whom Stallone shared the limelight in his prime, is none other than Mr. Olympia Champion and former California governor Arnold Schwarzenegger, who turns 74 this year.
His children proudly celebrate his life as their father with posted memories of their trips and gym sessions together on social media.
Please fill in your e-mail so we can share with you our top stories!