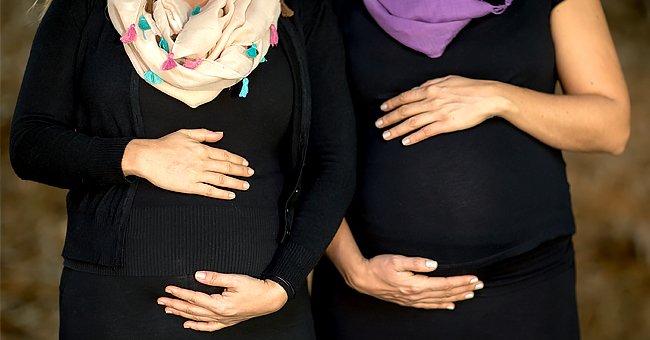 Shutterstock
Story of the Day: Woman Does Not Want to Give up Baby's Name for Her Sister's Sake
Katrina and Grace are half-siblings who have never been close to each other. However, a feud recently occurred after Katrina did not want to change her unborn baby's name.
When Katrina was 10-years old, her father passed away and her mother remarried. Three years later, her mom gave birth to another daughter, Grace. Given their 11-year age gap, the two were not as close growing up.
By the time Grace was older, Katrina had already gone off to college. Currently, Katrina is 42-years-old, while her sister is 31; both are married and got pregnant at around the same time.
After experiencing fertility issues, Katrina is excited to have her first child, who may also be her only child, given the circumstances. Meanwhile, Grace already had a daughter when she was 26-years-old.
Sadly, Grace experienced a miscarriage and lost her child, bringing the sisters closer as the 31-year-old confided in her sister at a time of grief. In one of their conversations, the siblings talked about Grace's unborn child's gravesite, causing a dispute.
Grace told Katrina that she had chosen their maternal grandmother's name, whom they were both close to, as her late baby's name. Katrina then reminded her younger sister that she had picked the same name for her first child years ago.
For several days, her sister, mother, and step-mom have been contacting and pressuring her to give in.
Grace began crying and begging Katrina to use a different name, but the expecting mom calmly said that it had been her plan for several years, and after struggling with conceiving a child, now is her chance to honor their grandmother.
After Grace hung up, she told her father to talk to Katrina to let go of the name. He contacted his step-daughter and began arguing about the issue until raising his voice and calling her names through the phone.
Immediately, Katrina's husband grabbed the phone and started yelling at Grace's father before hanging up. The couple has since been ignoring Grace and her dad's calls and messages, knowing it won't go anywhere.
Katrina's mom finally reached out and spoke up about the issue, asking her daughter to give way since Grace already lost a child. The 42-year-old replied that Grace had the chance to use the name for her firstborn and still use it if she gets pregnant again.
On the other hand, the chances of Katrina conceiving are low because of her fertility problems and age. For several days, her sister, mother, and step-mom have been contacting and pressuring her to give in to no avail.
Do you think Katrina is wrong for wanting to honor their grandmother through her first child? For similar family dilemmas, find out why a man refused to welcome his sister's fiance into his home.
Please fill in your e-mail so we can share with you our top stories!