Rob Gronkowski Makes History with Guinness World Record after Catching Pass from a Helicopter
Football star Rob Gronkowski was third time lucky when he expertly caught an over 600-foot pass from a helicopter, setting a new Guinness World Record. 
American football star Rob Gronkowski added a Guinness World Record to his accolades when he caught a football that dropped over 600 feet from a helicopter. 
Gronkowski shared a video showing the record-breaking moment on his Instagram page. He surprised college athletes at the University of Arizona, his alma mater, where he also served as an honorary Wildcats coach. 
Wild Cats' first-year head coach Jedd Fisch boosted the team's morale for Gronkowski's visit. The NFL star came out wearing the Wildcats' No. 48 jersey, which he donned when playing for the team from 2007 to 2009. 
Fisch told the team there would be a final catch at Arizona Stadium, and it would be a Guinness Book of World Record catch. The coach further said it would be the highest altitude catch ever done in the world.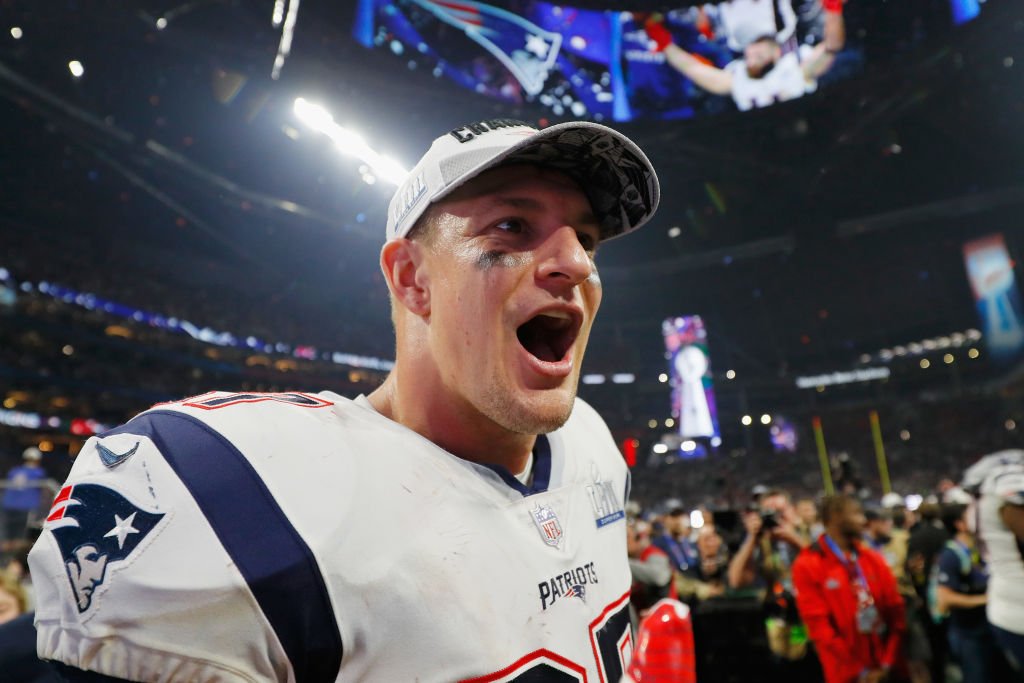 Fisch explained that a helicopter would drop the ball straight down from 600 feet in the air and that the record would happen right before the team's eyes. 
After all was said and done, Gronkowski began his quest for the record. His first two attempts at catching the pass from the helicopter failed, but the third time proved the charm, and his famous "Gronk spike" followed afterward. 
Gronkowski played in all 20 games in his first season as a Buccaneer.
The entire Wild Cats team swarmed him on the pitch, cheering him. Gronkowski encouraged the players to raise the bar to another level whenever they step on the field before exclaiming that he had done just that.
In his caption to the video post, the 31-year-old celebrated his accomplishment. He wrote, "625ft catch," before adding, "Mr. World Record Breaker Wildcat in the house #beardown #worldrecord ?? @guinnessworldrecords @arizonafootball."
Gronkowski recently extended his contract with the Tampa Bay Buccaneers. Last year, he came out of retirement to help the team win Super Bowl LV. 
The road to the championship victory was not easy as Gronkowski played in all 20 games in his first season as a Buccaneer, proving to himself that he could still operate at a high level in the NFL, coming from retirement. 
Gronkowski is in a relationship with Sports Illustrated Swimsuit model Camille Kostek. They have been dating since 2015 and have shared many beautiful moments. 
The Gronkowski-Kostek romance is one of the successful relationships between NFL players and famous women, with singer Ciara and Russell Wilson and model Gisele Bundchen and Tom Brady being worthy mentions.