See Keshia Knight Pulliam's Fiancé Brad's Response to Her Flirty Comment after Posting a New Selfie
The 39-year-old model and actor Brad James stuns Instagram with a gorgeous photo of himself few months after getting engaged to popular American actress Keshia Knight Pulliam in Atlanta.
Brad James, fiancé to American actress Keshia Knight Pulliam posted a photo on his Instagram page that had everyone talking. It was captioned: 
"The Disheveled Selfie."
Rather than complimenting the photo like every other person commenting, his fiancée Pulliam took a different route and asked him flirtatiously if that was an iPhone he had in his hands. It didn't take long before James responded to her flirty comment saying:
"Don't start."
Thankfully for James, many other commenters admired the photo and gave their compliments without flirting with him or asking about his mobile device.
Fans said he is handsome and the photo is lovely. One went the extra mile, saying there was nothing disheveled about the selfie, and stressed that Pulliam was blessed to have him as they both look adorable together.
They started dating in 2019 and have now taken their relationship to the next level.
The popular actress announced her engagement to James through her Instagram page a few months ago. She said she has always desired a lifetime filled with love and family, and her heart was so filled with joy.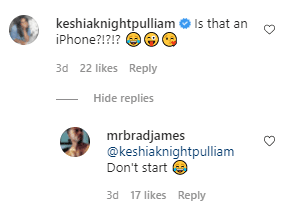 The former star of "The Cosby Show" shared a photo of her and James at their engagement dinner along with a with a lengthy caption:
"I said Yes!! ❤. I LOVE YOU @mrbradjames… My heart is so filled with joy!! So excited to continue to choose each other & our family every day."
Unlike Pulliam, her fiancé is not as popular, and some people may not know who Brad James is. He is a 39-year-old actor and model known for his role as Todd in the sitcom, "For Better or Worse" by Tyler Perry.
The couple first met on the set of the TV movie "Pride and Prejudice: Atlanta," in which they were both cast members. They started dating in 2019 and have now taken their relationship to the next level.
They got engaged in Atlanta. Brad popped the question last December, proposing with a custom diamond eternity ring made by Aydin Jewelers.
They went on to celebrate their engagement with their friends and family, including Pulliam's 3-year-old daughter, Ella, who she had from a past relationship.
Pulliam's engagement to James means she will be walking down the aisle for the second time. The 41-year-old was previously married to former NFL star Ed Hartwell and split months after their marriage.
Meanwhile, James will be getting married for the first time once he ties the knot with Pulliam and will be the stepfather to her daughter.