Carol M Baldwin Is the Baldwin Brothers' 91-Year-Old Mom and a Cancer Survivor — Meet Their Parents
The Baldwins are no stranger to dealing with cancer, unfortunately. Carol M. Baldwin, the matriarch, was diagnosed with breast cancer seven years after her husband died.
Born in December 1929, Carol raised six children, including the four Baldwin brothers: Alec ("SNL"), Daniel ("Homicide: Life on the Street"), Billy ("Dirty Sexy Money"), and Stephen ("Celebrity Apprentice"). 
Carol is 91 years old at the moment, but as Billy said on her 90th birthday, there were "a lot" of reasons he and his siblings believed their mother wouldn't make it to her 90s.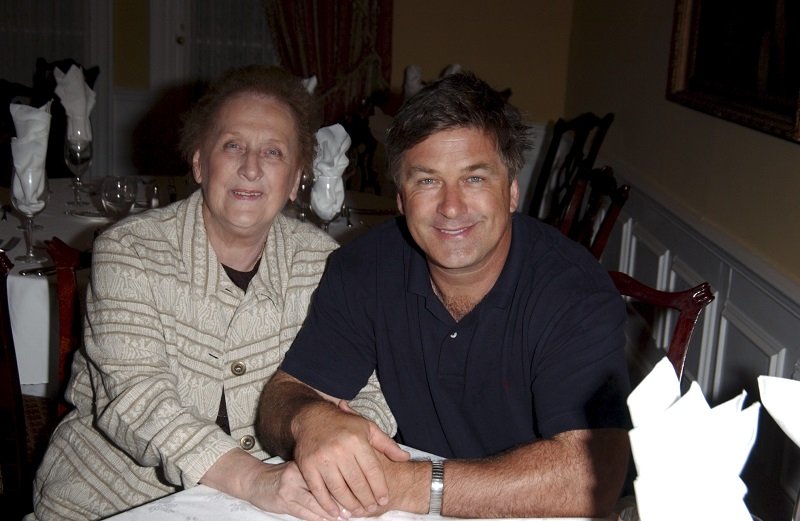 CAROL'S BREAST CANCER
In 1990, Alec Baldwin's mother was diagnosed with breast cancer. After undergoing treatment that included a double mastectomy, she survived. It was definitely a dreadful experience, but something good came out of it. 
The Carol M. Baldwin Breast Care Center was founded in 1996 to provide cancer-related services, like screening and medical care, regardless of people's possibility to pay.  
Celebrate Carol's 90th Birthday and 25+ years being a breast cancer activist by making a donation in honor or memory of a loved one. Let this be the year we come closer to finding a cure or better yet, FIND THE CURE!https://t.co/sFer3Xxe72… pic.twitter.com/nXUAsrtIH2

— Carol M. Baldwin Breast Cancer Research Fund (@CBaldwinFund) October 11, 2019
Later that year, Carol and her family created the Carol M. Baldwin Breast Cancer Research Fund, Inc., which has funded at least 47 research grants, adding up to $5 million.
"The Fund," like the Baldwins call it, is focused on supporting new and already established researchers to battle breast cancer. Their mission is "to find a cure – nothing less!"
Carol's children are involved in the fund's efforts, too. Back in 2014, Alec spent a few hours at his mom's cancer research booth in New York, signing autographs and taking photos with Carol to attract attention to their cause. 
THE FUND'S IMPORTANCE
The Fund has touched so many lives that Carol even received the 2012 Ellis Island Medal of Honor. Her schedule was so busy at the time that she almost didn't attend the ceremony held on Ellis Island. 
Since the gala conflicted with the Fund's annual event for 800 supporters, Beth Baldwin, Carol's daughter, initially considered her mother didn't need to be present. Alec asked her to reconsider her decision and to check the previous honorees.
After learning that Muhammed Ali, Frank Sinatra, Hillary Clinton, and seven US Presidents had received the Medal of Honor, they realized it was a once-in-a-lifetime award, so they attended the ceremony.
Following an accident during rifle instruction, [Alexander] was honorably discharged.
BALDWIN'S PATRIARCH
Carol M. Baldwin is not the only member of the famous family who dealt with cancer. Her late husband, Alexander Baldwin, was diagnosed with lung cancer and died in 1983, seven years before Carol's breast cancer diagnosis. 
In 2019, Alec shared a heartfelt tribute to his father on the 36th anniversary of his passing, describing the late public-school teacher as a "caring, dedicated," and "smart" man.
My Dad Alexander Baldwin Jr. passed away 35 years ago today...
He was a beloved teacher & coach in Massapequa for over 30 years.

Had a big impact of the lives of so many young people in the 60's & 70's.

Lost one of the good ones on that day...#SemperFi pic.twitter.com/QYqLDDRrQW

— Billy Baldwin (@BillyBaldwin) April 15, 2018
The actor confessed his dad's passing affected him "tremendously" and made him seek advice and care in other men. However, nobody could fill that position. Alec wrote:
"A mother, a father, under the best of circumstances, though never perfect ones, are irreplaceable. I miss you, Dad."
It was not the first time that Alec shared some details about his late father. In 2009, he wrote for the HuffPost that Alexander served in the US Marine Corps and was an expert marksman in riflery.
Following an accident during rifle instruction, he was honorably discharged. Once Alexander returned home, he went to law school at Syracuse University but dropped out.
The Baldwins' patriarch moved to Massapequa, Long Island, and taught social studies – everything from history and economics to constitutional law and contemporary problems – at a public school for 28 years.
If that wasn't enough, Carol M. Baldwin's late husband was the Massapequa High School rifle team coach, which competed at two New York State riflery championships and won both. The Baldwins are filled with talented people.