Helen Mirren Makes an Appearance on 'The Tonight Show Starring Jimmy Fallon' from a Bathtub
Helen Mirren recently had a TV interview in her bathtub. After the show's host introduced her,  she appeared on the screen, sitting in a tub full of bubbles.
Dame Helen Mirren,75,  is one of the most celebrated women in the British arts. In 2003, she was appointed Dame Commander of the Order of the British Empire for Drama services.
She has appeared in more than 25 TV shows, more than 50 stage productions, and more than 80 films. She has also bagged some of the most envied awards, such as the Olivier, the Emmys. Multiple BAFTAS, an Oscar, as well as many other nominations.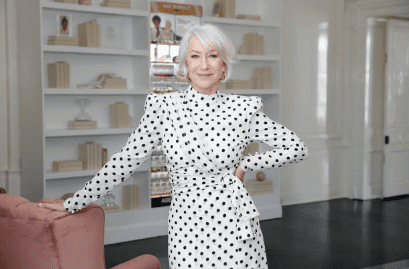 In the video, Mirren seemed as comfortable as can be in the tub and did not seem to mind that she was on national television. She said that the bathtub is her happy place, and she was having a good time.
Jimmy, the show's host, was amused at the unique appearance on the show and would not stop giggling, saying that he's never seen an entrance like that before. On the youtube video, Jimmy said:
 "You might be the first guest ever to be in a bathtub on 'The Tonight Show'."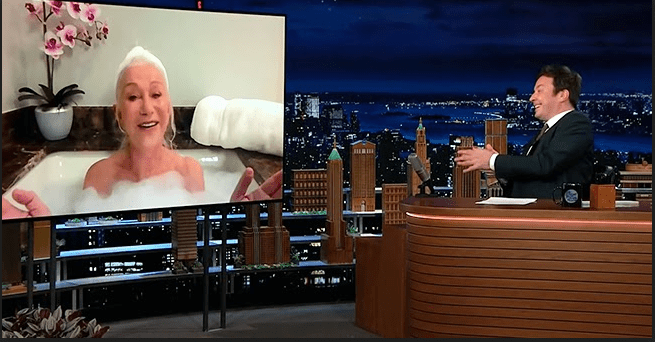 .While some people may have been embarrassed to have a TV interview underdressed, let alone in a tub, Mirren seemed comfortable and wanted to carry on with the interview as if nothing was amiss.
She told Jimmy how she loves sitting in the bathtub while chatting with the people she loves, including her husband. So why not sit there when talking to America?
She says there are way too many babies in the world.
Mirren has been married to her husband, Taylor Hackford, a film director, for more than two decades. They met and started dating in 1986 while directing a movie she played in and got married 11 years later.
The couple has brought up two  sons from Hackford's previous marriages, but they never had any children between them. When asked about her husband and love life, Mirren, who did not have plans of ever marrying jokingly said:
"I don't have much life left, do I? So, I hope he's the love of my life."
Mirren is only one of the many celebrities that do not want children. So many couples and even individuals choose to pass the childbearing stage, each with their own valid reasons.
One such celebrity is Miley Cyrus. When asked why she does not want children, Cyrus says her reasons are purely biological. She feels that we live on a planet so filthy that she wouldn't want to bring a life into it.
Oprah Winfrey, despite having all else, has never wanted children. She says having children has never felt right to her, and she knows she would not be a good mother to her children.
Tracee Ellis Ross was a brilliant mother to five kids on the show "Blackish" but being a mother has never appealed to her in real life. She says there are way too many babies in the world and that in itself is a problem.