Prince George's Joy & Despair at Wembley Sparks Twitter Reaction
Prince George joined his parents Kate Middleton and Prince William at a EURO soccer game over the weekend and won over royal fans with his reactions to the match. His dad later consoled him after the team lost.  
Prince George's joy and despair at Wembley sparked reactions from Twitter users on Sunday, July 11, during a soccer match between England and Italy.
The youngster's adorable reactions got Twitter users swooning over his jubilant response, which ended up on a sad note as England lost to Italy.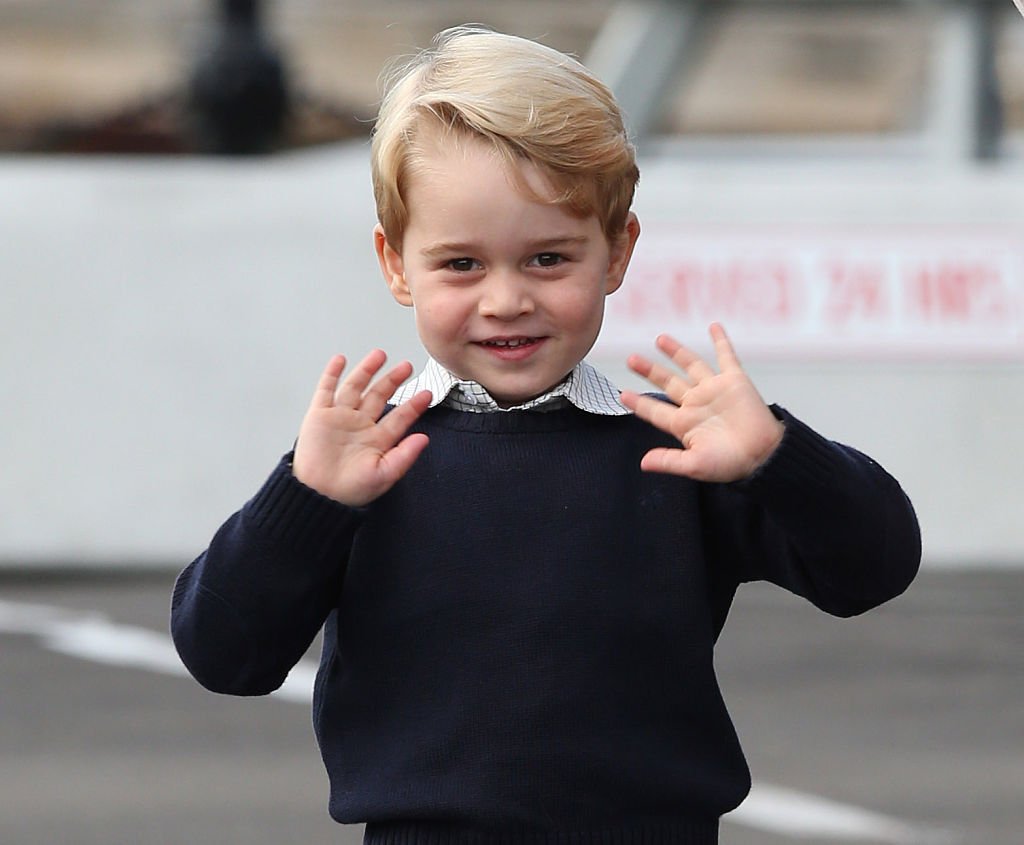 LOVING THE GAME
The young royal was pictured cheering while applauding standing in-between his parents with his father patting him on the back cheering beside him in a 2-second clip shared on Twitter by Dan Walker, who tweeted:
"Prince George LOVED it."
Prince George LOVED it 😂pic.twitter.com/OHySiGlJ43

— Dan Walker (@mrdanwalker) July 11, 2021
Rebecca English also went on Twitter and posted a not-so-happy image of Prince George, whose joy was crushed by his team's loss, and he looked rather sad after that.
"#PrinceGeorge sums up the mood of the nation #penalties #Euro2020Final #ENGITA," English captioned her post on July 11, 2021.
#PrinceGeorge sums up the mood of the nation #penalties #Euro2020Final #ENGITA pic.twitter.com/AlMjJ8gA70

— Rebecca English (@RE_DailyMail) July 11, 2021
One fan was happy to witness the father and son bonding through soccer writing: "Great to see William and George having such a great time together."
A second noted how happy the little royal is and wrote, "Happy kid! He's adorable." A third agreed and said, "So adorable! Pure happiness and joy."
A fourth said, "What a memory of him," while taking note of actor Tom Cruise's reaction, who was seated on the top right corner of the royals. 
Great to see William and George having such a great time together. 🏴󠁧󠁢󠁥󠁮󠁧󠁿

— steve wilde (@hellosailer) July 11, 2021
A fifth expressed sadness following team England's loss and said, "I feel the pain," while praising the goalkeeper in the process, "What a heroic performance by the England keeper."
A sixth reiterated what English said about Prince George, summing up the mood for everyone who watched the match. Another user added, "My heart is breaking for Prince George and the family and the entire country tonight @England had a really great game."
One person went off track and shared the Duchess of Cambridge must be having it hard dealing with her spouse and son, saying, "Silent prayer for Kate for having to deal with two cranky men lol."
Happy kid! He's adorable. 💜 pic.twitter.com/xiD6yw3vJP

— Brady got 7 💍 rings (@DarkSldeoftMoon) July 11, 2021
Prince George was alongside his parents as they all cheered on as England took the early lead but ended the night somewhat devastated after the team lost on penalties.
He was then comforted by his father, who, with a solemn face put his hands on his son's shoulders in a moment of support.
What a memory for him.
Loving Tom Cruises reaction top right corner.

— @RussRobinson (@RussRobinson170) July 11, 2021
The Cambridges joined VIPs, including former football star David Beckham, Kate Moss, Tom Cruise, and Boris and Carrie Johnson in the box at Wembley.
The game ended on a 1-1 draw and went into extra time before ending in penalties, with England missing two consecutive penalties. Italy has been the champions of Europe in front of 60,000 fans at Wembley.
So adorable! Pure happiness and joy. 😍❤️

— H. (@Honor_Sandi) July 11, 2021
BEING A STAR
Following his appearance at Wembley during The Lions' 2-0 win over Germany last month, Prince George has been hailed as England's "lucky royal charm."
He watched on alongside his parents as England progressed into the Quarter Finals of Euro 2020. Royal commentator Hugh Whitfield joked Prince George "mumbled and hummed" his way through England's national anthem.
He said, "Seven-year-old Prince George is being dubbed England's royal lucky charm. He appeared to mumble or hum his way through God Save the Queen."
FATHER'S DAY OUTING
On Father's Day, the young prince and his sister Princess Charlotte spent some quality time with their father, the Duke of Cambridge, at their grandmother's Sandringham Estate.
The little ones helped kick off a half-marathon Father's Day race at the monarch's private Norfolk home. Although their mom and younger sibling, Prince Louis, were not there for the festivities, the siblings stuck with their dad.
The trio counted down the start of the race and cheered on all the participants. The kids held onto their father's hands while approaching the stage.