Deer Leaves Forest to Check On Crying Baby on a Woman's Porch
Hanna Burton, a TikTok user, was recently in her backyard with her crying newborn Charlie when she got startled by a full-grown deer that came running out of the woods.
It was a nice and beautiful day in Ohio, and Burton was trying to get her little boy to enjoy the outdoors, but the baby just wouldn't relax for some reason.
While Burton was trying to calm her baby, the deer just dashed out of the woods at full speed, scaring the mom so much that she immediately said, "Nope, nope, nope."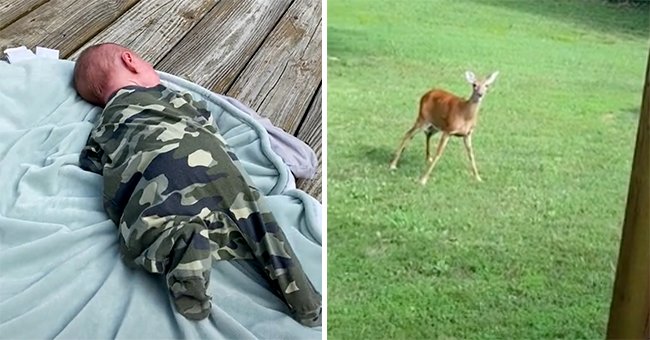 COMING TO THE RESCUE
In order to protect Charlie, Burton picked him from the deck as the deer stopped dead in her tracks and just stood there staring at both mother and son.
As it turns out, the deer came running after hearing the baby crying, and her maternal instincts kicked in, prompting her to answer the little one's call.
Even though they are not even the same species, the deer just felt that she needed to help Charlie, and Burton understood that because, in the video, she can be heard saying, "she thinks you're her baby."
The TikToker wasn't worried about the incident and even came up with a funny caption for the clip: "When you almost have to throw down with a momma deer because your baby starts crying outside."
A FURRY HERO
Back in June, another momma deer went viral for reuniting with her fawn after it was saved from drowning in a lake by a Goldendoodle named Harley.
The story was shared by the dog's owner, Ralph Dorn, who documented the rescue. According to him, he couldn't find Harley one morning until he glanced at the lake and saw her swimming.
The 6-year-old canine was coming back to shore with another animal, a little fawn, who somehow found itself struggling in the middle of a huge lake.
Once the fawn was safe and sound, it reunited with its mother and disappeared into the woods. However, in order to thank Harley, the deer and her baby came back the next day.
Harley was jumping from window to window, and when Dorn went to see what was going on, he noticed the deer and the fawn in his backyard bleating.
Dorn opened the door, and Harley dashed towards his new little friend, and the two touched noses. According to Dorn, the fawn and its mother were gone by the end of the day, and he hasn't seen them since.