Daily Joke: Grandmother Tells Her Grandson about Her Love Story with His Grandfather
A little boy approached his grandmother to learn some family history, including how she came to marry his grandfather. The grandmother smiled before motioning him to sit down. She then delved into details about everything the boy wanted to know.
After a good talk between the duo, the conversation soon led to the grandparents' love story and how they ended up together. The grandmother began, "I was in my twenties and the man I was dating left for war."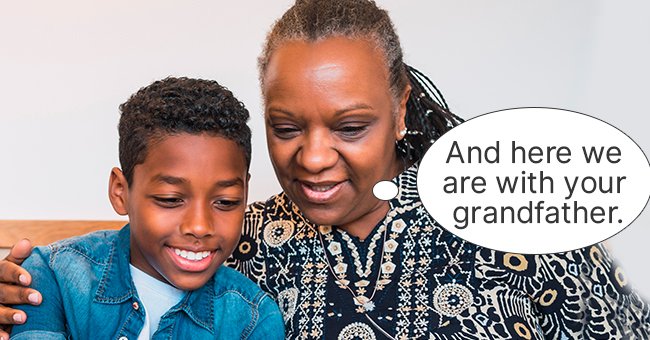 The boy listened fondly as his grandmother went on with a dreamy smile spread across her face, clearly reliving those beautiful moments decades ago. "We were in love, and wrote to each other every week," she continued. "It was during that time that I discovered how wonderful your grandfather was."
The boy nodded in apprehension and asked, "Did you marry grandpa when he came home from the war?" The grandmother quickly added:
"Oh, I didn't marry the man who wrote the letters. Your grandfather was the mailman."
ANOTHER GRANDMOTHER JOKE
A little boy named Karl went to the neighborhood store with his grandmother to pick up some groceries. As they stood in line at the cashier, the child suddenly yelled:
"Granny, I need to pee!"
Embarrassed, the woman turned to her son, pulled him close, and cautioned, "We are in a public place. Don't say you need to pee. Say something nice. Say you need to sing." 
Karl nodded apologetically and behaved himself for the rest of the outing.
Later that night, the grandmother was asleep in her bedroom when little Karl entered and attempted to rouse her from sleep. As he nudged her, he said courteously, "Granny! I need to sing."
The elderly woman gave a loud yawn, turned over on the bed, and said, "It's midnight. You can't sing now." The boy grew restless as he said, "But I need to sing bad!" With a sigh of defeat, the grandmother replied:
"Fine! Okay then. Sing quietly to granny's ear."
Enjoyed the two jokes? Read this one about an old lady who got pulled over on route 30 by a patrol officer.
Source: Viralgfhealth, Facebook