Grandmother Comes to Meet Her Grandbaby, Gets Surprise of Her Life When She Sees One More
The video of a woman who decided to surprise her mom with the birth of her new babies has gone viral on social media. The new grandma's reaction was priceless.
A grandmother received the surprise of her life when she visited her daughter at the maternity ward to greet her new granddaughter, only to see two babies!
The new mom, Anna Brooks Williams, who managed to keep her twin pregnancy a secret from her family for nine months, shared the priceless moment on TikTok, melting people's hearts.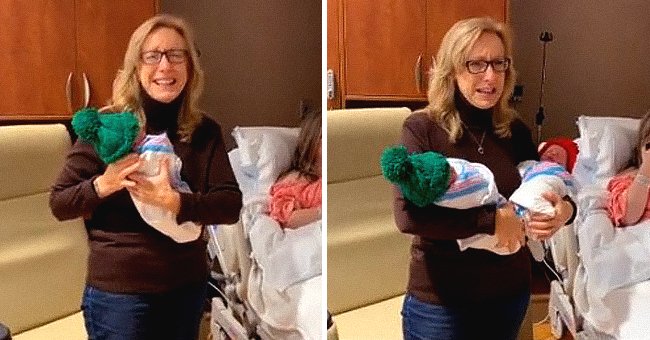 The video, which has racked up over eight million views, showed Williams lying on a hospital bed, still wearing her maternity gown. Her mom sat beside her, cuddling her little bundle of joy.
Williams gave a knowing look as a nurse wheeled in a baby crib, prompting the clueless grandma to look up. Then, with a mischievous smile, Williams motioned for her mom to approach the stretcher before a man appeared, taking out a second baby from the crib.
The discovery caused the excited grandmother to gasp and tear-up, before cradling the second baby in her free hand. Everyone appeared all excited in the video, which rolled over the song "Surrender" by Natalie Taylor. Williams captioned:
"We kept my twins a surprise until they were born. My mom's reaction gets me every time."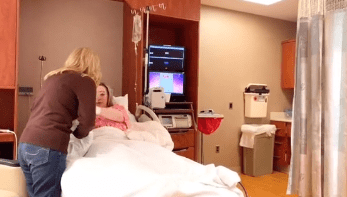 Like Williams, most TikTokers could hardly have enough of the grandmother's priceless reaction. However, some seemed unsatisfied, demanding to see footage without background music masking their exchanges. One wrote:
"Can we hear the original without the music?"
Williams obliged. In response to the comment, the new mom shared an extended clip of the priceless moment, this time capturing the grandma's grand entrance.
It began with William's mom walking into the ward, her eyes sparkling with excitement as she saw her daughter and new grandbaby, both looking healthy.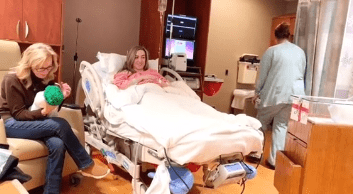 As she proceeded to take the newborn from her daughter's arm, Williams informed her it was a girl. The grandma excitedly carried the child, sat on the couch next to her daughter's bed, and began cuddling the baby.
As the nurse wheeled in the second child, Williams asked her mom to proceed to delivery two, pointing at the cot. A male voice says, "Merry Christmas," while the new mom burst out laughing.
Unable to contain her joy, the grandmother broke into tears, asking her daughter how she could keep that a secret. She then looked up, saying: "Thank you, Jesus."
Following the post, several TikTokers commented on the beautiful surprise, especially the grandma's reaction. One wrote: "Eekkk!!! She was already so happy, then add another baby takes it to a whole new level."
Another dwelled on how exciting it always was when a family found out they welcomed twins, saying: "Blessings. I had surprise twins almost 13 years ago. Such a special moment when the family finds out!"
While most of the comments focused on the mom's reaction, others couldn't but notice the nurses' excitement. One comment read: "I love that the nurses lingered to see this moment! I bet they all were talking about this for a long, long time."

Some TikTokers admitted that the video moved them to tears, especially when the mom exclaimed, "thank you, Jesus." One user wrote: "I've watched this video so many times! Cry every time! I'm 21 weeks. One little girl, but she's my first. Can't wait to see my mom hold her."
Many looked forward to replicating the beautiful moment in their own lives when they eventually welcome their babies. The grandma's priceless reaction is indeed one to remember!