Addison Rae's Ex Expresses His Thoughts on Her Rumored Relationship with Omer Fedi
TikTok star Addison Rae's ex-boyfriend Bryce Hall shared his thoughts on her alleged romance with musician Omer Fedi, and he didn't say what most people thought he would.  
Addison Rae and Bryce Hall's on-and-off relationship has been making headlines for almost two years. The first time they sparked dating rumors was October 2019, when they started uploading clips on TikTok. 
In January, they apparently made their relationship Instagram-official by posting a photo kissing. Weeks later, though, Hall tweeted that they were not dating and planned to remain friends.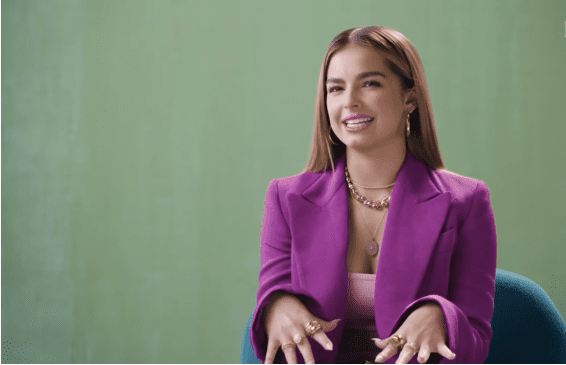 Rae then pointed out that they never dated but were "kind of on and off" and "trying to figure things out." By June, romance rumors sparked again as they began posting TikToks together.
In July 2020, a few days after Hall posted photos of their dinner date in Los Angeles, he said they were just "really good friends." 
It wasn't until November that they finally confirmed their relationship. After that, they unfollowed each other on Instagram, sparked engagement rumors, and cheating allegations also surrounded their romance before finally parting ways in early 2021.
When Rae and Hall's roller-coaster relationship ended, she seemingly moved on and is now reportedly dating Israeli musician Omer Fedi. He has collaborated with Lil Nas X, Machine Gun Kelly, and some other famous musicians. 
"Maybe they're just talking."
Fedi, who moved from Tel Aviv to Los Angeles when he was 16, was spotted with Rae at Machine Gun Kelly's concert in June. She uploaded a short video of two shadows kissing one month later, and everybody thought it was Fedi. 
Although Fedi and Rae have yet to confirm their relationships, they were spotted locking lips in Los Angeles in mid-August. If that wasn't enough, Rae's mom, Sheri, described the musician as an "amazing person" capable of making Rae's soul "shine."
On August 16, Hall appeared in an episode of the "Cancelled with Tana Mongeau" podcast and was asked about Rae and Fedi's alleged relationship. He said: 
"I would assume [they're dating]. Maybe not, though. Maybe they're just talking, feeling it out. I'm happy for her. […] She found somebody else; moved on. Good Job."
Given Hall and Rae's headline-grabbing relationship and constant breakups, some people assumed he would have had a different reaction. However, she is not the only one who seemingly moved on.
Hall and fellow TikToker Riley Hubatka have been sparking dating rumors for weeks as they've posted flirty clips on social media. He said they were not dating, though, but his followers have heard the same too many times before. Only time will tell.