Mom of 12-Year-Old Gay Boy Throws Him a Park Party with Strangers after No Friend Agreed to Come
When a boy revealed that he was gay, he purportedly lost his friends and had no one to celebrate with on his birthday. However, his mother had an idea to make him feel extra special. 
A mother had to think outside of the box to make her son's birthday a happy one this year. He came out as gay this spring, and as a result, he was ostracized by some of his peers. 
Thankfully, his mother, Leah O'Donnell, managed to surprise him. She arranged for a crowd of strangers to wish her 12-year-old well at a northwest Calgary park.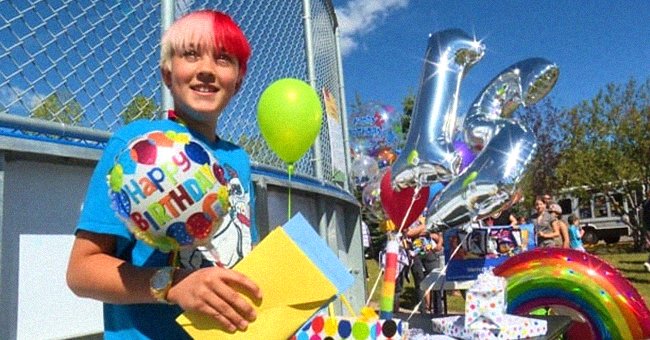 A SPECIAL BIRTHDAY 
Brody Neville had a rainbow-themed birthday during Pride Week, and the joyous occasion removed much of the sadness he experienced in the previous months.  
O'Donnell outlined her son's journey and said: 
"I was asking him what he wanted to do for his birthday and he was in tears and said since he came out as gay he lost all his friends, so he didn't even have people who could come." 
I agree with this, if his friends knew and then didn't support him when he came out, then they aren't really his friends at all. Good read.

— Go Ask Alice (@Elessel) August 29, 2021
SUPPORTING HER SON 
Upon hearing this, O'Donnell realized she had to do something. She called on the community, and her request was met with a positive reaction. In fact, lots of people showed up to support her son. 
She asked people on Facebook to help fill a park near the Ranchlands Community Centre. Friends, family, and many strangers heeded the call. There were also a few drag performers that added some sparkle to the day.
So happy for Brody to get a wonderful birthday surprise! What a strength it takes to come out. I especially want to give kudos to his mom for supporting and accepting her son for who he is! Both mother and son are superstars in life!!

— Lynnette (@LinnThor) August 29, 2021
THE BEST DAY OF HIS LIFE 
Neville initially thought the large crowd was gathered together because people were waiting for the ice cream truck. When he realized it was for him, he was in disbelief.
He hugged his mother tightly and thanked the crowd. The youngster smiled and expressed: "Thank you, everybody, for this, this is the best day of my life." 
Happy Birthday Dude. You keep on being you.

— SGC (@unrealsgc) August 30, 2021
HE WAS BRAVE 
O'Donnell was overjoyed that her son could experience acceptance away from the bullies at school. Drag queen Avanna Kedvra called Neville brave for making the big decision to come out. 
The drag queen added: 
"It's kind of ridiculous that in 2021 a 12-year-old can't be who they are … it's a very sad reality. [But] it's outrageously amazing that this little kid, even with all this adversity, can still be out here and feeling joy."
He was born the way he is. No reason to exploit or condemn him. Good luck to you young fella

— Reg Layden (@reglrepublic) August 29, 2021
THE GREATEST PRESENT 
Jessica Tailfeathers, who attended the gathering in honor of Neville, said the day restored her faith in humanity. She added that seeing so many people come together to show a young boy love and stand "in solidarity" with him was special.
Neville shared that their support was the "greatest present of all." Many netizens also shared in the love, and one person expressed: "Good job, everybody! Supporting kids is one of the most beautiful human actions!"