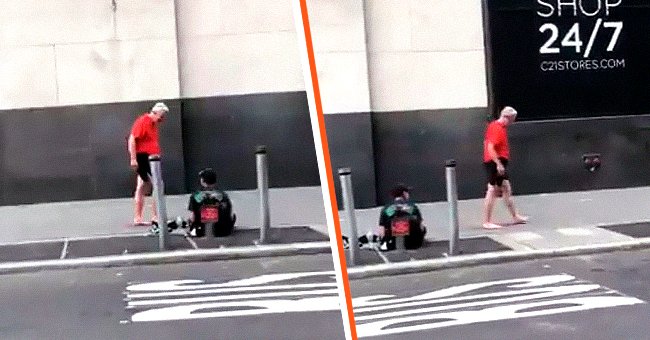 twitter.com/NYorNothing
Man Changes Fate of Homeless Man after Giving Him His Shoes and Walking Away Barefoot

The beautiful gesture of a stranger toward a man living on the streets made the rounds and moved several social media users. The stranger walked away barefoot after giving the homeless man his shoes.
A random jogger in New York was the protagonist of a Twitter video that went viral in 2019 after a gesture of solidarity with a homeless man at the World Trade Center area in Lower Manhattan.
The homeless man, Joe Arroyo, talked exclusively about the kind gesture he received. In his statement, Arroyo said he was sitting in the World Trade Center area with a sign that he was homeless and hungry.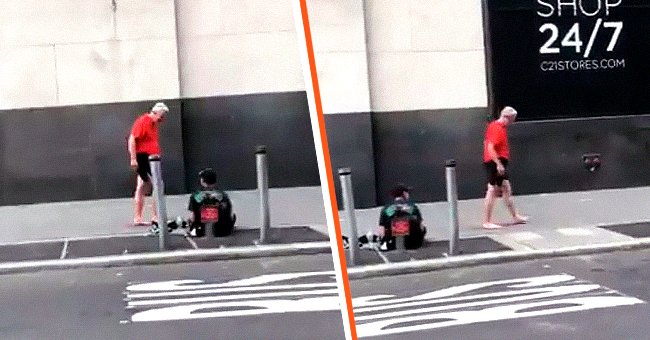 A screenshot from the viral video on Twitter | Photo: Twitter.com/NYorNothing
Also, the homeless man said that his shoes were worn off, and he removed and put them aside, while he hoped a generous person would help him financially to get a new pair.
Arroyo's hope turned to reality when the stranger approached him and noticed some holes in his shoes. The jogger said he had been bountifully blessed by God and felt like blessing the homeless guy too.
There and then, he took off his pair of shoes, handed them to Arroyo, and walked away barefoot. An intrigued passerby captured the heart-melting incident and shared it on her Twitter page.
For the stranger, a pair of sneakers felt like nothing, but to Arroyo, it meant the world to him. He had lived on the streets for several years and admitted to experiencing his fair share of struggles.
However, in an interview with ABC, the homeless man made it known that despite his troubles, he would do his best to get his life back on track. Arroyo said:
"If you give me a chance, I'll be the best worker you have, and I do overtime."
For the selfless stranger, Arroyo showed gratitude. He said he felt like hugging him, but a homeless man hugging someone would look abnormal.
Not long after the video went viral, a restaurant owner, Andrew Zurica, offered Arroyo a job at one of his branches. The entrepreneur who once lived a similarly-difficult life changed Arroyo's fate for good. The once-homeless man was grateful for another chance at success.
This would not be the first time a random person is giving out shoes to a homeless man. In another viral video, an Atlanta police officer, Sherreta Thomas, gave out a pair of sneakers to a homeless person.
Thomas, who was in the habit of helping the homeless, said her selfless acts emanated from her experiences while serving in the police force and as a jail officer.
According to the police officer, she had seen the price of poverty and decided to be kind. Thomas helped the poor not for attention, but she did it out of love, sacrifice, and kindness.
Hopefully, her story will inspire many out there who are within the means of helping the homeless. It is important to note that not all superheroes wear capes.
Please fill in your e-mail so we can share with you our top stories!