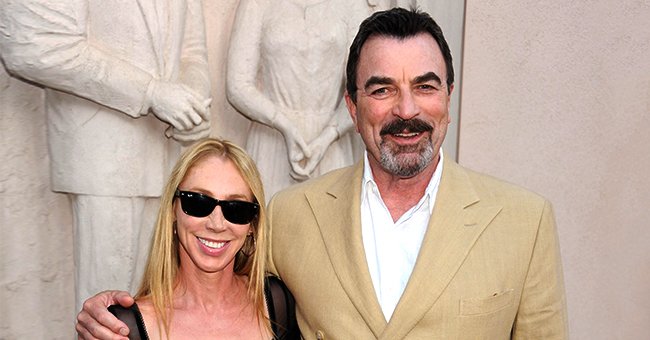 Getty Images
Tom Selleck Once Shared He & His Wife of 35 Years 'Nurture' their Marriage to Make it So Strong
Tom Selleck and his wife Jillie Mack have been married for more than three decades. Mostly keeping their marriage out of the public eye, little is known about the couple's romance. Here's a glimpse inside their enduring union.
Renowned actor Tom Selleck is best known for his iconic role as Hawaii-based private investigator "Thomas Magnum" on the 1980s television series "Magnum, P.I." He is also known for his trademark mustache.
The Detroit, Michigan native has several television roles under his belt, including Dr. Richard Burke on "Friends" and A.J. Cooper on Las Vegas. He also starred in several films, including "Mr. Baseball" and "Quigley Down Under."
TOM SELLECK'S CAREER
The 77-year-old actor is also famous for portraying Commissioner Frank Reagan in the CBS drama series "Blue Bloods." Describing his busy career in a 2012 interview with People, Tom said:
"I worked 90 hours a week and did a movie every break."
Like many actors, Tom had humble beginnings in the entertainment industry. He made his first T.V. appearance as a college senior on "The Dating Game" in 1967. He also appeared in T.V. commercials for products such as Pepsi-Cola.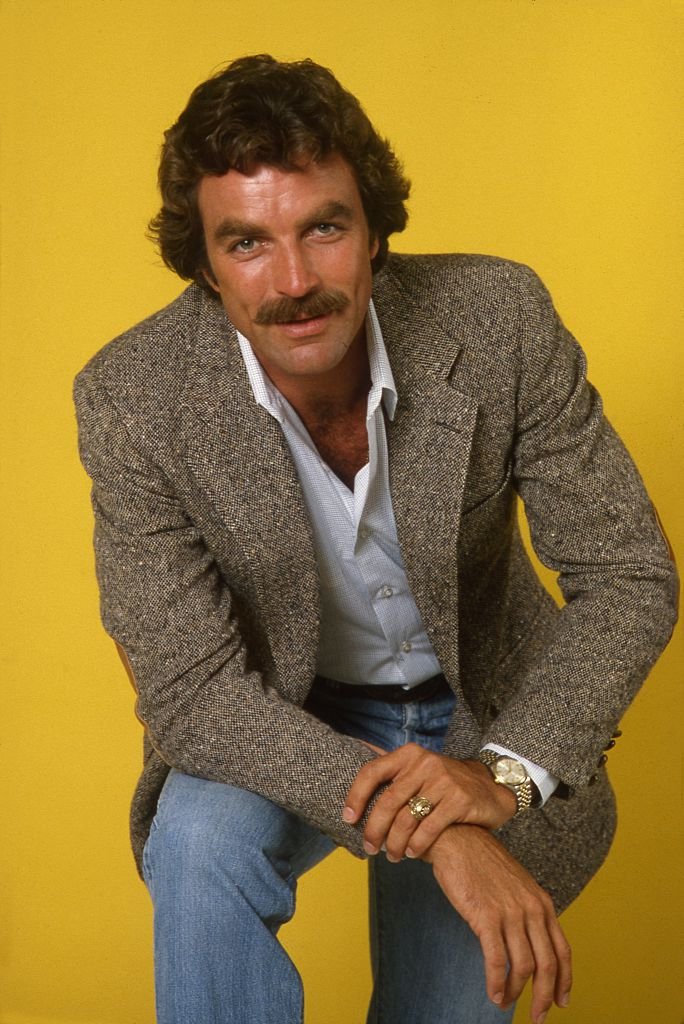 Tom Selleck poses for a portrait in 1980 in Los Angeles, California. | Photo: Getty Images
MAINTAINING A WORK-LIFE BALANCE
In 1988, the actor took a break from his career when his wife, Jillie Mack, gave birth to their daughter Hannah. Tom said he quit "Magnum P.I." to start a family and strike a work-life balance.
The loved-up couple resides on a 65-acre ranch in Ventura, California, a property they acquired in 1988.
The actor has been happily married to the British-born actress for more than three decades. A former West End performer, Jillia was born in Wiltshire, England.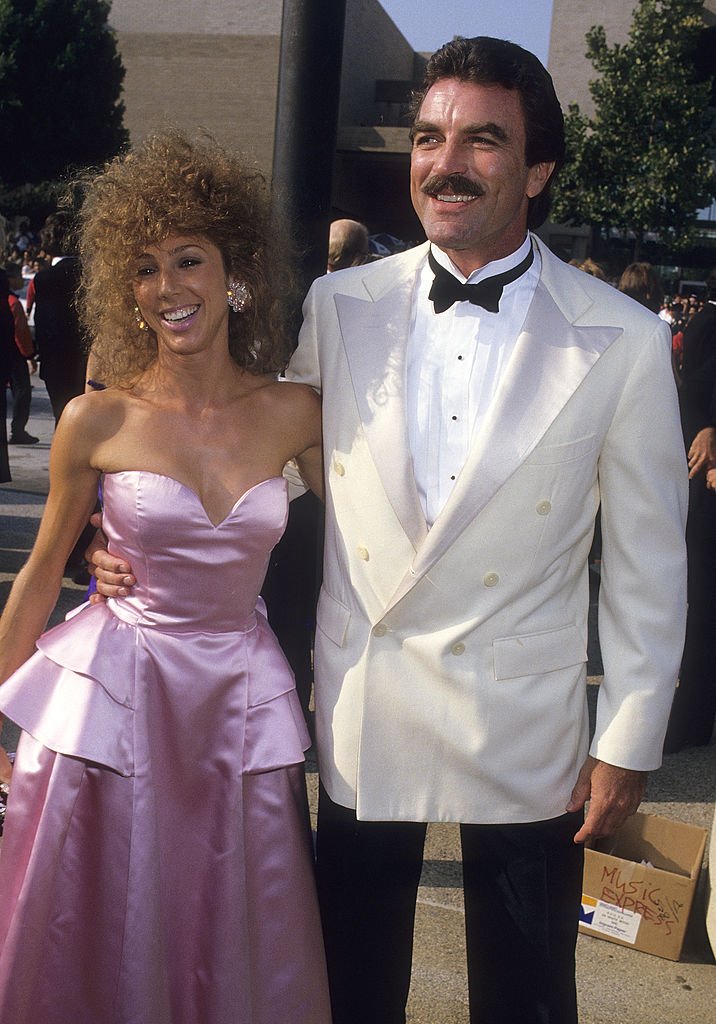 Tom Selleck and wife Jillie Mack attend the 39th Annual Primetime Emmy Awards on September 20, 1987 in Pasadena, California. | Photo: Getty Images
Jillie, who is also a dancer, made appearances in such T.V. shows as "Frasier," "Silverfox," "E.R.," "Hooperman." Notably, she also appeared on her husband's show, "Magnum P.I."
She caught Tom's eye while playing Rumpleteazer in the London production of Andrew Lloyd Webber's "Cats." Tom was in London at that time filming the movie "Lassiter."
Jillie moved to the U.S. after falling in love with the Hollywood star. The couple tied the knot in a secret ceremony in Lake Tahoe, Nevada, in 1987, four years after they met.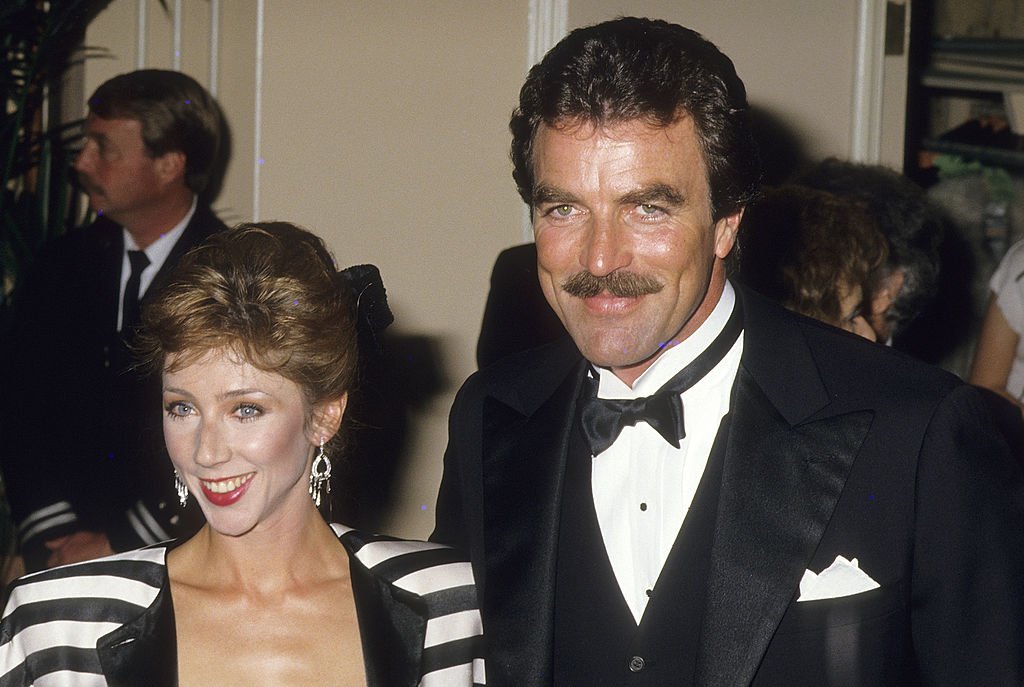 Tom Selleck and Jillie Mack at the 44th Annual Golden Globe Awards on January 31, 1987 in Beverly Hills, California. | Photo: Getty Images
To keep the ceremony out of the tabloids, Tom's brother, Bob, made all arrangements for their wedding under the pseudonyms "Tom Jenkins" and "Suzie Mark."
Even the minister who officiated their wedding only knew about the couple's real identities minutes before the ceremony. Tom reportedly only allowed Polaroid cameras at the ceremony to avoid leaked photos.
The couple kept their relationship private after the wedding. Jillie has also maintained a low-key life, stepping back from her life as a performer and staying away from social media.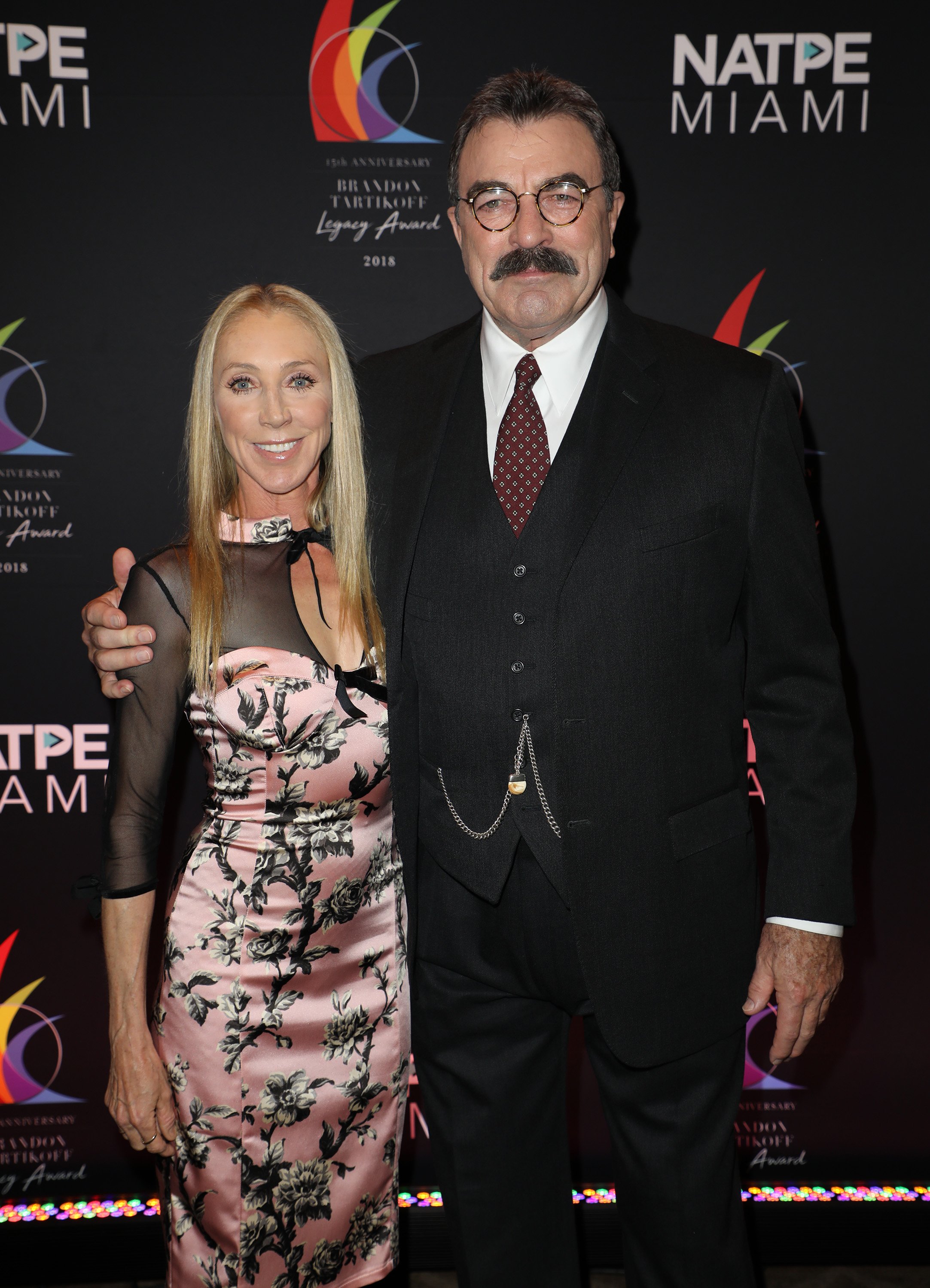 Jillie Mack and Tom Selleck attend the Brandon Tartikoff Legacy Awards at NATPE 2018 on January 17, 2018 in Miami Beach, Florida. | Photo: Getty Images
However, she often joins Tom at red-carpet events. Meanwhile, the actor said his priority is spending time with his family. Speaking about the longevity of his union, Tom said:
"It's important to nurture your marriage."
He said that taking a break from work has been good for his relationship with Jillie. The loved-up couple resides on a 65-acre ranch in Ventura, California, a property they acquired in 1988.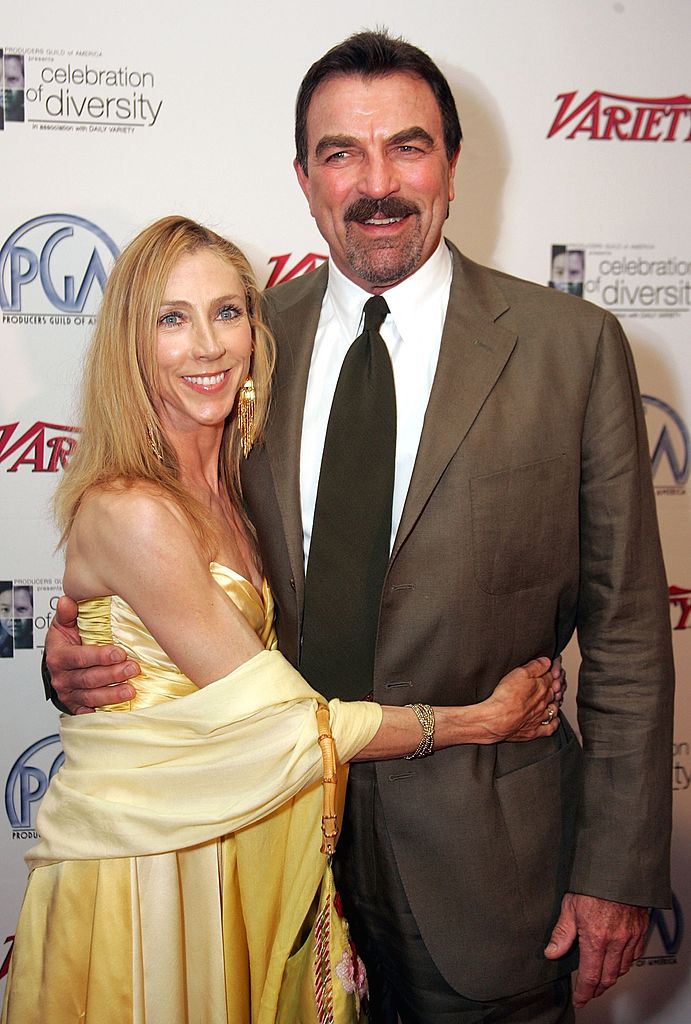 Tom Selleck and Jillie Mack at the Producers Guild of America Presents 2006 Celebration of Diversity in Beverly Hills, California on May 9, 2006 .| Photo: Getty Images
In 2012, Tom would only work every other week taping "Blue Bloods" in New York City. He would also shoot his annual "Jesse Stone" T.V. film in less than a month on location in Halifax, Nova Scotia, Canada.
In an interview with GQ, the renowned actor reflected on their marriage, saying that it has become more satisfying through the years. He added that their love for each other has gotten deeper.
Tom Selleck and Jillie Mack attend the 8th Anniversary of the Grand Havana Room and the Premiere of James Orr's Documentaries in July 2003 in Beverly Hills, California. | Photo: Getty Images
TOM SELLECK'S TWO CHILDREN
The Golden Globe winner is a doting father to his son Kevin from his first marriage and his daughter Hannah with Jillie. Tom adopted Kevin when he was married to his first wife, Jacqueline Ray.
Kevin is Jacqueline's son from her previous relationship. Tom and Jacqueline, who tied the knot when they were both in their mid-20s, were married from 1971 to 1982.
Meanwhile, Hannah was born on December 16, 1988, just one year Tom and Jillie exchanged vows. They raised her on their ranch, believing it was the best environment to grow up in.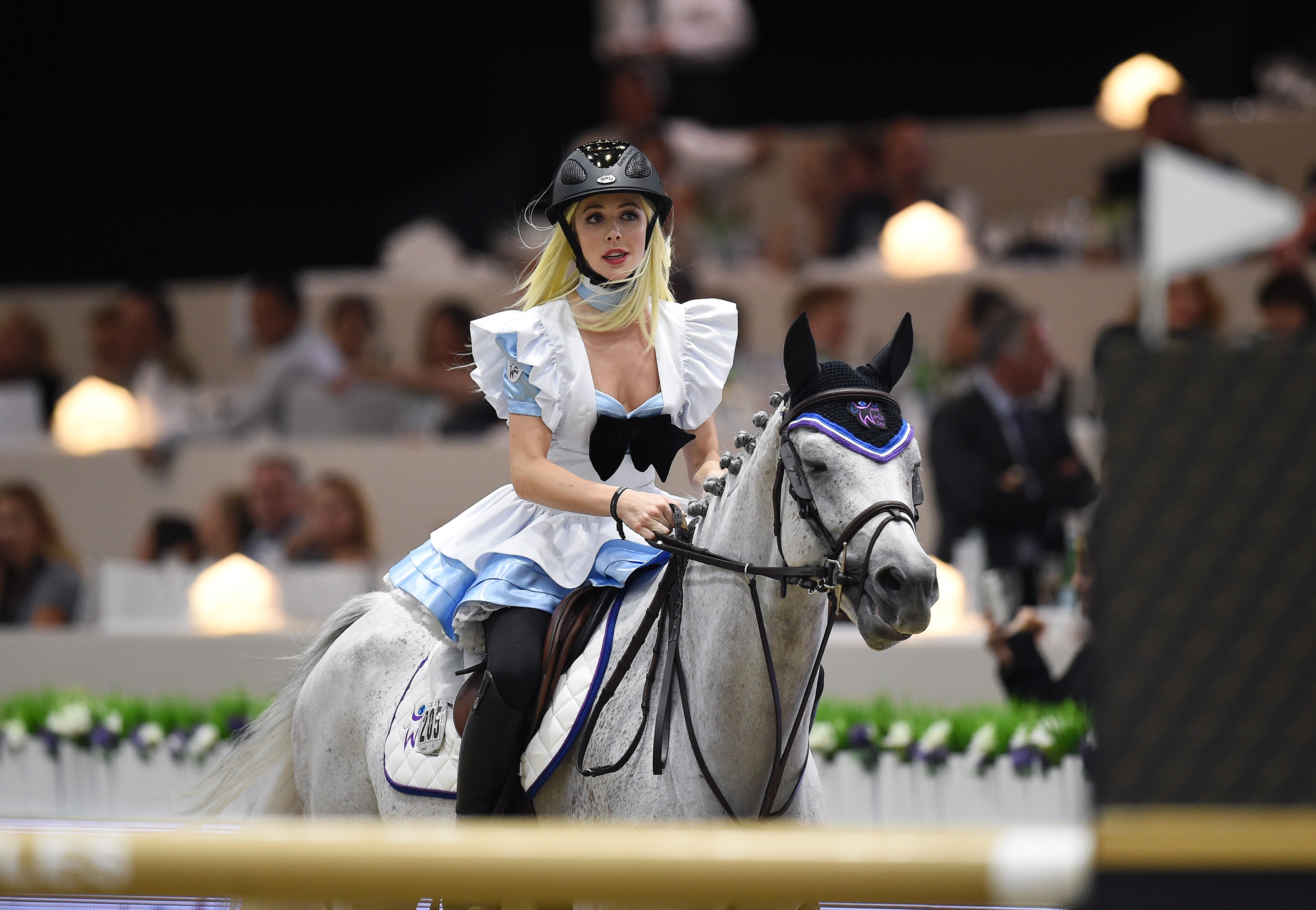 Hannah Selleck performs at the 2nd Annual Longines Masters of Los Angeles on October 3, 2015 in Los Angeles, California. | Photo: Getty Images
Tom is a proud dad, and his two children are all grown up and thrive in their careers. Kevin, following in his dad's footsteps, has an acting credit in Tom's show "Magnum, P.I."
He also appeared in the 1997 film "Scream 2" and helped write its soundtrack. Besides acting, Kevin is into music. He formed the rock band Tonic in 1993 and played the drums for three years before leaving the group in 1996.
Hannah has made a name for herself as an equestrian jumping athlete. She trained in an acclaimed equestrian academy called Foxfield Riding School in Westlake Village, California.
The brunette beauty, who has a striking resemblance to her mom, credited her parents for her equestrian success, saying that they encouraged her to follow her passion.
Besides being an equestrian, Hannah also enjoys modeling. In January 2021, she took to Instagram to share a video of her modeling for Horse and Style Magazine.
Meanwhile, Tom once said that one never stops being a dad even though his children are grown. While he has played several fictional roles, the actor said fatherhood had been the most important role of his life.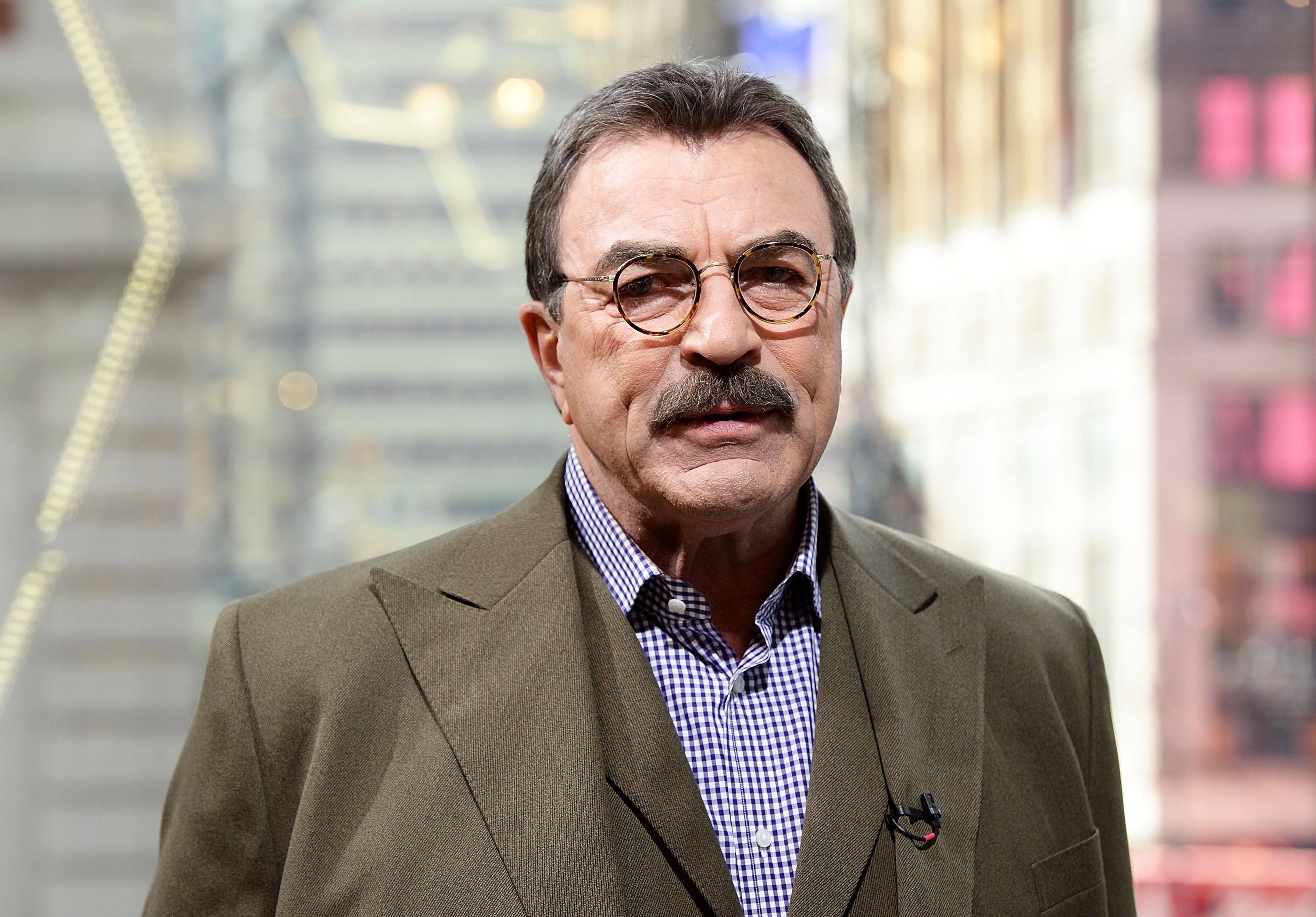 Tom Selleck visits "Extra" at H&M Times Square on October 15, 2015 in New York City. | Photo: Getty Images
Amid his busy entertainment career, Tom would squeeze in time to read to his daughter when she was little. The veteran actor made sure only to read stories that depicted the father as a good guy.
It had something to do with his character as Police Commissioner Frank Reagan in "Blue Bloods." Tom said that Frank, a family patriarch, makes mistakes but ultimately wants to be a good dad.
Tom, whose career took off as a charming former Navy SEAL in "Magnum, P.I.," said that getting the audience to like Frank was a challenge because the character could not show all the human emotions that viewers wanted to see.
Please fill in your e-mail so we can share with you our top stories!