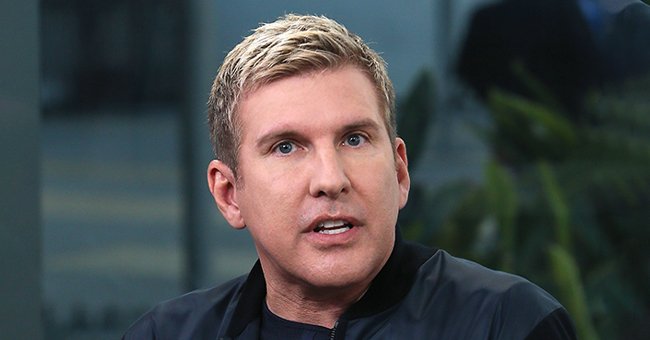 Getty Images - Instagram/toddchrisley
Kyle Chrisley Said Dad Neglected His Granddaughter until He Discovered She Is Biracial
Father and son Todd Chrisley and Kyle Chrisley have had a tumultuous relationship over the years stemming from Kyle's drug addiction. Their fights also included a custody battle of his only child, daughter Chloe.
"Chrisley Knows Best" alum Kyle Chrisley once claimed his family has put up a picture-perfect theme farce for years on the long-running show. After that, he made numerous claims after conflict arose between him and his father, Todd Chrisley.
Nearly a decade ago, Kyle made several allegations against the family's patriarch, Todd involving his biracial daughter Chloe on the TV show.
THE STRAINED FATHER & SON RELATIONSHIP
For years, young Chloe captured the hearts of fans on the hit show, and the family showed how doting they were toward her. The TV series was started by Todd, 53, in 2014, along with his family.
It included his wife Julie, mother Nanny Faye, his kids Lindsie, Kyle, Chase, Savannah, and Grayson. Kyle only appeared in the first season before things turned sour between him and his family.
His life and his addiction to drugs were featured when the show premiered. At the time, Kyle had promised to do better and spend more time with his daughter.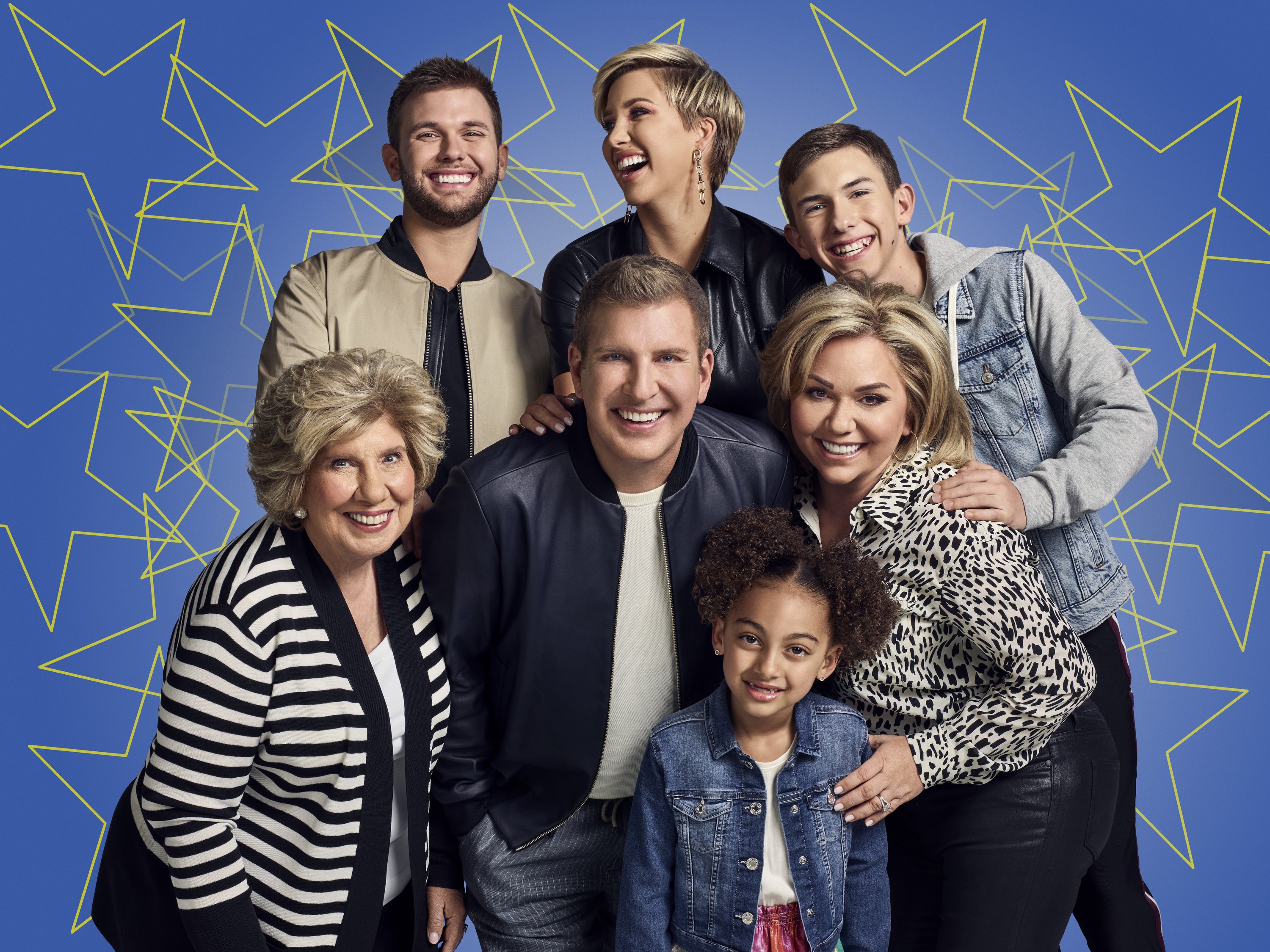 Pictured: (L-R) Faye Chrisley, Chase Chrisley, Todd Chrisley, Savannah Chrisley, Chloe Chrisley, Julie Chrisley, Grayson Chrisley during Season 8 of "Chrisley Knows Best | Getty Images
However, when the season ended, he was still taking drugs and went into a downward spiral which ultimately severed his relationship with his dad.
The father and son went head-to-head in a brawl over Chloe, and Kyle accused Todd of using his child's biracial identity for selfish interests, including the growth of the show and his own demographic.
After season 2 of "Chrisley Knows Best" aired in 2014, Kyle blasted his father in an interview with MailOnline stating that his life is a sham, dismissed the show as fake, and described Todd as bankrupt and a snake who has shut him out of his own child's life.
He revealed that he had turned his life around after being ruthlessly dropped from the show. Kyle disclosed that he was clean from drug use and that with the support of his wife Lexi, he would fight Todd in court to get his daughter back:
"My dad showed no interest in Chloe at all until the show and until it was pointed out that having a mixed-race child and getting her and all that would be good for his demographic."
TODD & HIS RELATIONSHIP WITH CHLOE
"He didn't want to see her before then. He said he wanted nothing to do with her," he added. But over and above, Todd has proved how much he adores his granddaughter and even defended her against trolls on social media.
He confirmed this in 2020 when he tackled a social media user on Instagram after posting a heartwarming photo of him and Chloe. While fans admired the snapshot, one user from the comments section left a racist remark on the 9-year-old being biracial.
Known for his sharp tongue, the "self-made billionaire" clapped back at the troll, telling them that he hoped God grants them clarity about their worldview perspective.
Most notably, Todd revealed Chloe was aware of the racism in the country on his podcast "Chrisley Confessions" and that she knew what was "going on in the country" and conversations.
Though Chloe is still young, the father of five stressed that his granddaughter needed to know about her race. He expressed his love for her and vowed to protect the little one.
CUSTODY BATTLE OVER CHLOE
Todd and Julie, 49, were granted custody of Chloe when she was only six months old. Kyle, whom Todd shares with his former wife, Teresa Terry, had not fixed his life.
With that said, his parents shared custody with Chloe's birth mother, Angela Johnson. Still, Johnson lost custody after she got arrested for using her daughter as a dependent while defrauding Medicaid, a federal program that helps with costs.
Consequently, Julie and Todd were granted full custody. Following Kyle's accusations that they did not accept her because she was biracial, the Chrisley's stopped showing their granddaughter on TV.
The real estate mogul denied allegations made by his son and emphasized that Chloe was a doted family member. He told Closer Weekly that it was good to see her "grow, explore and come into herself so brilliantly through love and respect."
The TV star explained the family decided to pull Chloe away from the family show to protect her at the time. His son had threatened to sue the show's network, and Todd quickly decided it would be best for his granddaughter to be kept away from the drama.
KYLE'S TROUBLED LIFE & HOW HE IS TODAY
Meanwhile, after having a run-in with the law several times, Kyle was last arrested in 2019 for being in possession of drugs. However, since November 2020, the father of one seems to have stayed away from legal trouble.
He has not returned to "Chrisley Knows Best" since his exit in 2014, but it is not because of the rift between him and his family. His father has played a role in ensuring that his life got better and remained clean.
Kyle was hospitalized in 2019, and he went through difficult times, which led to him attempting to commit suicide. However, he took a big step in getting better and even stopped being estranged from his loved ones.
ALL BETTER NOW
He has surprisingly gushed over his parents via Facebook and applauded them for helping him get back on track and admitted his faults as a father.
Kyle also revealed that he apologized to his dad, who warmly accepted his apology and welcomed him back with open arms. He recalled how Todd declared his love for him and said he forgave him.
Kyle noted that he would be eternally grateful for his father's love and "graciousness." Indeed, he proved his affection and support for his parents when they encountered tax problems.
He professed that he would keep showering them with support on social media. While at it, Kyle refuted a statement he previously made to Good Morning America against Todd when he shared that his dad boasted about Tax evasion.
The former reality star admitted that he had fabricated the information he provided to the outlet and other unfavorable claims against the Chrisley family.
Please fill in your e-mail so we can share with you our top stories!
The information in this article is not intended or implied to be a substitute for professional medical advice, diagnosis or treatment. All content, including text, and images contained on news.AmoMama.com, or available through news.AmoMama.com is for general information purposes only. news.AmoMama.com does not take responsibility for any action taken as a result of reading this article. Before undertaking any course of treatment please consult with your healthcare provider.