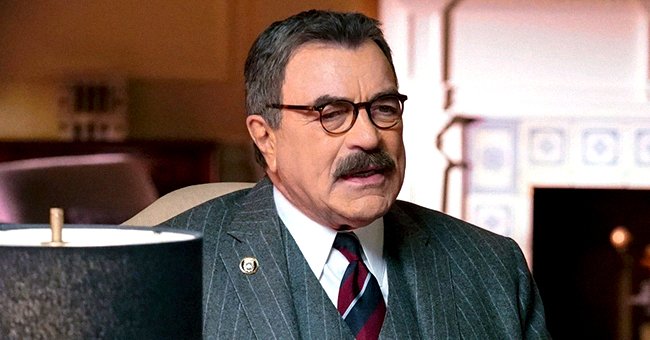 Getty Images
Tom Selleck Was Humiliated & Mortified after a Tabloid Once Tried to Manipulate His Image
"Blue Bloods" actor Tom Selleck gained fame as one of the matinee T.V. idols in the late 1980s. During his peak of popularity, he became embroiled in a humiliating controversy. Here's how he handled the crisis.
Renowned actor Tom Selleck became a public sensation after playing an easygoing private detective Thomas Magnum in "Magnum, P.I.," a 1980s drama T.V. series that lasted for eight seasons.
Selleck excelled in basketball during his younger days and earned a scholarship to the University of South California. He also made a living as a model before going into film and T.V.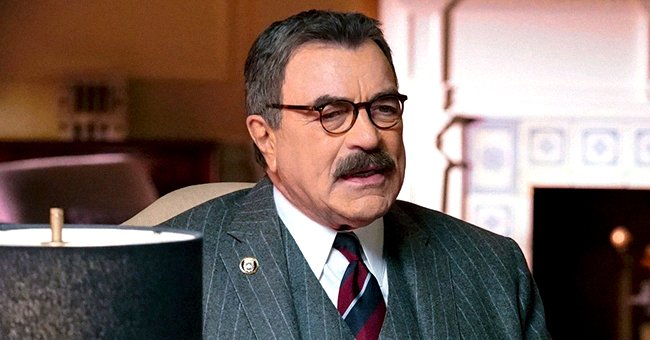 Tom Selleck as Frank Reagan in the 2010 TV series "Blue Bloods. " | Photo: Getty Images
The "Magnum, P.I." series became a hit T.V. show, earning Selleck an Emmy and a Golden Globe Awards. His other T.V. projects include the 1994 "Friends," where he played as actress Courteney Cox's romantic interest.
In the 2005 television series "Jesse Stone," Selleck played a New England police chief. The dashing actor took the role of police commissioner Frank Reagan in the 2010 "Blue Bloods" series.
Selleck is also a movie superstar besides acting on T.V. He starred in several blockbuster films, including the 1987 "Three Men and a Baby," the "Quigley Down Under" in 1990, and "Mr. Baseball" in 1992.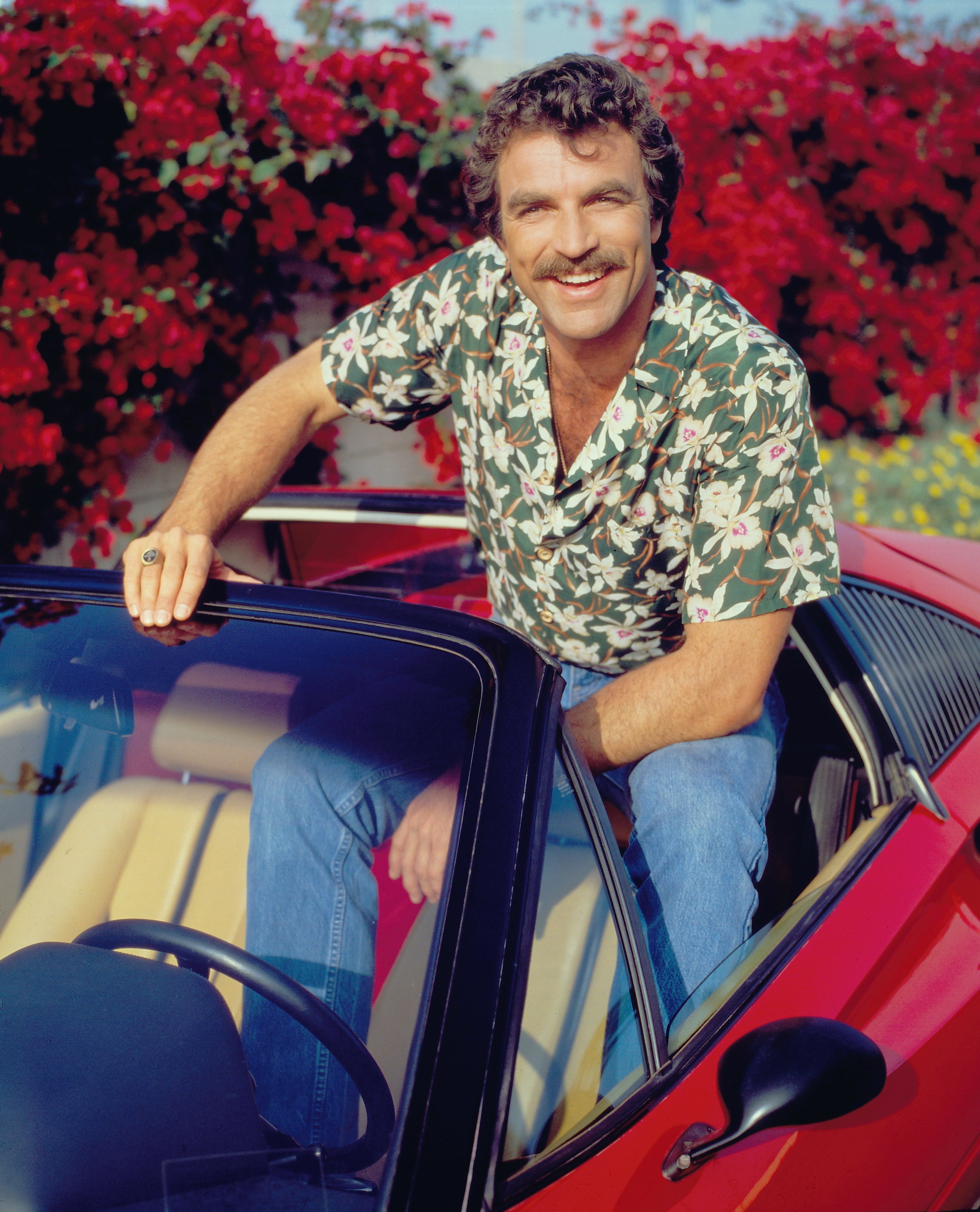 Tom Selleck pictured wearing a Hawaiian floral print shirt while sitting on a red Ferrari on January 1, 1984. | Photo: Getty Images
For Selleck, Hollywood is the place to be. The 76-year-old actor's towering height, suave looks, and iconic mustache have made him one of the most sought-after stars in the entertainment industry.
Although Selleck has captured the world's attention with his charm, he has also caught the attention of one of the most beautiful faces in the industry - actress Jillie Mack, his wife for 34 years.
The brilliant actor previously wed model Jacqueline Ray, but their union lasted only 11 years. He shares son Kevin with Ray and daughter Hannah with Mack.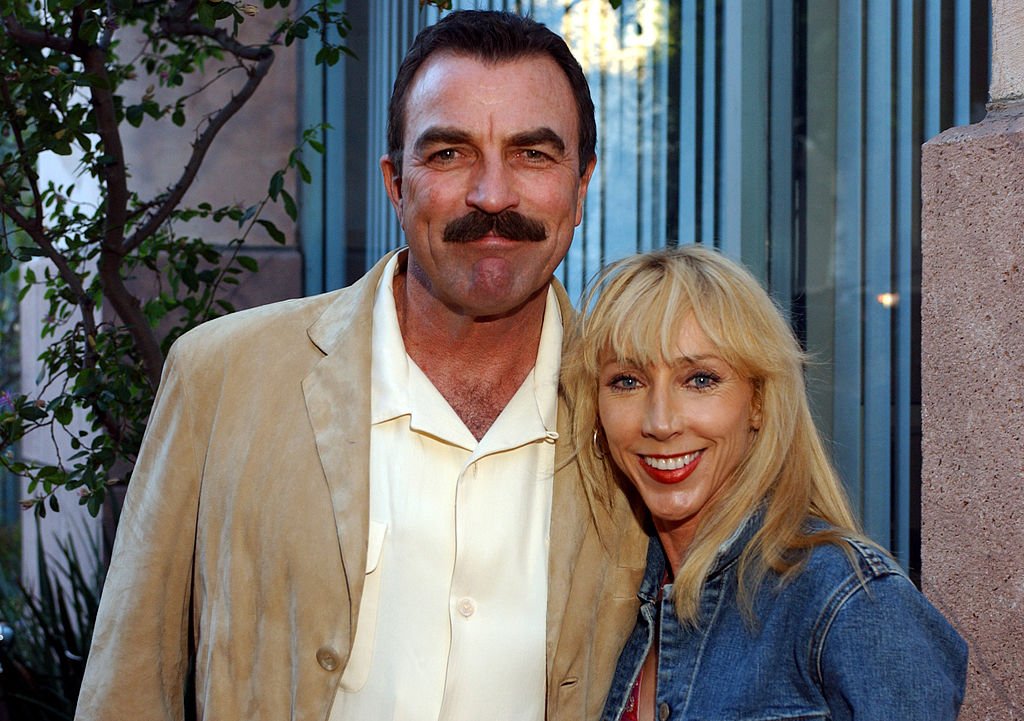 Tom Selleck and Jillie Mack attend the 8th Anniversary of the Grand Havana Room and the Premiere of James Orr's Documentaries on the Fuente Family on July 26, 2003. | Photo: Getty Images
THE RUMOR THAT ALMOST TARNISHED HIS IMAGE
Selleck has been in the industry for a long time, and the public knew he was a dedicated family man. However, one rumor from Globe tabloid claimed he was gay. He said of the issue:
"They said I was gay for a while, which just wasn't going to happen."
The controversy began in 1999 when the Outpost, a group of gay activists, plastered New York City with posters of writers, athletes, actors, and media figures whose anonymous authors claimed to be gay.
SETTING THE RECORD STRAIGHT
One of the images posted by the Outpost included Selleck's photo. Shortly after the gay activists posted the images, the Globe reprinted 16 posters with a published article titled "Gay Stars Stop Traffic."
For Selleck, the printed article was unacceptable. According to Selleck's lawyer, the actor has clashed frequently with the Globe, which had a circulation of 1.2 million.
He clarified that he is "singularly heterosexual" and accused Globe of libel and invasion of privacy. He demanded the tabloid for retraction, but they refused to correct it.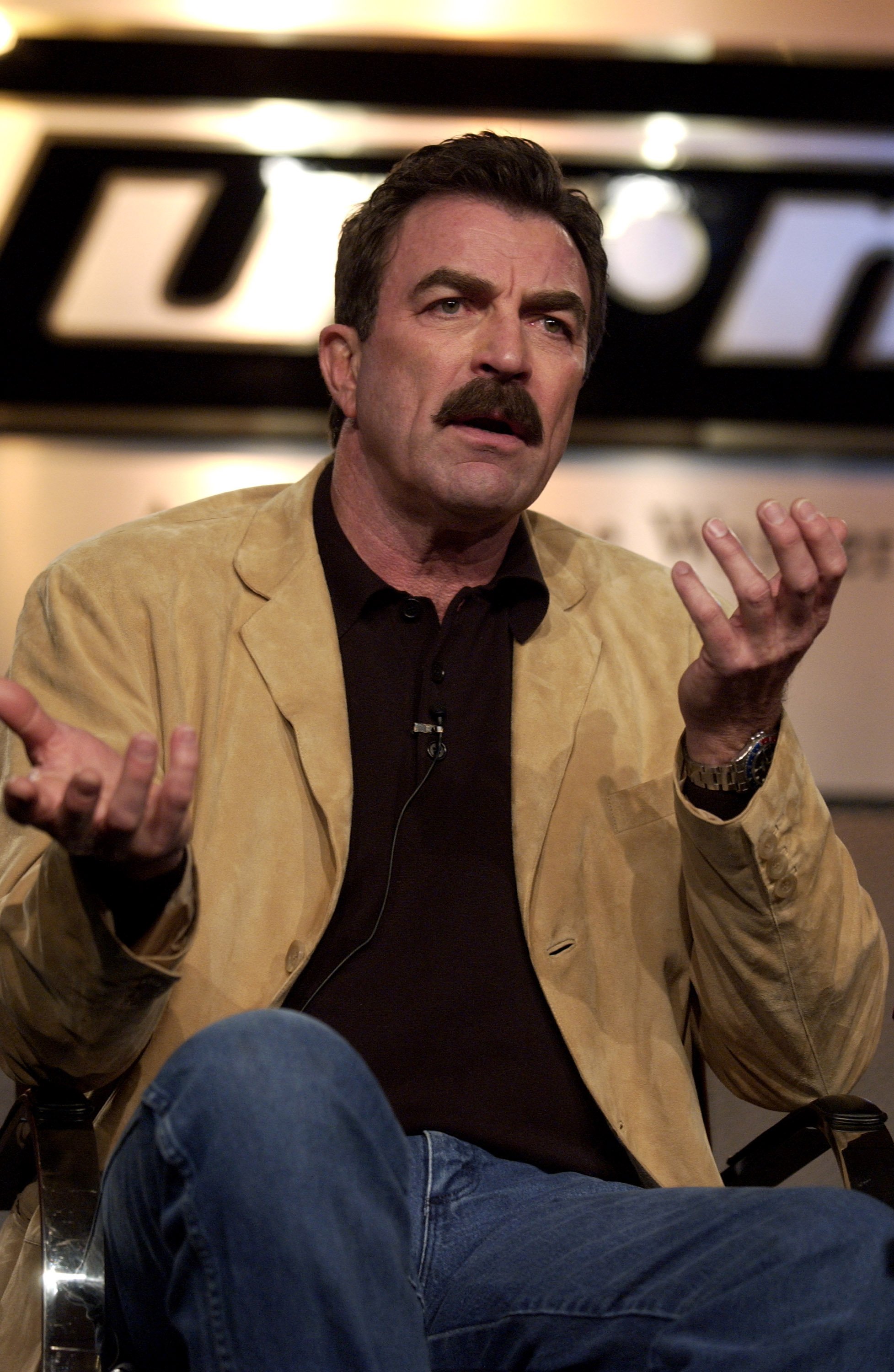 Tom Selleck speaks during the 2003 National Cable & Telecommunications Assn. Press Tour at The Renaissance Hollywood Hotel, California in January 2003. | Photo: Getty Images
Ultimately, Selleck sued Globe International Inc., the tabloid's parent company. The humiliated T.V. actor reportedly filed a $20 million lawsuit at the Los Angeles Superior Court.
The icon's filed documents sought unspecified damages for the "shame, mortification, hurt feelings, embarrassment and humiliation, and damage to his peace of mind."
While Globe editor Wendy Henry declined to comment, the company's lawyer, Paul Levy, said they viewed the published article as fair and accurate. They also noted it was a newsworthy event.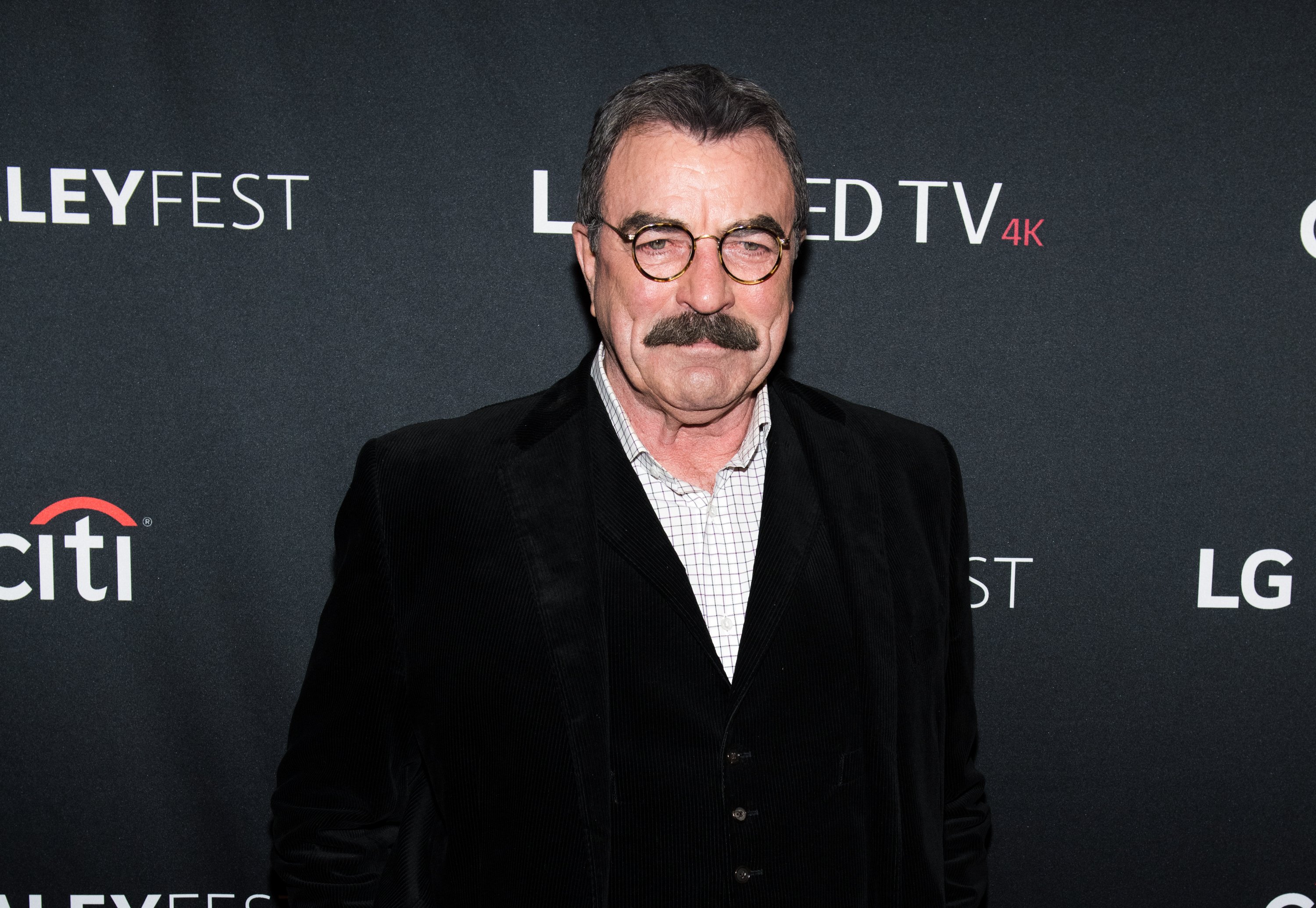 Tom Selleck attends the "Blue Bloods" screening during the PaleyFest NY 2017 at The Paley Center for Media on October 16, 2017 in New York City. | Photo: Getty Images
COURT SETTLEMENT
Besides the unspecified damages, Selleck's lawsuit suit added that the Globe's statement intended to injure the movie star and his family, reputation, character, and business.
He admitted that lawsuits could be expensive, but he persisted in clearing his name. He said he was in a position to take action on behalf of those who could not.
In the end, both camps settled the case, where Globe agreed to publish an apology and "clarification," saying they had no intentions to imply Selleck as homosexual. It was unclear whether the settlement involved money.
EMBRACING A GAY ROLE DESPITE IT ALL
Even with the rumor impacting him so much, Selleck accepted challenging projects in the industry. He played a gay man Peter Malloy in the 1997 comedy film "In & Out." In a 2017 interview, he said of his past movie:
"I think the movie says a lot of very important things."
In the movie, he shared a kissing scene with co-star Kevin Kline. Selleck shared that playing a gay character was the first time he did in his extensive acting career.
Selleck said he took the role of Peter Malloy as he wanted to explore another character outside of his usual leading man role in movies. He thought he had nothing to lose as an actor if he played a gay man.
Selleck revealed that he quit filming "Magnum P.I." to prioritize his family.
Besides Kline, actor Matt Dillon starred in the comedy film. Selleck said he enjoyed the challenge of ensemble work after years of playing lead characters in the past.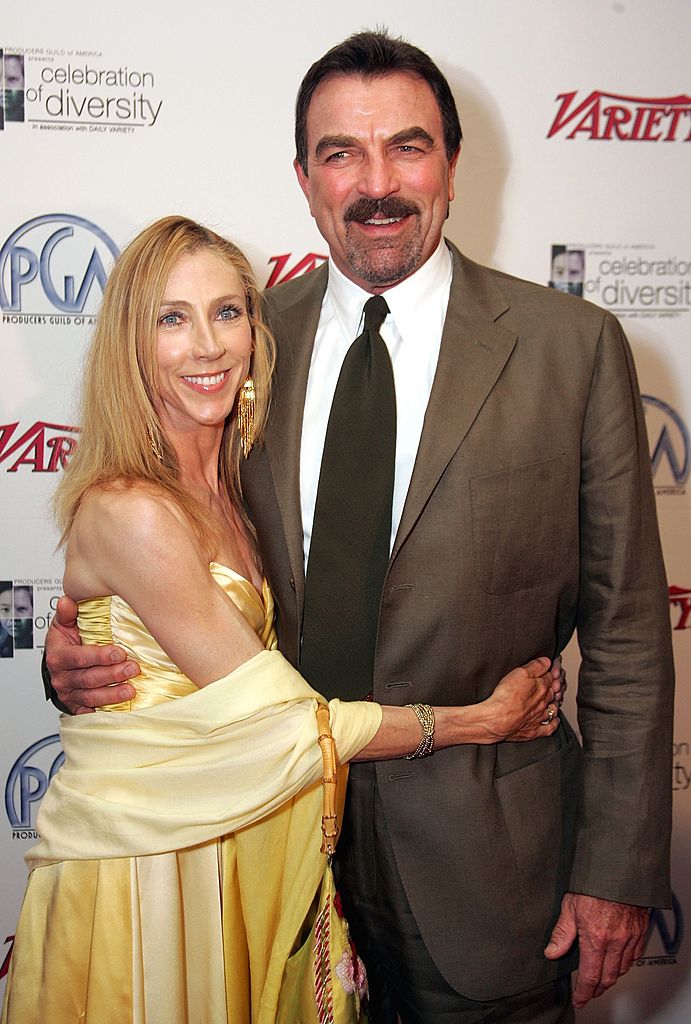 Tom Selleck and Jillie Mack attend the Producers Guild Of America Presents 2006 Celebration of Diversity on May 9, 2006 in Beverly Hills, California. | Photo: Getty Images
A LOVING HUSBAND AND DOTING DAD
Since overcoming the controversy that nearly destroyed his reputation as an actor and later maintaining a successful career in the industry, Selleck appears to live a low-key life surrounded by family.
Although he became one of the most beloved T.V. stars, Selleck has kept things in perspective. Despite the success of his show business career, he said that life is about living on important moments.
The longtime T.V. star has focused on spending quality time with his family. Since marrying his wife, Mack, Selleck gushed about their deepening bond.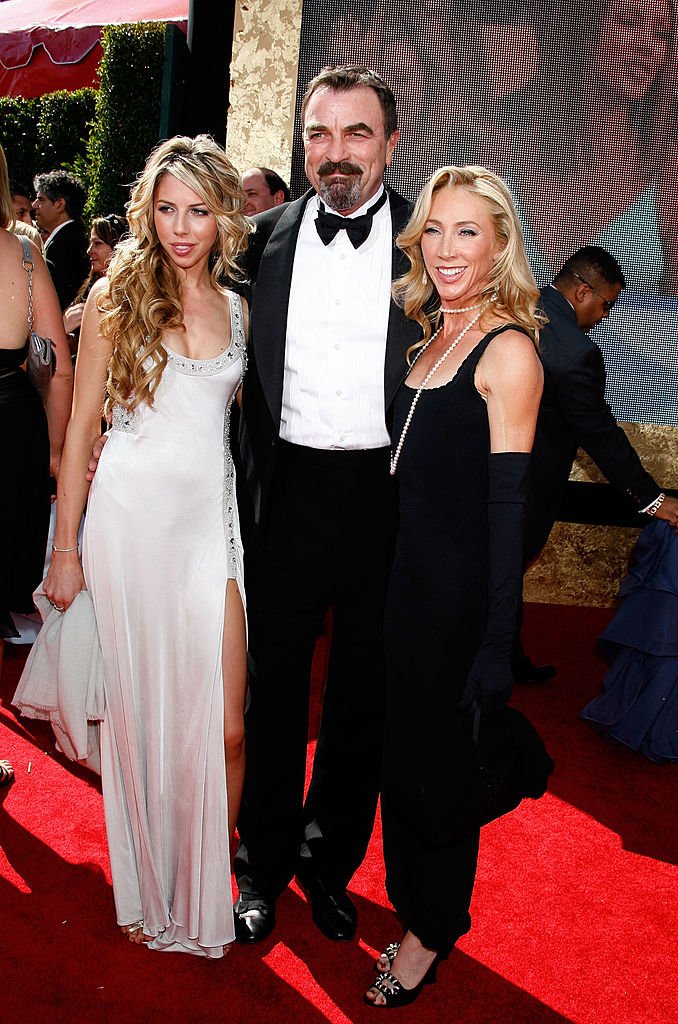 Hannah Selleck with her parents Tom Selleck and Jillie Mack arrive at the 59th Annual Primetime Emmy Awards on September 16, 2007 in Los Angeles, California. | Photo: Getty Images
Selleck revealed that he quit filming "Magnum P.I." to prioritize his family. It took a long time for him to realize his mistake as a father, but now, he strives to balance work and family.
As for his two children, Hannah and Kevin, Selleck has never stopped being a dad, even if they are already grown. An insider shared that the famous actor was a "close and good dad."
Hannah, who shares a remarkable resemblance with Mack, is now a professional equestrian. Meanwhile, Kevin is a musician and actor who has past credits in the movie "Scream 2" and his dad's iconic series.
Please fill in your e-mail so we can share with you our top stories!