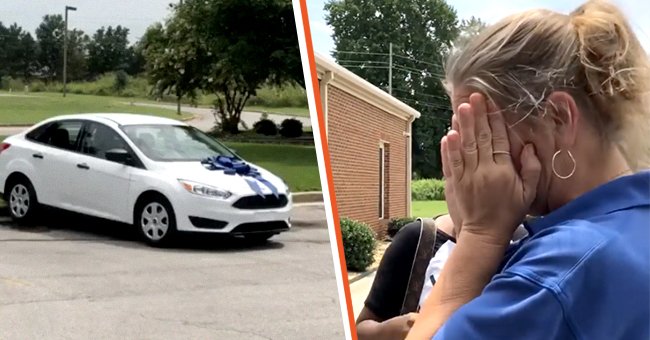 instagram.com/courtneyadeleye
Mom Buys Her Kids' Teacher a New Car and Delivers It Straight to the School
As we approach Christmas, we are reminded of the gift of giving, but some individuals choose to take on this outlook year round - leaving everyone sobbing.
Teachers sacrifice a lot for their vocation to educate the next generation. One woman took numerous buses to get to work and back every day without complaint.
This passionate educator had no idea she was teaching the daughters of Courtney Adeleye. Adeleye founded and is now the CEO of The Mane Choice.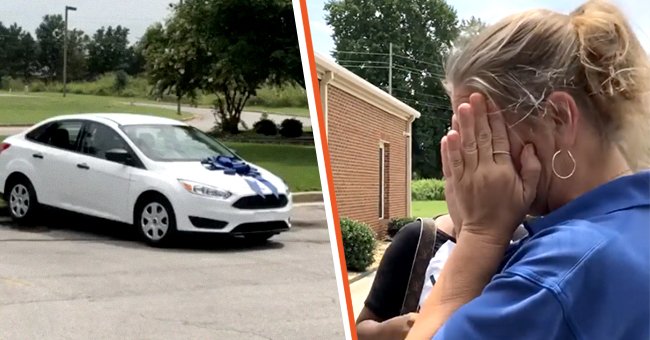 A new car with a blue ribbon on it [left]; A teacher crying [right].┃Source: l instagram.com/courtneyadeleye
A TRUE ACCOMPLISHMENT
She produces African American hair products and is known for her giving nature; she has paid bills for over 100 of her followers. The entrepreneur shared an Instagram clip in mid-2018, where she surprised this teacher, writing:
"When you ask me to define success....this is my response! (Give to those without expectations)."
Adeleye's 11-year-old daughter filmed this CEO, surprising her children's teacher, who had no idea what she was about to walk into.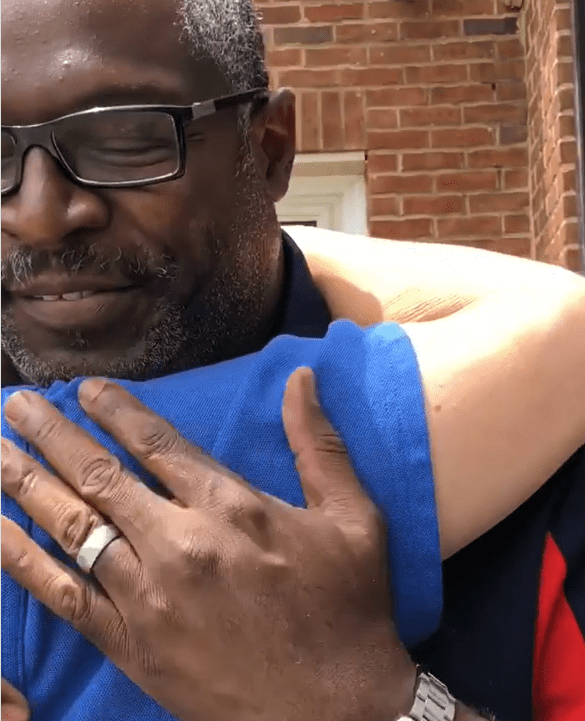 The teacher and Courtney Adeleye's husband hugging.┃Source: instagram.com/courtneyadeleye
OVERCOME WITH GRATITUDE
Stepping into the school parking lot, the educator was immediately overcome with emotion. She began crying as she spotted a new vehicle with a blue bow on it and realized it was for her. The teacher expressed:
"Are you serious?' You're really serious? Oh my gosh!"
She was in complete disbelief giving The Mane Choice founder and her husband, who was also there, huge hugs, filled with appreciation.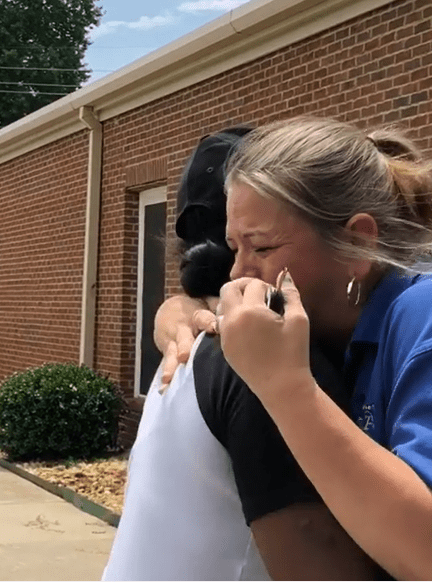 The teacher and Courtney Adeleye hugging.┃Source:instagram.com/courtneyadeleye
TOO MUCH LOVE TO GO AROUND
The Good Samaritan and teacher both walked to the car. They had a look inside as the educator was still sobbing. Part of the Instagrammer's description read:
"She's like legit the sweetest person you would ever want to meet!!! She said she never had a new car before!"
The video took over the internet and has accumulated slightly over 64,000 likes, with an unaccountable number of comments still flowing in.
POSITIVITY GALORE
Individuals flooded in with loving remarks; finding a negative response is almost impossible. One individual @thathoney22 penned:
"Black Excellence❤️."
The majority of commenters praised a higher power for the act of kindness and expressed that this is the way everyone should embody God's instructions and spirit.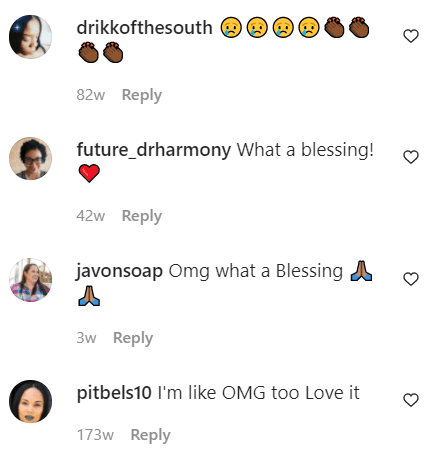 Individual's comments on an Instagram video shared by "COURT" is always in session!┃Source: Instagram.com/courtneyadeleye
THE HIDDEN BEAUTY IN THE WORLD
Many stated that the clip caused them to cry. One fellow social media user, @chocolatediamante, wrote that it's lovely to see such a gesture in a world that can be so full of darkness.
From this teacher, who spends her days ensuring that kids get the best chance at success, to the entrepreneur herself, many people live their lives in service. We just need to look.
You May Also Like: Boy Shares His Umbrella with a Friend with Cerebral Palsy — Principal Captures the Sweet Moment
Please fill in your e-mail so we can share with you our top stories!