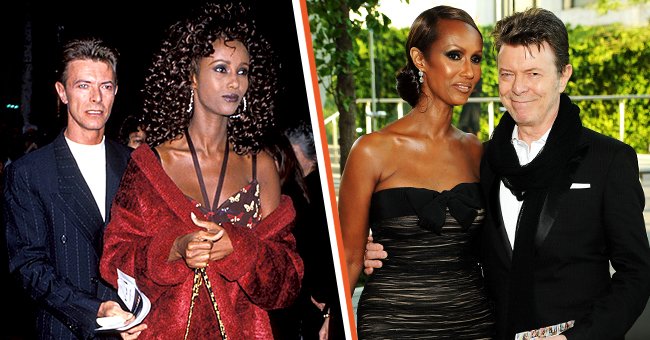 Getty Images
David Bowie & Iman Were Married Until His Death Although She Did Not Want to Date 'Somebody Like Him'
David Bowie and Iman had one of the most beautiful relationships. Although she didn't want to date him at first, the two got married and remained happily together until Bowie's death.
With two remarkable careers, coupled with a romance many wished for, versatile English singer David Bowie and his wife, famous supermodel Iman were one of the fans' favorite couple for a long time.
Bowie was a leading figure in the music industry, and he stole the hearts of many with his innovative stagecraft. But one thing he didn't know was that his heart would get stolen by a supermodel.
IMMEDIATE ATTRACTION
The 20th-century superstar met the woman who would later become the love of his life in the late '90s, and it was love at first sight for Bowie. Bowie and Iman Mohamed Abdulmajid became acquainted for the first time at a dinner party.
Iman captivated the British singer-songwriter so much that he told how he couldn't sleep for the excitement of their first date in a 2000 interview. He also revealed then that he was sure Iman would be his wife because he had never pursued anything with so much passion.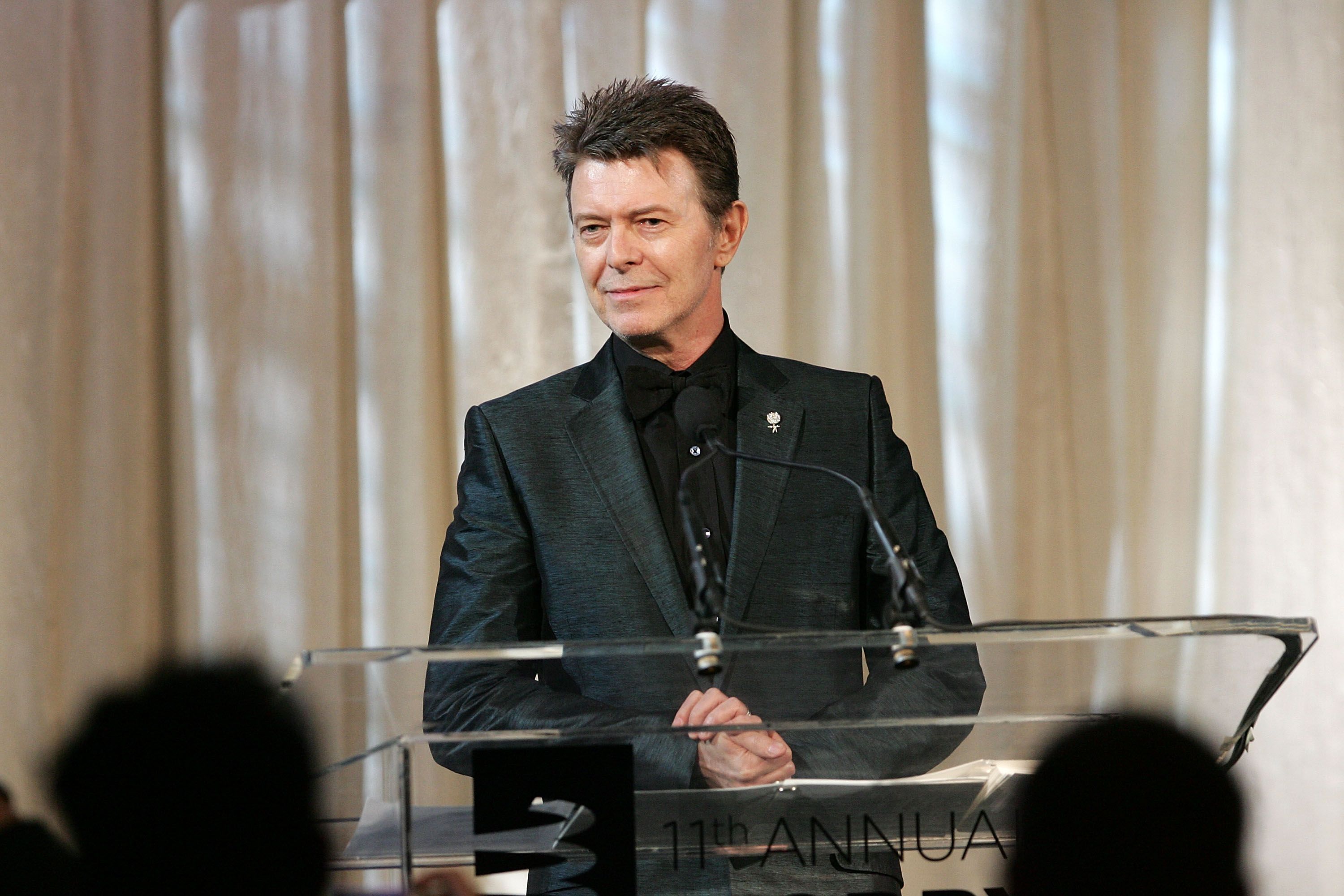 David Bowie accepting the Webby Lifetime Achievement award on June 5, 2007 in New York City. | Photo: Getty Images
For their first date, Bowie invited Iman to tea, and according to the model, the music legend told her he was nervous at the thought of saying tea. She also confirmed that tea had never been Bowie's thing, and he had coffee that day.
However, it took about two weeks to get Iman's interest in a relationship, and the model once said she knew Bowie was a "keeper" when he came to meet her at the airport with flowers in his hands after she came back from a trip.
She revealed Bowie had no care in the world who saw him, and he was waiting for her without any security around. However, while the superstar made it clear he was in love, Iman wasn't up for a relationship.
IMAN DIDN'T WANT BOWIE
Iman and Bowie made their first public appearance as a couple in November 1990, although Iman was still hesitant about taking their relationship further. She once said in a 2004 interview that she didn't want to get into a relationship with "somebody like him."
However, she added that she made sure to remind herself that she fell head over heels for David Jones and not David Bowie, the entertainer. Bowie later proposed to the model in Paris, and they were married on April 24, 1992.
The couple then had another ceremony in Florence, Italy, and it was a rainy day. However, people told the bride to be glad because it meant she was going to be married for 50 years, and Iman said in 2012 of their nuptials :
"And they were right."
One would expect a superstar and renowned model's union to be one public affair with the paparazzi and fans always involved, but Iman and Bowie's case was different.
Maybe that was one thing that made their marriage last for years, unlike many celebrity couples. After saying I do, the newlyweds made their relationship a private affair, keeping the press well away from their home.
The singer and Vogue cover star welcomed Alexandria in 2000, and Iman said their daughter's birth brought a "contentment" that was almost palpable to her and her husband.
Speaking in an interview after her husband's painful passing, the model revealed she had no intentions to remarry again.
THEIR ESPECIALLY PRIVATE LOVE STORY
Iman and Bowie managed to form a family away from the spotlight despite the fame of being global pioneers in their respective fields.
And, when People visited the couple in their New York home in 2005, it was confirmed that Bowie's family lived a domestic lifestyle.
During the interview with People, Iman said they were "very normal." The mom of one explained that she did the cooking and took her daughter Lexi to music and dance lessons.
Bowie also described his wife as a "mom 24/7." He further added that she was pretty "uncanny" at keeping the business at her office and the woman at home.
AFTER HUSBAND'S DEATH
It is lovely to watch a beautiful union endure the tests of time and remain strong after several decades. But sadly, Iman and Bowie's union was cut short despite their unfathomable love.
On January 1, 2016, fans globally were left in shock when news of Bowie's death came out. However, this was no surprise to close friends, and the star's families as reports later surfaced that he had been battling liver cancer but kept it a secret.
While Bowie made sure news of his deteriorating health wasn't revealed by anyone he worked with, the singer-songwriter who died at 69 was pretty open to his closest collaborator, Tony Visconti.
Once speaking after Bowie's death, Visconti said the artist was deeply affected and couldn't even talk properly while he struggled with the illness. However, Visconti added that he became better with chemotherapy and was in remission by mid-2015.
Visconti also revealed that Bowie was optimistic about his recovery. But despite being religious about his chemotherapy, the cancer returned, and this time it had spread all over the music star's body.
IMAN'S FOREVER ENDURING LOVE
The Iman Cosmetics founder proved that what she and Bowie had was indeed special, and she was unwilling to share it with another even after his death. In an interview after her husband's painful passing, the model revealed she had no intentions to remarry again.
Iman spoke about her decades-long marriage and the loss of her husband from cancer in an interview where she revealed her daughter Lexi once asked if she planned to remarry. And according to Iman, 66, she replied, saying:
"No, I will not. I still feel married. Someone a few years ago referred to David as my late husband and I said: 'No, he's not my late husband. He's my husband."
Reminiscing on Bowie's memories, the mom of one said the late musician was a very funny, warm gentleman. She also added that they had a "beautiful, ­ordinary life." which was always great.
IMAN WHILE NOT PLAYING WIFE OR MOM
Iman is notably great at whatever she does, whether playing mom or working on a new project. One of her remarkable works over the years was launching a campaign with Bethann Hardison and Naomi Campbell to urge brands to use Black models.
This happened after they researched and discovered that some brands had never used a non-white model. The 66-year-old model said the use of white models only made it seem like Black girls were not beautiful, and she stopped at nothing in calling these brands out.
Please fill in your e-mail so we can share with you our top stories!