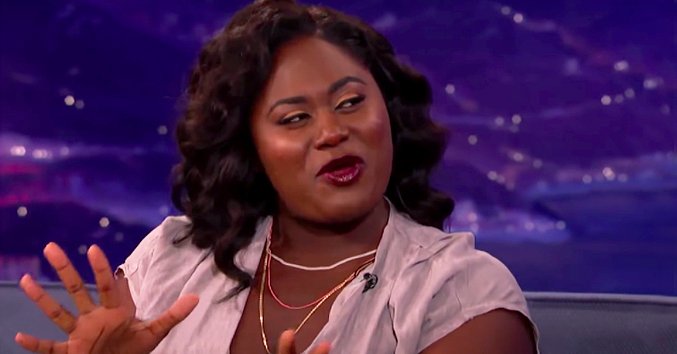 Youtube.com/Team Coco | Instagram.com/daniebb3
Danielle Brooks Became a Wife This Year — Inside the 'Peacemaker' Star & Dennis Gelin's Love Story
When the "Peacemaker" star decided to invite some friends over for a game night, she did not know that a stranger would walk into her home and sweep her off her feet. Years later, she walked down the aisle with him.
Danielle Brooks did not realize that her life was about to take a turn for the best when she and her friend, who worked at the gym, invited some good-looking prospects for a game night of Mafia and Taboo.
They had a fun night, but the doorbell rang midway through. When Brooks opened the door, she found Dennis Gelin. A friend of a friend of Brooks had invited him over, and he was three hours late to the party.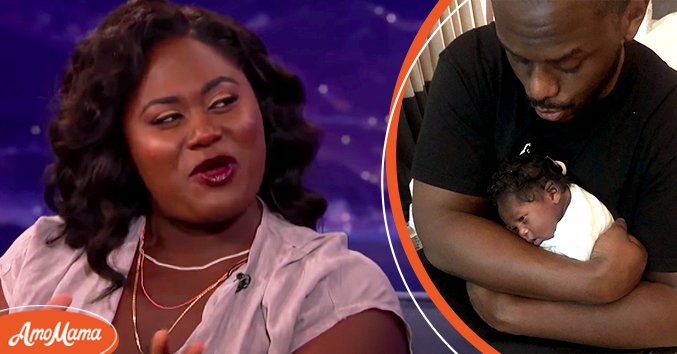 Left: "Peacemaker" actress Danielle Brooks | Photo: Youtube.com/Team Coco. Right: Brooks' husband Dennis Gelin holding their daughter Freeya | Photo: Instagram.com/daniebb3
However, despite a not-so-good first impression on the host, he made sure to make it up to her by offering to take out her trash when the party ended. Brooks recalls:
"I was so taken aback because there had been at least ten guys in the room, and no one had thought enough to ask such a thoughtful question."
After he complimented Brooks on her dimples and beauty, the two got talking, and the rest, as they say, is history. A colossal bouquet delivered to her door the following afternoon sealed the deal for Brooks.
The couple, notorious for keeping a low-profile relationship, announced a milestone in their lives in mid-2019. Brooks announced on her Instagram page that they were expecting their first baby together, daughter Freeya.
In the post, the elated actress held up a positive Clearblue digital pregnancy test with a massive smile on her face as she shared the good news with her fans.
A second photo featured the actress with her shirt pulled up to expose her baby bump, sharing that she was 20 weeks along in the pregnancy. They welcomed their baby that November.
Brooks, who plays the driven but insecure Leota Adebayo in "Peacemaker," couldn't be happier about finding love, and she does not shy away from announcing it to the world.
For Fathers Day, 2020, the "Close Enough" actress paid tribute to Gelin for being a wonderful father and husband. The sweet tribute accompanied a series of photos with Gelin holding their daughter. She wrote:
"Happy First Father's Day to you, my love. I'm so grateful we get to take this journey together."
While welcoming a baby together was a significant milestone for the lovebirds, Gelin had more surprises in store for "The Day Shall Come" actress. Gelin popped the question two and a half years after they started dating.
The couple announced their engagement in January 2020 with a series of steamy photos from a chocolate-hued photoshoot. Other images showed the couple getting cozy on the back of a motorcycle.
A year later, in January 2022, they had their beautiful wedding in Miami, a few moments before sunset, at the historic Alfred DuPont Building. Pastor Baldwin, Brooks' hometown pastor, officiated the ceremony.
Amber Iman and Jeremy Pope performed renditions of "We Will Never Break" and "A Thousand Years" as Brooks walked down the aisle. Their daughter, two at the time, was the flower girl. Brooks reminisces:
"We cried the ugly cry and laughed hard... It was definitely a night to remember."
After doing their special handshake and jumping the broom to honor their ancestors, they performed a wax-seal ceremony involving melting wax and sealing love letters that they will open on their first anniversary.
Please fill in your e-mail so we can share with you our top stories!