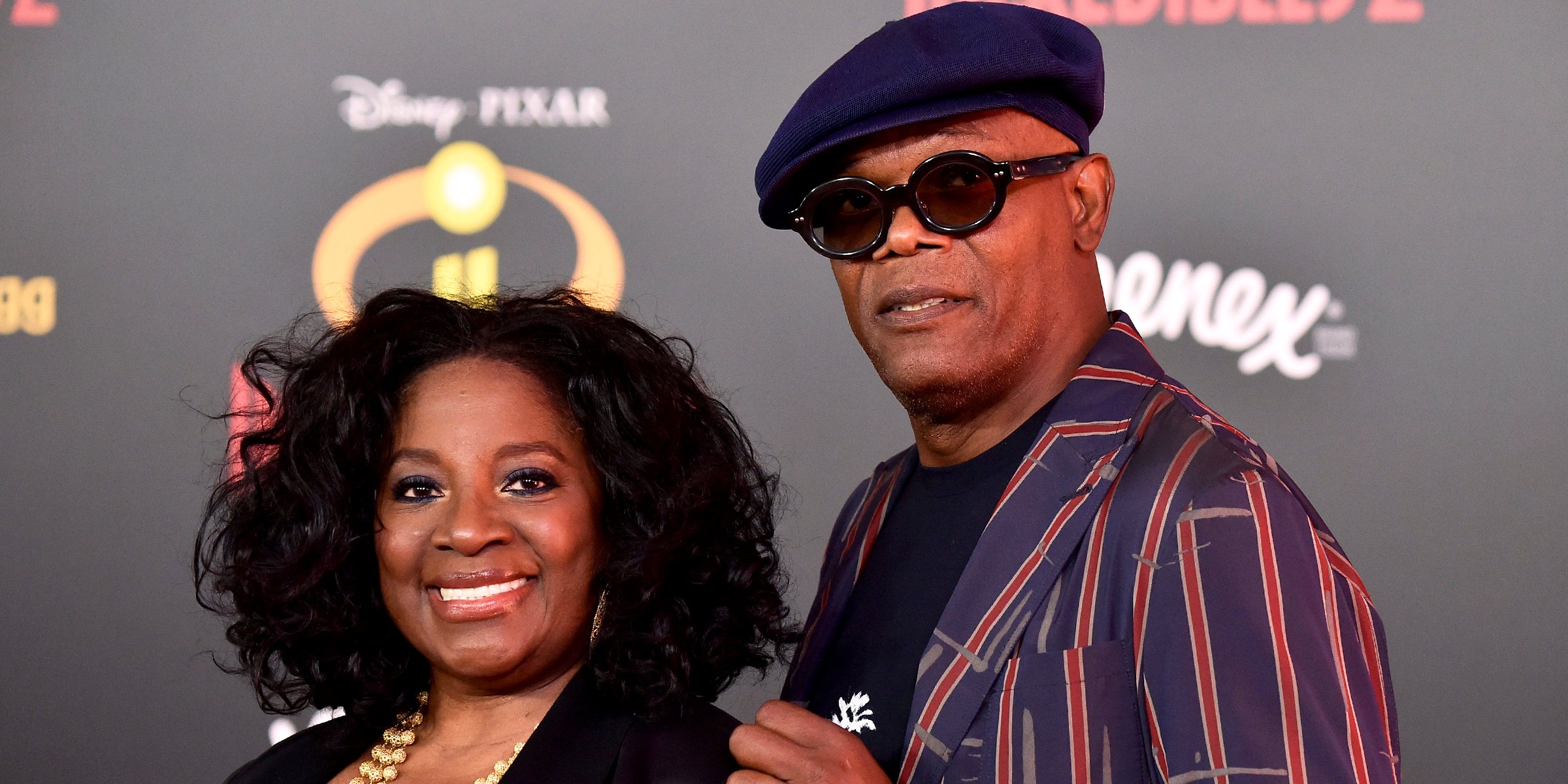 Getty Images
Samuel L Jackson & Wife Are Married for 41 Years & 'Still Love Each Other' Though They Took 10 Years to Wed
Throughout Samuel L. Jackson's career, he's remained in a solid and healthy relationship with his wife, LaTanya. After more than four decades together, the couple continues to be proud to express their love for each other every chance they can.
Samuel L. Jackson has one of the most successful careers in Hollywood and remains one of the highest-grossing actors of all time. It's not just his career that continues to thrive, but his relationship with his wife LaTanya Richardson as well.
Jackson and Richardson have been married for forty-one years now, but they are stronger than ever. Throughout their marriage, they've shared the secrets of their long-lasting union with the rest of the world, serving as an inspiration to many.
Jackson has appeared on so many iconic Hollywood films that he has been pegged as one of the hardest-working actors in the industry numerous times. Not only has he starred in cult favorites like "Pulp Fiction" and "Jurassic Park," but he's also made a mark in the "Star Wars" and Marvel Superhero franchise worlds as well.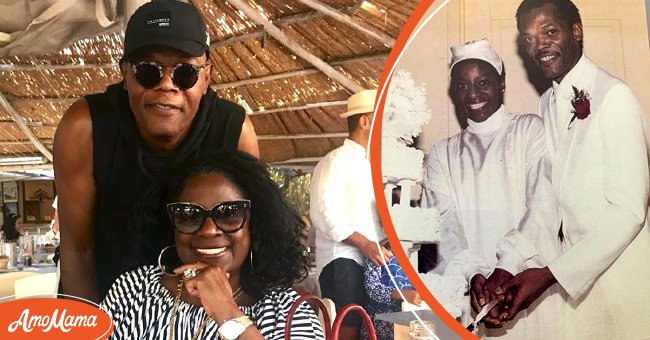 Samuel L. Jackson and LaTanya Richardson on vacation (left), Samuel L. Jackson and LaTanya Richardson during their wedding day (right) | Source: Instagram.com/ltjackson_, Instagram.com/samuelljackson
Born on December 21, 1948, in Washington, D.C., Jackson was raised in Chattanooga, Tennessee, by his strict grandmother. It was only when he was already ten years old that his mother started living with them as well.
Ever since he was a child, Jackson was a film enthusiast. As a teenager, he enrolled in Morehouse College in Atlanta, where he became involved in the Black-power movement.
During his junior year in 1969, Jackson protested the absence of Black people on the college's board of trustees. He locked several board members in a building for two days and was expelled from the college. Eventually, he returned to Morehouse to study acting and received his degree in 1972.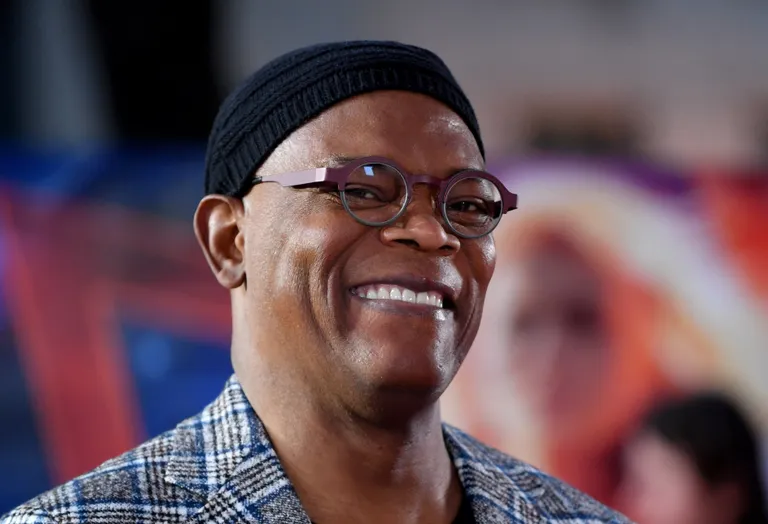 Samuel L. Jackson attends the UK Gala Screening of Marvel Studios' "Captain Marvel" at The Curzon Mayfair on February 27, 2019 in London, England | Source: Getty Images
After two decades in the entertainment industry, Jackson had his breakout role in "Pulp Fiction" in 1994. His stellar portrayal of Jules Winnfield in the film earned him an Academy Award nomination.
Since then, Jackson went on to star in several box office hits. He appeared as Jedi knight Mace Windu in several "Star Wars" movies, starred on "Rules of Engagement," "Shaft," "Snakes on a Plane," and "Coach Carter," among many others.
By 2011, The Guinness Book of World Records named Jackson the highest-grossing movie actor of all time. At the time, Jackson was just beginning to play his role as Nicky Fury in the Marvel Cinematic Universe.
Aside from appearing on several Marvel films as an essential character, he also worked on films like "Django Unchained," "The Hateful Eight," and "The Banker."
Through it all, Jackson's support team was headed by his wife of forty-one years, LaTanya Richardson. Like Jackson, she works in the entertainment industry as an actress, director, and producer.
Richardson appeared alongside Denzel Washington in the Broadway revival of "Raisin in the Sun," She received a Tony nomination for Best Actress. She directed the short film "Hairstory" in 2000 and co-founded the Just US Theater Company in Atlanta alongside her husband, Bill Nunn, and Albert Cooper.
More recently, Richardson appeared as Diane Pierce on the hit TV show "Grey's Anatomy" for three episodes and interpreted Calpurnia in "To Kill a Mockingbird's" Broadway show in 2019.
Like Jackson, his wife also had humble beginnings. She was raised by her grandfather, who was an advocate for helping others. Their family would constantly raise money for different causes and would often donate to churches and causes involving education and health.
After graduating from Spelman College in Atlanta, Richardson has been through Jackson's side through it all. Jackson credits her for being his rock and why he is still alive today.
If there's one thing Richardson had to say about how to make unions last, it's for couples not to go to sleep angry.
AN INSEPARABLE PAIR SINCE THEY FIRST MET
Jackson and Richardson got married in 1980, despite knowing each other years prior. While Jackson was a student at Morehouse, he met his then-future-wife LaTanya Richardson, a student at Spelman College.
Richardson acknowledged that she thought she and Jackson were opposites when they first met. "I was a theater snob; he loved movies," she recalled.
However, they eventually hit it off after spending time together in a drama program, and the pair began dating. After graduating, they joined the Black Image Theatre Company and toured the country to perform skits to a primarily white audience.
By 1976, Jackson and Richardson moved to Harlem in New York to pursue their acting careers further. They got married four years later, with Jackson jokingly saying that he did not recall proposing to his then-girlfriend.
Although they were initially content dating for ten years, they got married to grant Richardson's grandfather's dying wish to walk her down the aisle. They were able to fulfill this promise, which led to the beautiful union they now have.
Adding to the list of the things the power couple has in common, Jackson and Richardson both had to deal with broken families growing up. His grandmother and his single mom raised Jackson after his alcoholic father abandoned them while he was still a child. Likewise, Richardson was also raised by her grandfather.
Although both Jackson and Richardson wished to break the cycle and build a strong family foundation for themselves, they also went through some dark times, especially since Jackson had a coping mechanism not to dwell on people who left him.
Jackson was used to being alone. He used to see his mother only two times a year, but he could do nothing about it. Eventually, he learned to accept that if a person chose to leave, it was best to forget them rather than dwell on the feeling they left behind.
It was only until it was Richardson's turn to threaten him that she was leaving for him to shape up. When their daughter Zoe was eight years old, Richardson found Jackson overdosed on drugs on the kitchen floor.
While it would have been easy for them to walk away, they chose to stay for as long as Jackson committed to getting better by checking into rehab. Speaking about those times, Richardson once said:
"I knew I couldn't leave this boy I admired so much. But I resented him too. I hated it when he slurred his words. A wife hates to see her husband be weak."
Initially, Jackson believed he was a lot more effective as an actor under the influence of drugs. However, after getting help in rehab, he slowly learned to be content with himself and act without using drugs but instead by immersing himself in his characters.
Although Jackson and Richardson had thoughts of divorce through their difficult times, they stayed together and weathered the storms. Aside from their commitment to one another, the "Pulp Fiction" actor credits their individual careers for helping them work through their relationship. Speaking about it, Jackson shared:
"We actually thought we were going to be the black Liz Taylor and Richard Burton, but we were going to stay together!"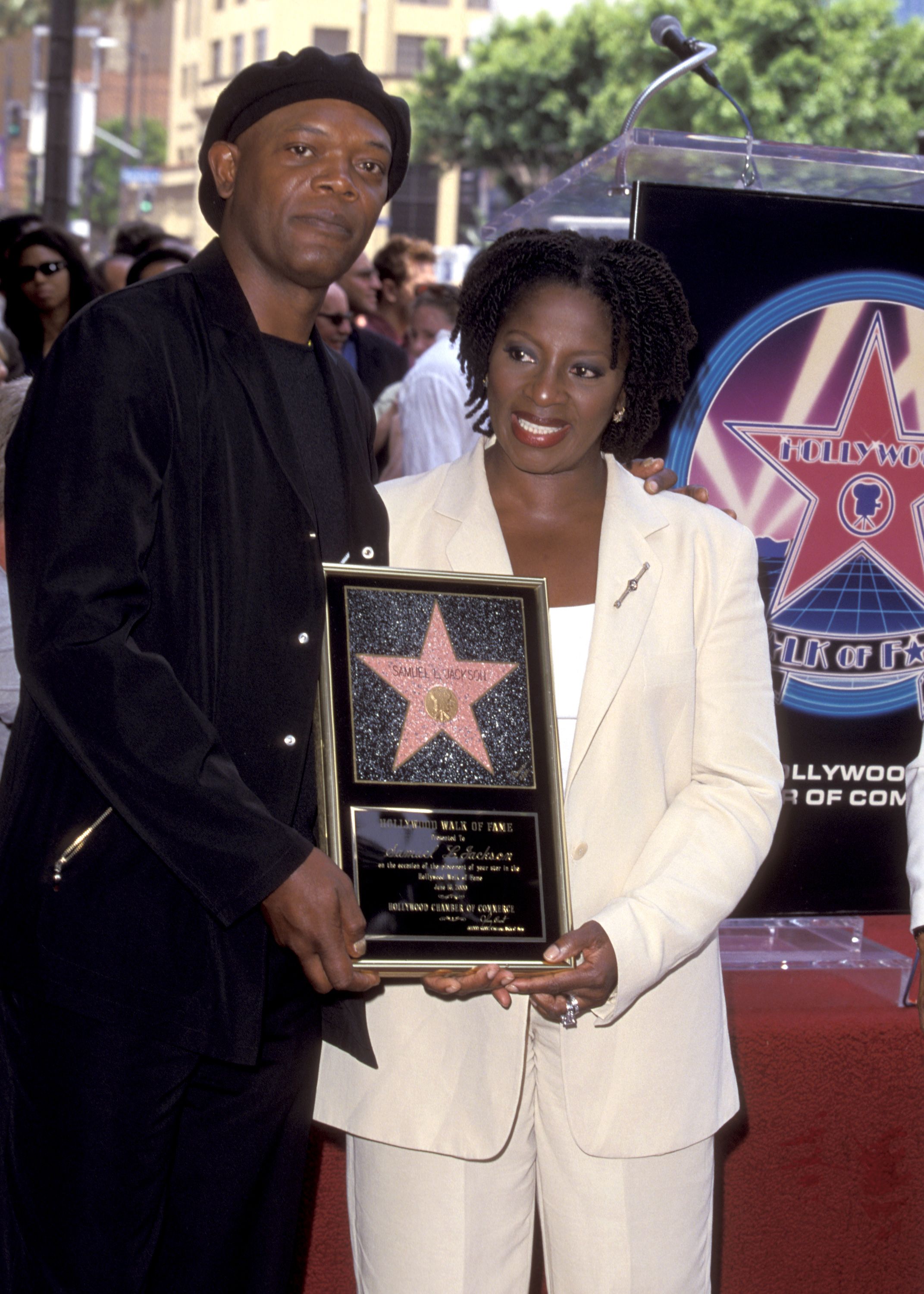 Samuel L. Jackson and LaTanya Richardson during his Hollywood Walk of Fame Star Induction in Los Angeles, California | Source: Getty Images
STILL IN LOVE AFTER 41 YEARS OF MARRIAGE
It's not every day that people hear about long-lasting Hollywood relationships, especially with all the pressure and temptations that come with it. However, Jackson and Richardson, alongside a handful of others, prove that it is possible.
"The secret to our success? Well, I guess we still love each other," Jackson admitted. The actor revealed that breakups are typical worldwide, but through the years, they've chosen to stay connected no matter what their jobs asked of them.
To Jackson, their jobs are just jobs, but at the end of the day, family and being at home and getting to sleep in their own beds are the true joys of life. He adds that by both of them understanding the things they need to do for their respective jobs, they can accept that this sometimes means being apart and being required to stay connected in other ways.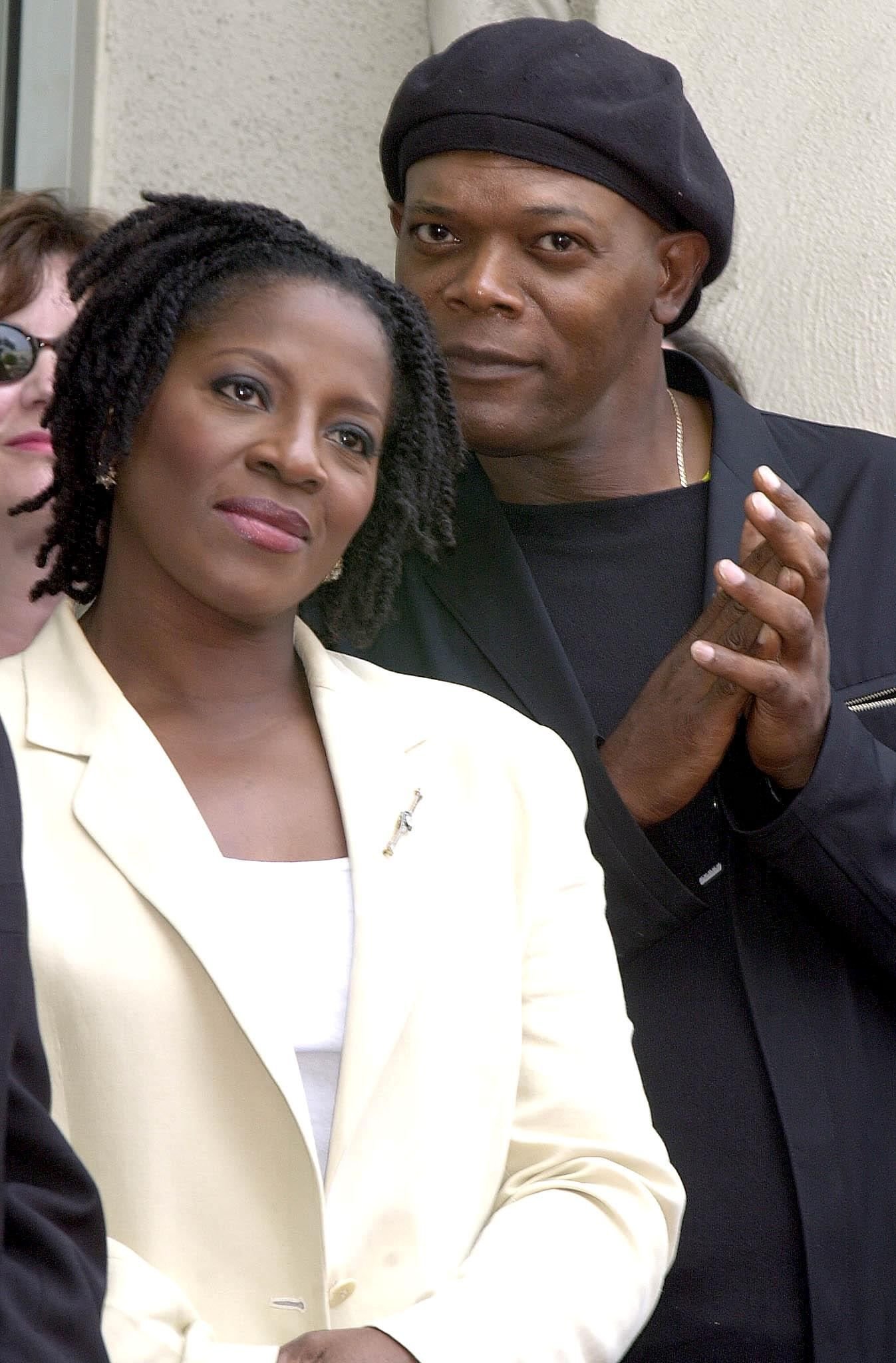 Samuel L. Jackson and LaTanya Richardson at the unveiling of his star on the Hollywood Walk of Fame in Los Angeles, California on June 16, 2000 | Source: Getty Images
Last but not least, if there's one thing Richardson has to say about how to make unions last, it's for couples not to go to sleep angry. No matter how upset you still feel at the end of the day, Richardson says that couples should still express their love for one another, even through gritted teeth.
Please fill in your e-mail so we can share with you our top stories!