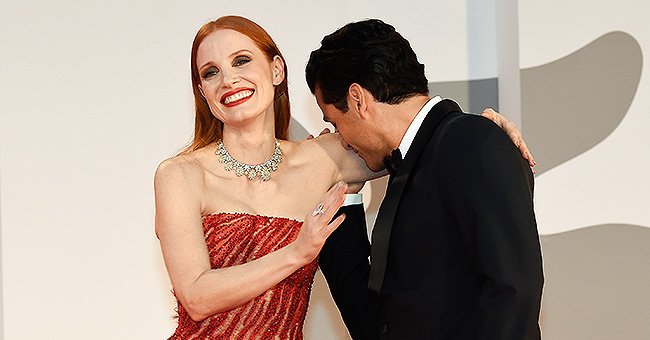 Getty Images
Oscar Isaac & Jessica Chastain Shared an Intimate Red Carpet Moment Although Both Are Married — Inside Their Close Relationship
Oscar Isaac and Jessica Chastain have shared intimate moments on the screen, but fans were shocked when the duo was spotted getting cozy in front of their spouses. Here's what happened.
Oscar Isaac and Jessica Chastain have intense on-screen chemistry. The movie stars share a long history and have featured in a couple of movies.
The pair studied at movie school Julliard together during their younger years as actors before getting roles in 2014's "A Most Violent Year" and "Scenes From a Marriage."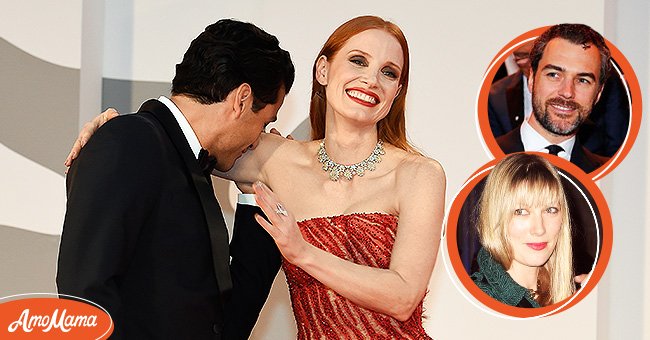 [Left] Photo of Jessica Chastain and Oscar Isaac on the red carpet. [Right] Jessica Chastain's husband Gian Luca Passi and Oscar Isaac's wife Elvira Lind. | Source: Getty Images
Although they share a good friendship, Chastain considered it embarrassing to shoot a sex scene with Isaac in their miniseries. The actress, however, commended the "Dune" actor for trying to make the moment as comfortable as possible.
The duo reportedly drank bourbon to calm their nerves before shooting their scene, but Chastain still needed some extra help, which Isaac provided by singing songs he knew she liked and would make her calm.
The "The Card Counter" actor also encouraged Chastain to shoot the scene by thinking they were the only ones in the room. But, of course, that was far from reality. The room was crowded with directors and coordinators.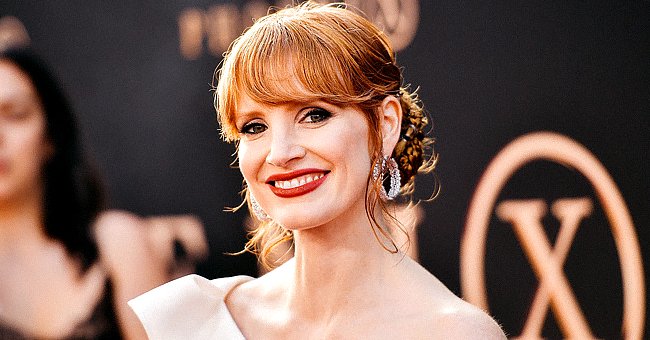 Jessica Chastain on June 04, 2019, in Hollywood, California. | Source: Getty Images
Chastain recalled the weird moment when an intimacy coordinator asked them to make the sex scene look more natural because the previous ones they shot seemed rather friendly.
In the HBO limited series, Chastain and Isaac play a couple weathering the ups and downs of their marriage. The five-episode short series is based on the 1973 Swedish miniseries of the same name by Ingmar Bergman.
Chastain plays Mira, an ambitious tech executive, while Isaac plays Jonathan, a lethargic philosophy professor.
Chastain and Isaac channeled their sexual tension into their red carpet appearance at the Venice Film Festival in 2021. The duo produced one of the most talked-about moments in red carpet history.
A slow-motion viral clip showed the moment Isaac held Chastain's arm and seductively smelled it while she laughed and caressed the "Robin Hood" actor's face with both hands.
The moment looked almost as intense as their sex scene from the movie, but some fans were suspicious and asked if the duo were more than just co-stars, while others made fun of the moment on social media.
One social media user joked that Isaac was channeling his inner Gomez Addams from "The Addams Family." But another was surprised that the actors got cozy with their partners just a few feet away. A Twitter user wrote,
"Maybe Oscar Isaac and his wife have some sort of arm kissing deal, some sorta pass they've worked out; we don't know the details."
Others joked about the possible reactions both parties might face from their partners following their steamy red carpet moment but instead, Chastain and Isaac's partners were comfortable with the moment.
Isaac has been married to Danish film director Elvira Lind since 2017. The couple met in 2012 and shared two children. Although Lind was only a few feet from her husband during the red carpet moment, she appeared to have worn a warm smile on her face.
The movie director seems to understand that it was a simple gesture meant for the camera, an understanding Chastain's husband shares. The actress has been married to fashion executive Gian Luca Passi de Preposulo since 2017, and they have two children.
Chastain once revealed that she watched her performance in "Scenes From a Marriage" with her husband because she wanted him to see her play intimate roles.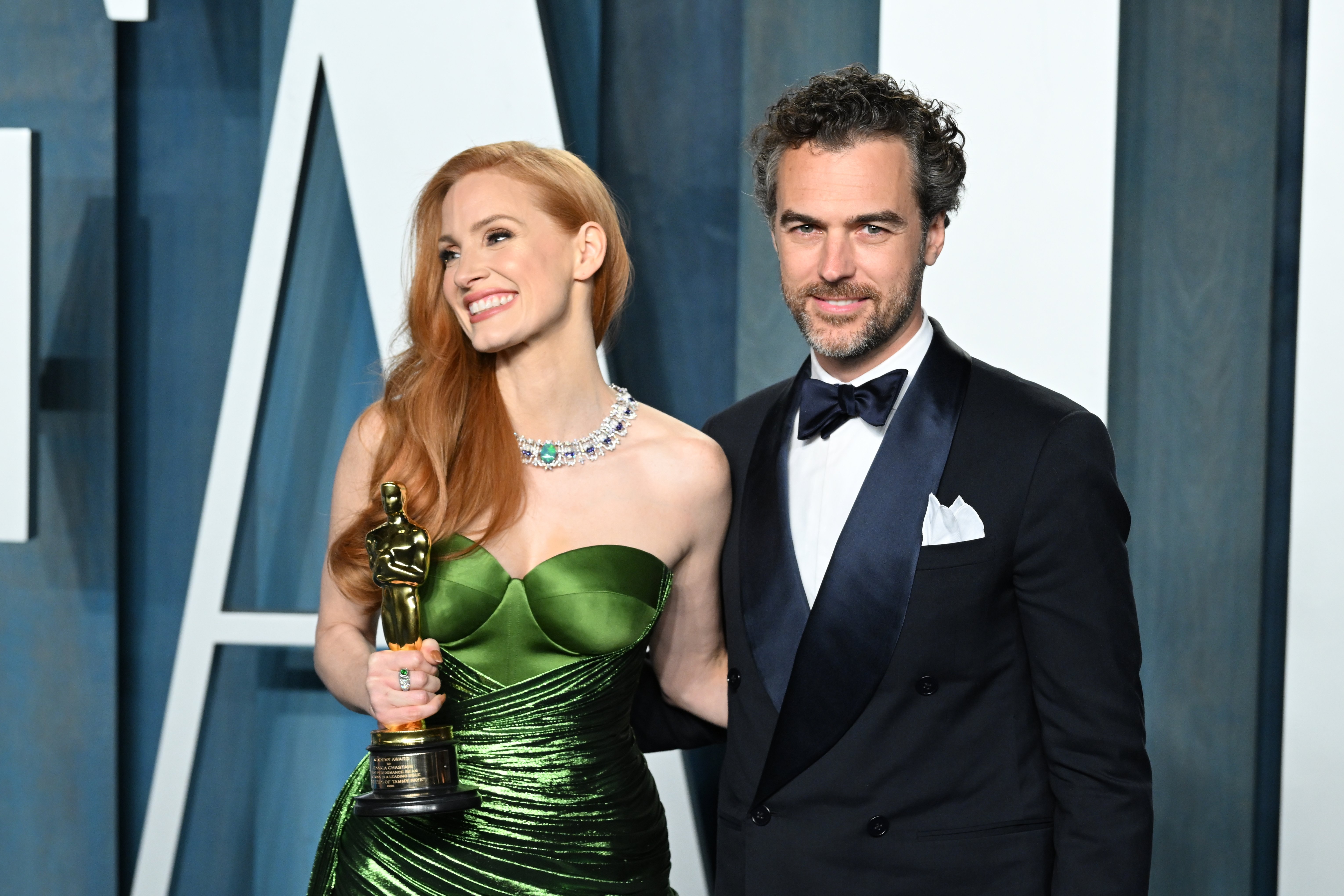 Jessica Chastain and Gianluca Passi attend 2022 Vanity Fair Oscar Party Hosted By Radhika Jones | Source: Getty Images
Even with the constant speculations that these two might be more than friends, Chastain has shut off claims of an affair between her and her co-star and instead found the funny side.
She claimed they were both happily married and pointed out her strong decades-long friendship with Isaac, adding that they loved to be funny with each other.
Chastain credits their friendship for the good ratings they have in movies in which they appeared together. But, the actress once admitted that she had to work on her mind while playing his on-screen wife in 2014's "A Most Violent Year."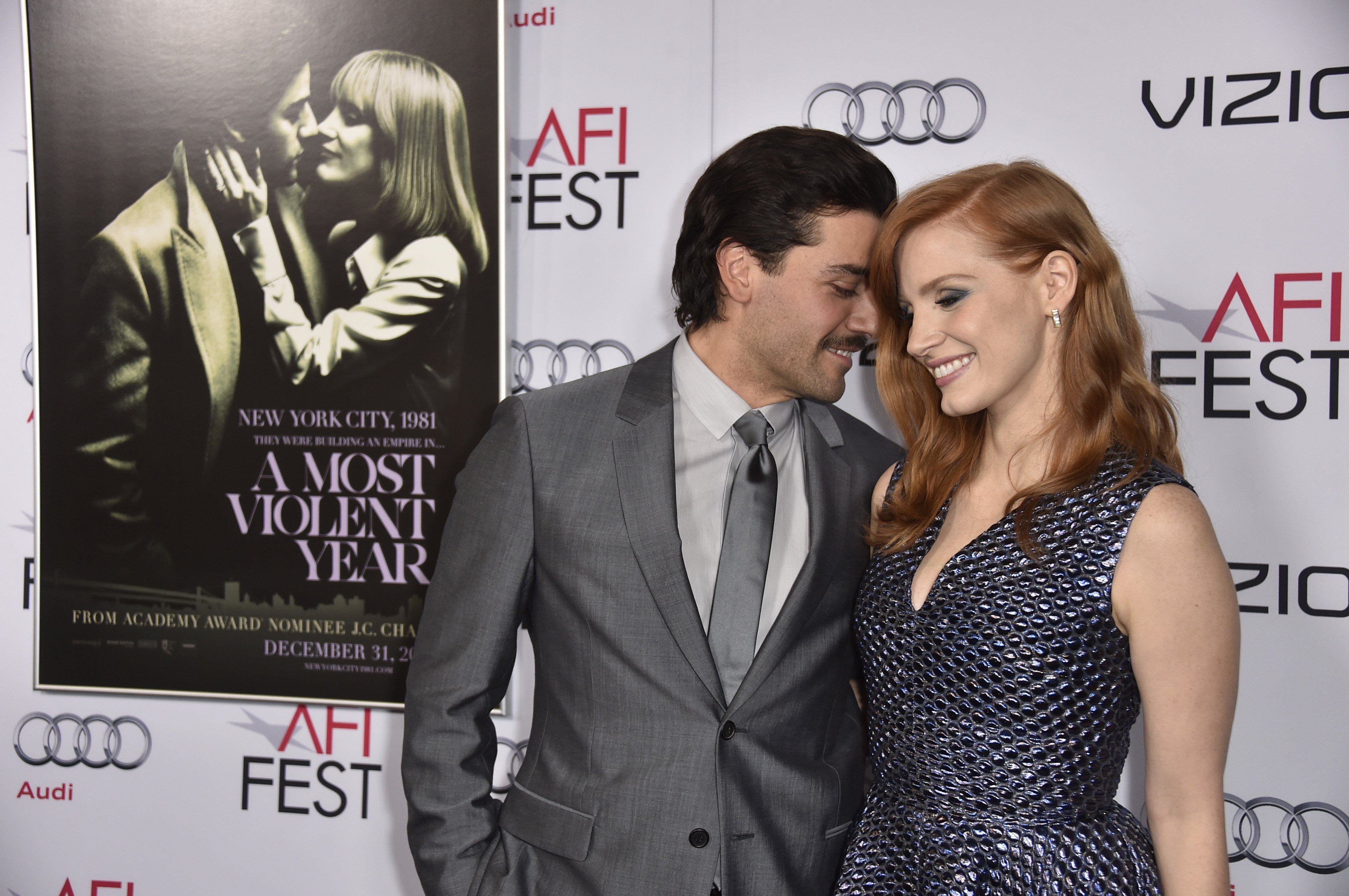 Oscar Isaac (L) and Jessica Chastain attend AFI FEST 2014 presented by Audi opening night gala premiere of A24's "A Most Violent Year" | Source: Getty Images
Chastain had grown used to seeing Isaac as just a friend and had to condition her mind to suit their role as a couple. She confessed to changing his name on her phone into their on-screen character to remind her of their project.
The duo also used a couple's workbook to understand the dynamics of their roles. According to the "The 355" actress, her family is friends with Isaac's family, and everyone seems to get along perfectly.
Both Isaac and Chastain have achieved great things in their careers, clinching top roles. Isaac recently appeared in Marvel's newest superhero movie, "Moon Knight," putting him on the list of elite actors to have played one of Marvel's revered fictional roles.
Please fill in your e-mail so we can share with you our top stories!