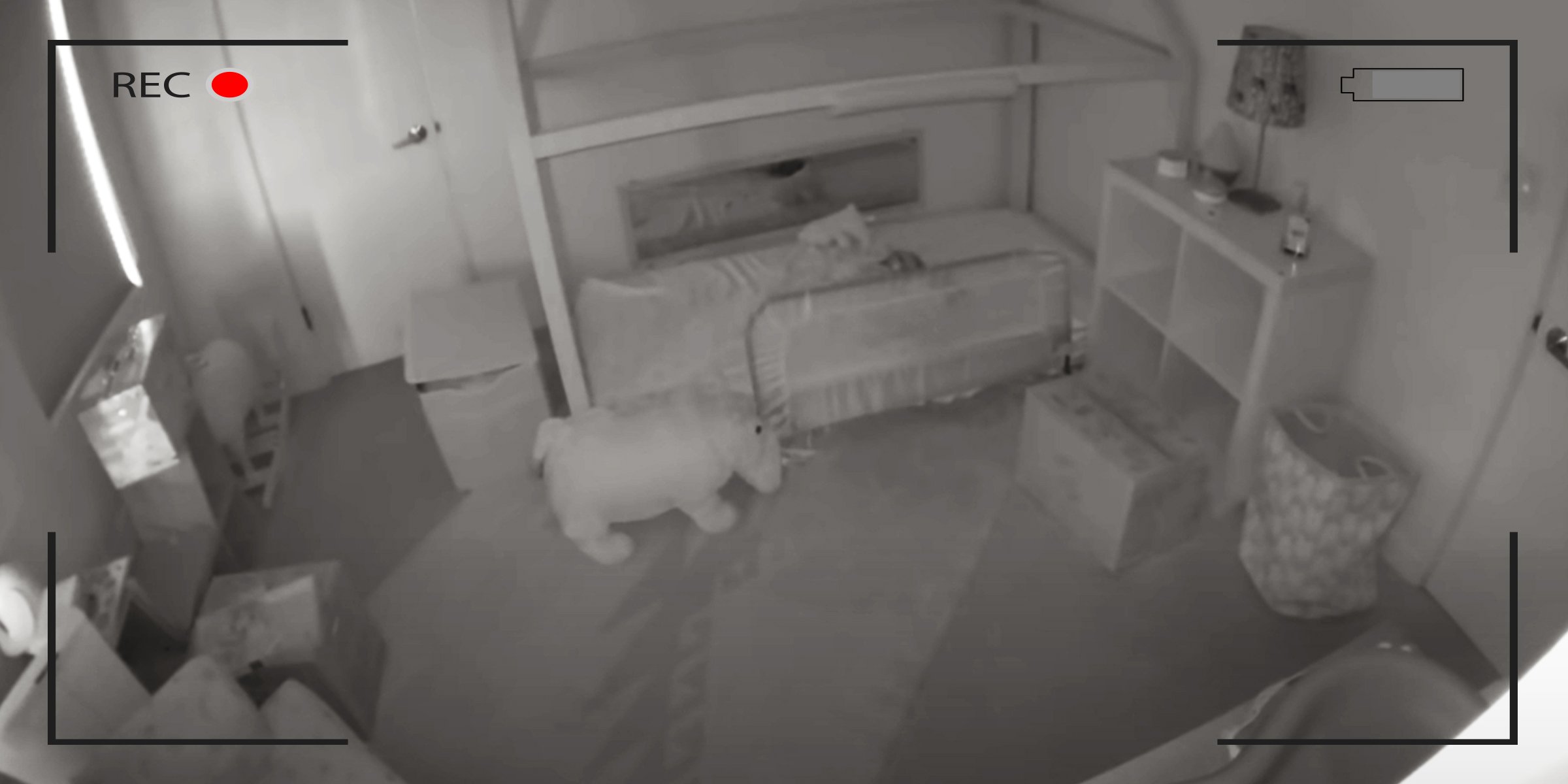 youtube.com/Cheese Pups Shutterstock
Mom Finds It Odd That Little Daughter Climbed Out of Her Crib, Checks Camera Footage
When a couple woke up in the early hours of the morning, they heard their 15-month-old baby being active. As the mother checked on the little one, she was met with a surprise—her daughter was already in the hallway.
Parents have learned to baby-proof their homes to ensure the safety of their infants. Many moms and dads also equip themselves with baby monitors for an extra level of security.
The devices sometimes capture interesting footage that leaves viewers puzzled. A routine Friday morning in 2018 perplexed parents Chris and Nina Cardinal. Read their story, and find out why.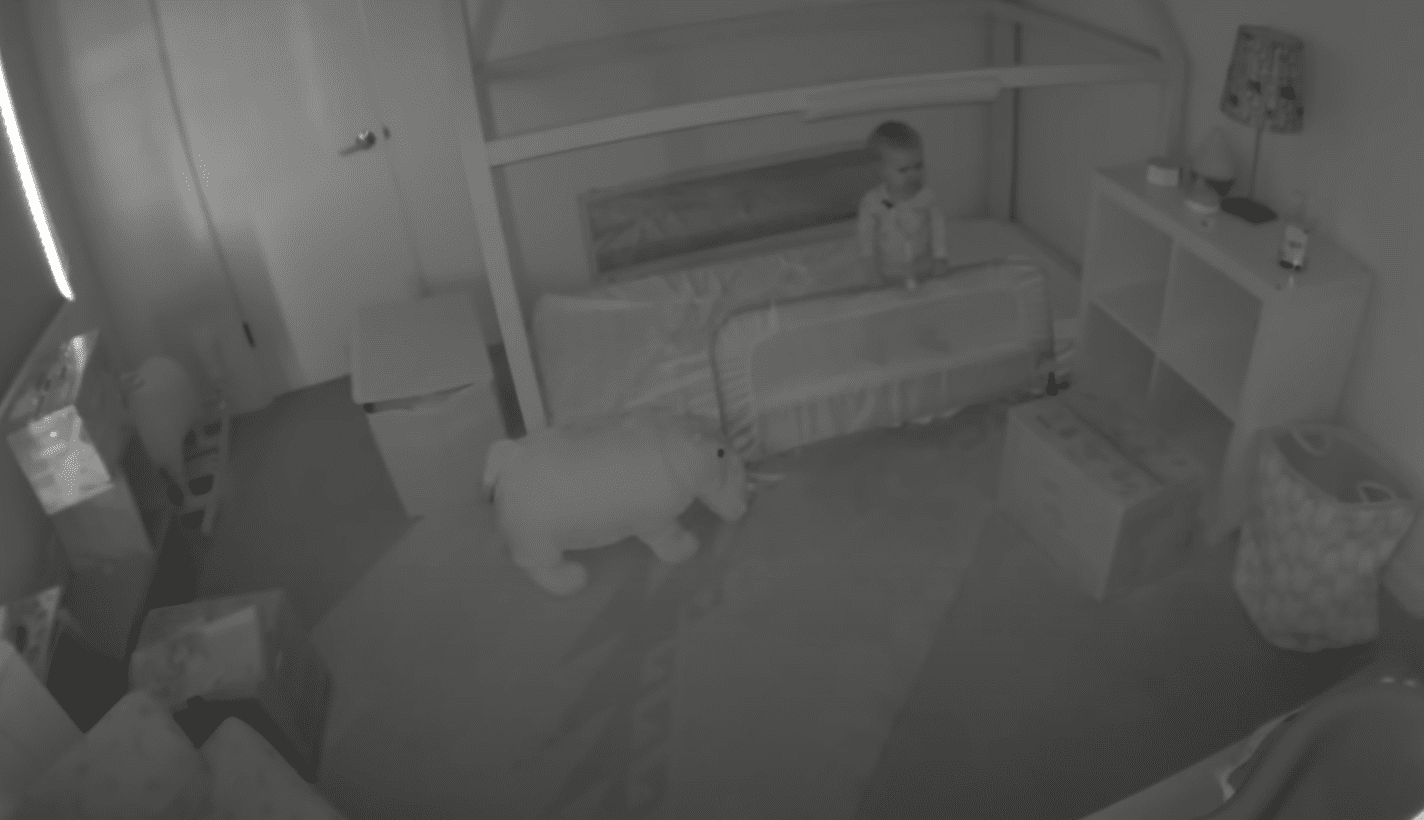 Baby Chloe Cardinal standing on her bed. | Source: youtube.com/Cheese Pups
THE PARENTS WERE SHOCKED BY THEIR CHILD'S ACTIONS
The Arizona couple heard their little girl, Chloe, over the baby monitor and went to investigate. Mom Nina was caught off-guard when she saw her child running around in the hallway. She expected to find the youngster in her room.
Chris shared: "We were shocked! How was she able to get out of bed?" The couple couldn't believe Chloe managed to climb out of her bed.
"This is the first time she's ever made an escape like this. Did she grow?"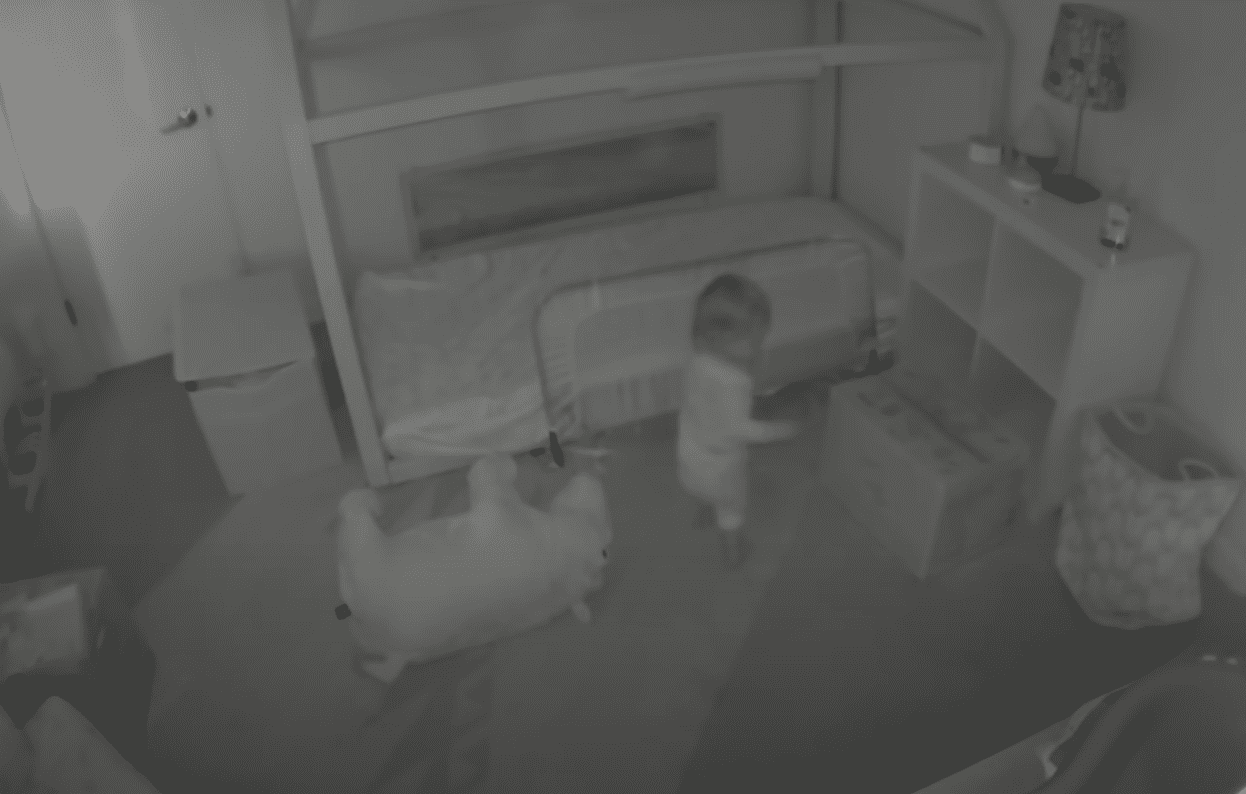 The baby monitor reveals that Chloe managed to climb out of her bed. | Source: youtube.com/Cheese Pups
THE BABY GIRL HAD TWO SIDEKICKS TO HELP HER
The parents were particularly confused because various factors were intended to keep Chloe inside her bed and her room. A mesh structure guarded the youngster's bed, and she was not tall enough to reach the bedroom doorknob.
Thanks to the baby monitor, the perplexed duo had a way to see how their baby girl achieved the impressive feat. Their Nest camera quickly explained Chloe's overnight upskill—she had help from two unexpected sidekicks, Colby and Bleu.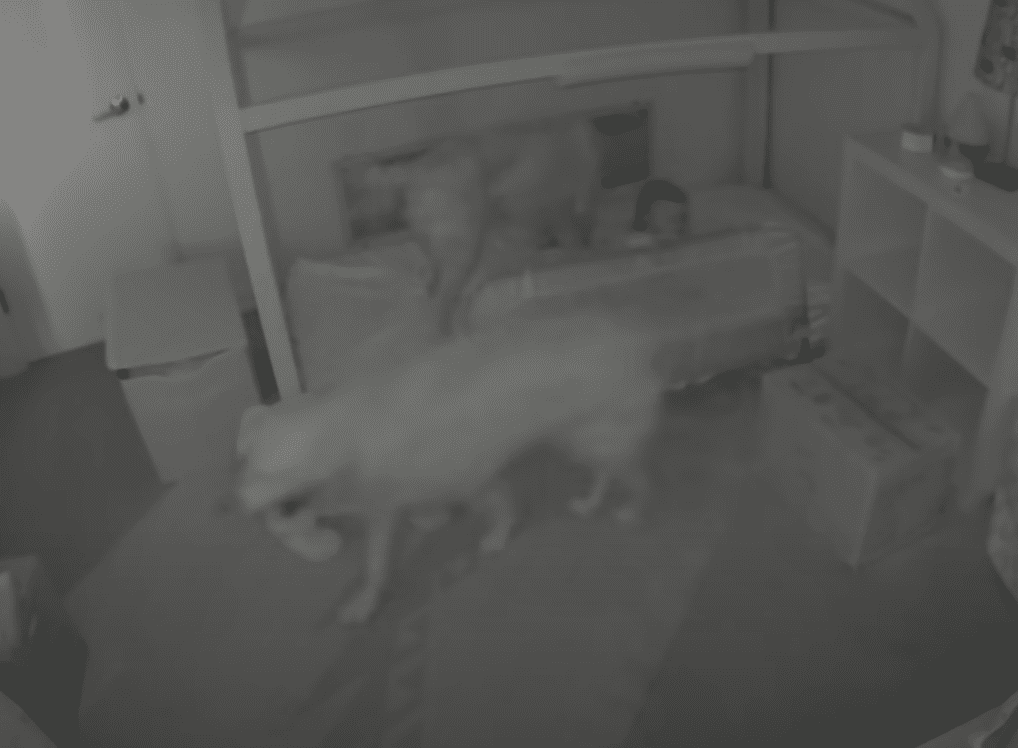 Golden retrievers on baby Chloe's bed and inside her room. | Source: youtube.com/Cheese Pups
THE DOGS TRIED TO GET THE YOUNGSTER'S ATTENTION
The family's golden retrievers helped Chloe accomplish an escape her parents never saw coming. The video footage revealed Colby and Bleu opening the bedroom door and visiting the youngster at around 6 a.m.
They proceeded to jump on Chloe's bed before running in and out of the room repeatedly. As the playful dogs sniffed, licked, nudged, and made a scene, they eventually caught the little girl's attention.
One of the pups stole her toy duck and continued pestering her until they got the desired response. It was evident that Chloe was delighted by her furry best friends and interested in where they were going.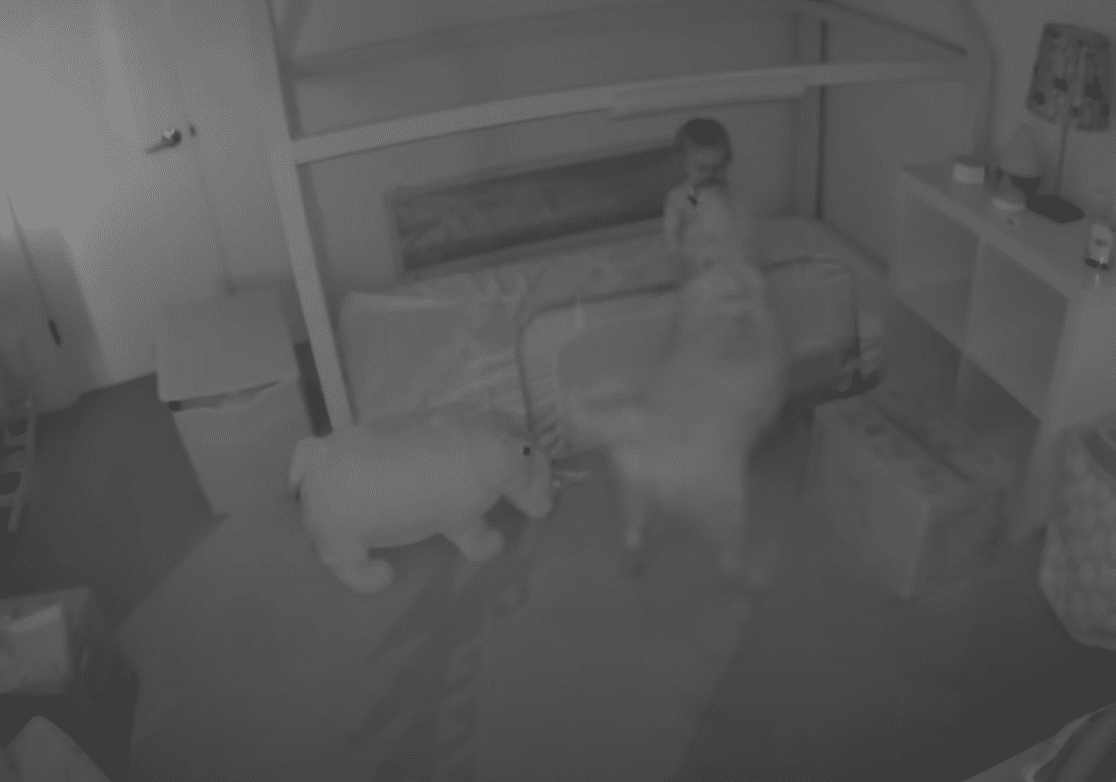 Golden retriever gets baby Chloe's attention. | Source: youtube.com/Cheese Pups
THE LITTLE GIRL FOLLOWED THE DOGS OUT OF THE ROOM
The little girl eventually climbed out of bed and excitedly followed Colby and Bleu into the hallway. The youngster might not have been tall enough to reach the room's doorknob, but she was able to get to the dogs' kibble bin.
On their YouTube channel, the couple revealed:
"Lately [Chloe's] been dropping food for them from their bin, so they figured she must be good to help feed them breakfast."
The baffled dad expressed: "I knew we had to childproof our house. Guess we'll have to dog-proof it too!" The video gained millions of views, and the comment section offered many different opinions.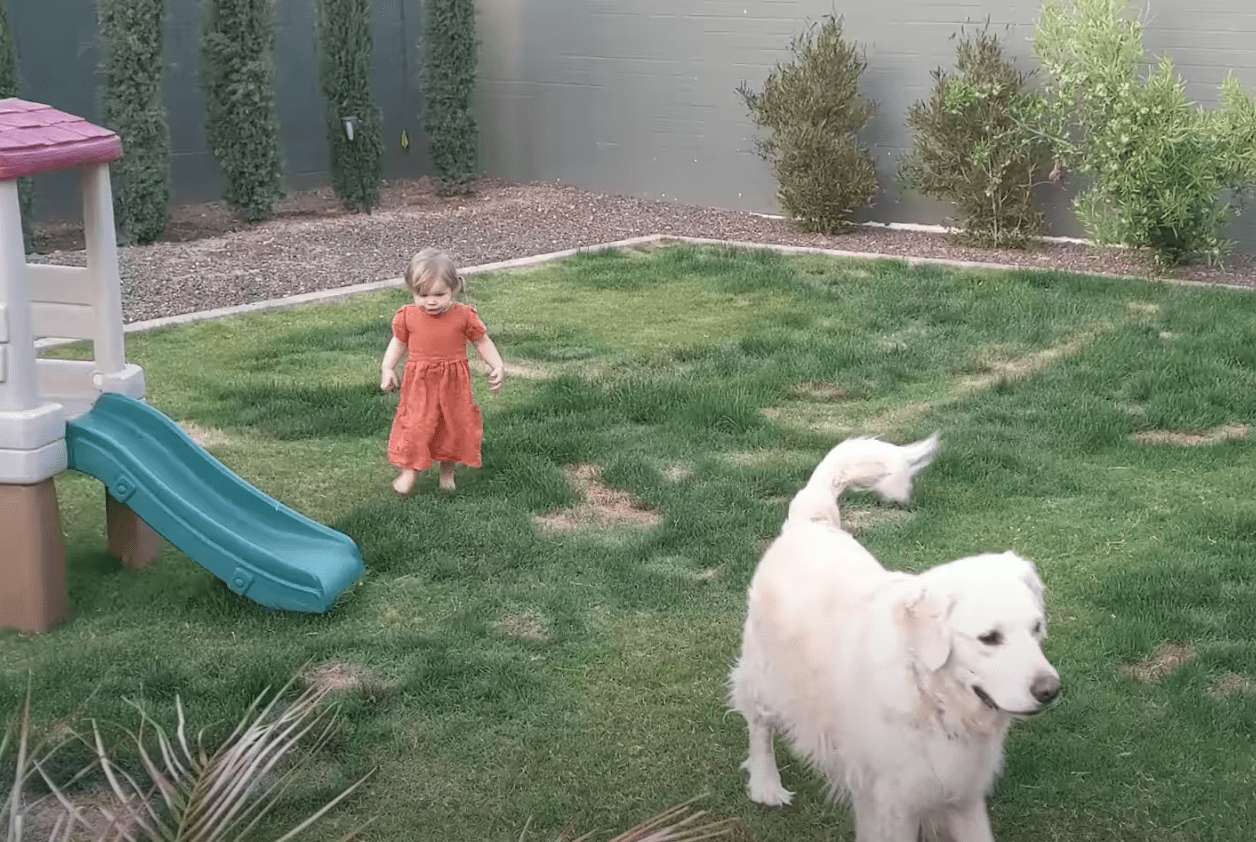 Baby Chloe and her family's golden retriever. | Source: youtube.com/Cheese Pups
NETIZENS CALLED IT THE VIDEO OF THE YEAR
Much of the online community gushed after seeing the trio in action. One user wrote: "Thank you, that was so adorable. Those three make the cutest 'outlaws' ever." Someone else called the clip "The video of the year."
Netizens also offered the couple some advice suggesting ways to ensure better safety. One person noted:
"I know this was an accident but I hope you don't leave your baby unsupervised around those dogs, no matter how nice and friendly they are. The most unthinkable things could happen."
Chris and Nina shared that they were making plans to ensure Chloe's room was extra secure. However, they were thrilled to see their daughter learning new skills and having fun with her two fuzzy best friends.
Click here for another story about a mother who discovered something previously unexplainable thanks to her baby monitor. The camera footage fuelled some of her worst fears and made her question the safety of her home.
Please fill in your e-mail so we can share with you our top stories!