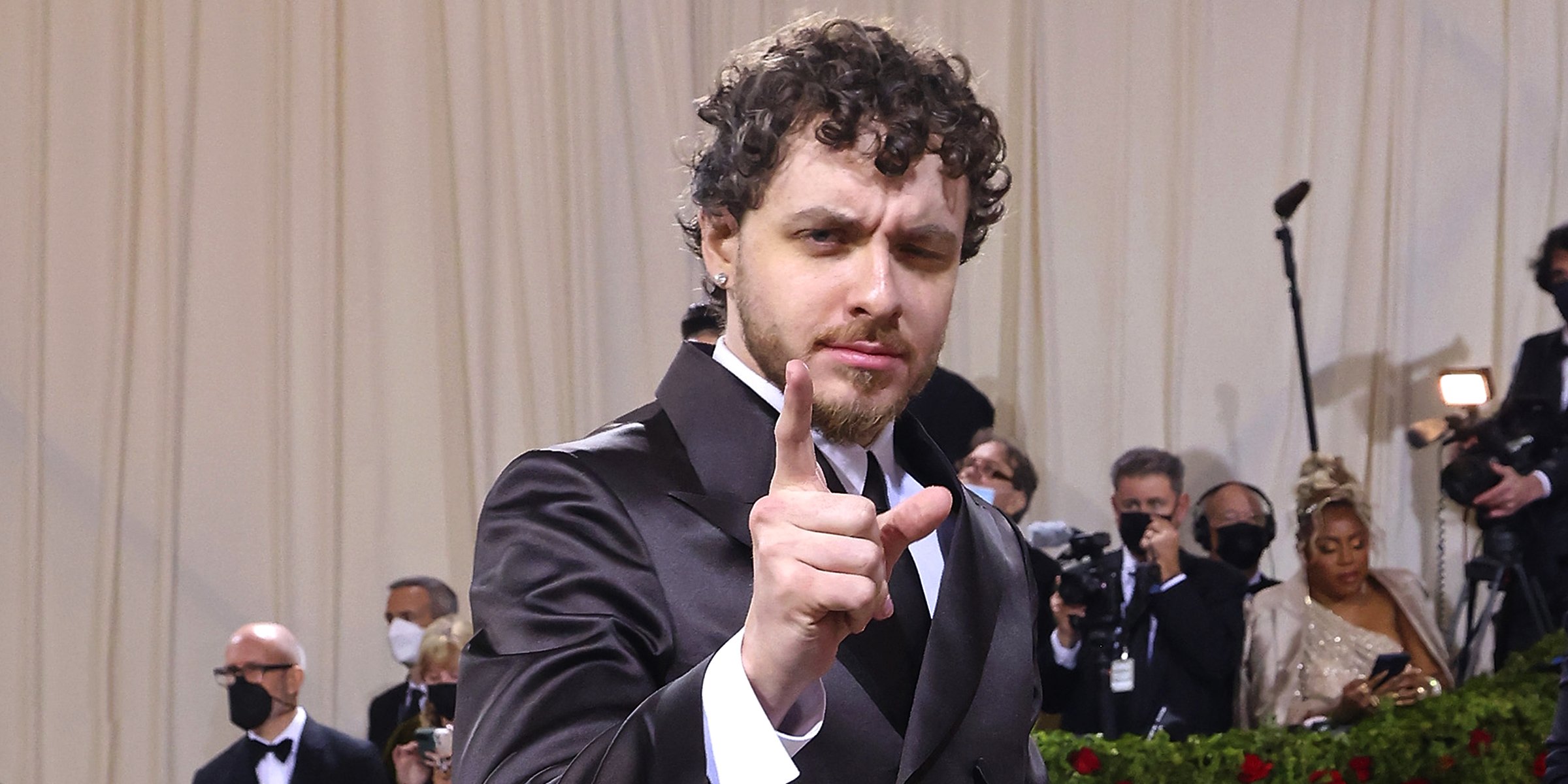 Getty Images
Jack Harlow's Height Has Been Questioned for Years - How Tall Is He?

American rapper Jack Harlow's height has been questioned for years. The 24-year-old's height came into the spotlight again recently, so how tall is Jack Harlow?
Jack Harlow recently attended the 2022 MTV VMAs on August 28. He walked the carpet in a monochrome outfit that he put together by pairing a matching brown leather jacket, pants, and black boots with dark shades.
The event ended up being a memorable night for the musician, who bagged an award for Best Collaboration for the track "Industry Baby" with Lil Nas X.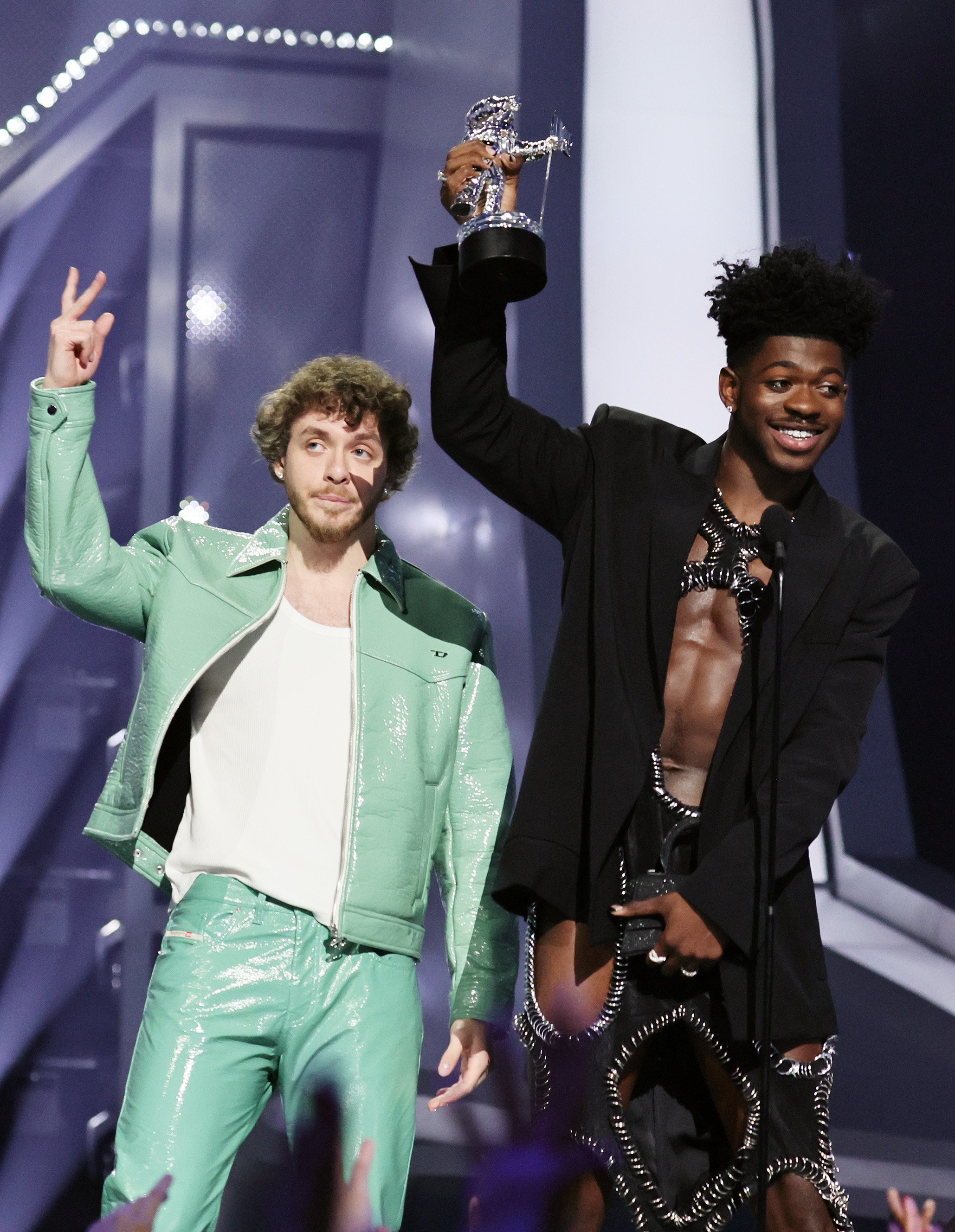 Lil Nas X and Jack Harlow accept an award onstage at the 2022 MTV VMAs at Prudential Center on August 28, 2022, in Newark, New Jersey. | Source: Getty Images
Harlow accepted the award wearing another leather ensemble. This time he looked colorful in a leather jacket and pants in a light green shade and a white top.
The one thing that was most memorable, though, especially for those who watched the event, was how tall Harlow was. People quickly reacted to his appearance, and most wondered how tall he was.
Most people noticed how huge the height difference was when Harlow received the award with Lil Nas X at the MTV VMAs. Many Twitter users quickly took to social media to write about Jack Harlow's height. One tweet responded by asking whether Harlow is short or Lil Nas X is tall.
Another Twitter user wrote, "is jack harlow 4 foot tall or is lil nas x like 8 foot [sic]." with another saying, "How tall is Jack Harlow? Cause Lawdddd." Another tweet also asked about the musician's height.
HOW TALL IS JACK HARLOW?
People questioning Jack Harlow's height is not a first, but it has been happening for years. Many thought the musician was short, while others considered him tall.
In a tweet from June 2021, one user wrote they never knew Harlow was that tall. In another post from November 2021, a tweep mentioned that Harlow was "really tall in person" when she met him on the streets of Seattle.
Another tweet from 2021 was of a user asking, "Is it me... or is Jack Harlow really tall?!" with another sharing, a post from Harlow's Instagram Stories wondering if Harlow is exceptionally tall or the footballer he was with was "tiny."
Many have tried to get the correct number where Jack Harlow's height is concerned, including various websites. According to some sites, such as Capital Xtra, the "First Class" rapper is 6 feet, 3 inches tall, while IMDb, on the other hand, states that Harlow's 6 feet, 4 inches tall.
What's interesting is that the rapper himself has not addressed people's questions about his height. The Louisville, Kentucky-born musician, who is also an actor, has never even mentioned his actual height.
When comparing Harlow's reported height to other musicians such as Lil Nas X and other rappers, the 24-year-old is taller. Multiple sources revealed that Lil Nas X is between 6 feet, 1 inch and 6 feet, 2 inches.
Other rappers such as Lil Wayne and Doja Cat, on the other hand, are reportedly 5 feet, 5 inches. Another legendary rapper is Nas, whose height is around 5 feet, 8 inches.
Many have their definition of what the word icon means to them, and so does Harlow. During an interview with Harpers Bazaar in August 2022, the musician revealed what he thinks an icon is.
Harlow stated that he thinks an icon is someone larger than life. He further expressed that his definition of an icon is "someone people love or hate" yet feel strongly about and someone "who has a lasting effect." The award-winning rapper also described how he feels whenever he's performing on stage.
Jack Harlow said he feels "the most iconic" when he's on stage and performing at a big event like a festival or sold-out room. The 24-year-old also said he loves when he can "control a crowd" and has "this connection with thousands of people."
Please fill in your e-mail so we can share with you our top stories!