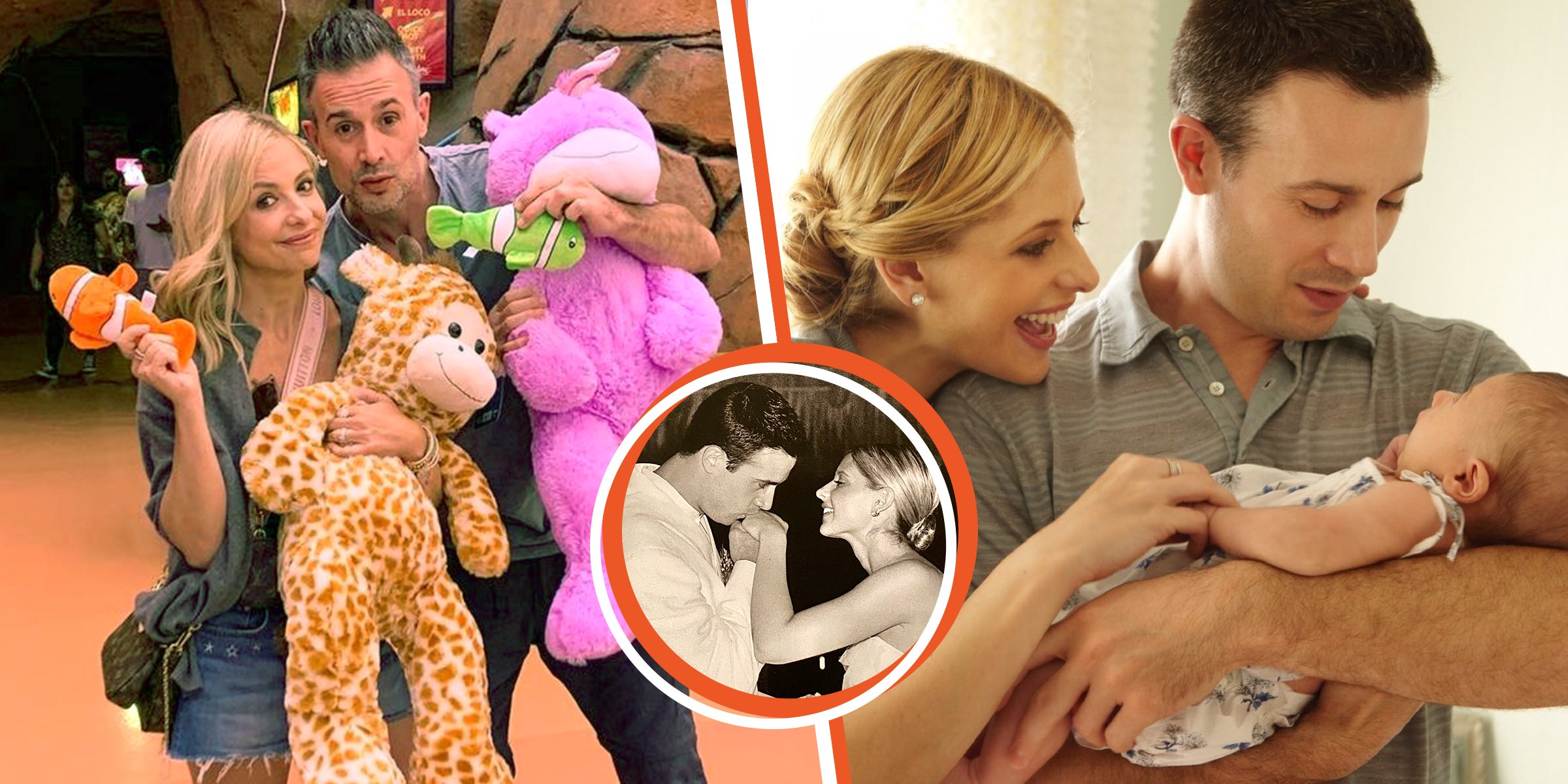 instagram.com/sarahmgellar
Freddie Prinze Jr Fed 'Too Skinny' Sarah Michelle Gellar in Their 20s — They Are Raising 2 Kids Now

Freddie Prinze Jr. befriended his wife, Sarah Michelle Gellar because he believed she was too thin and wanted to cook for her. Their romance started when Freddie was impressed by Sarah's appetite on their first date. They now have a beautiful family that follows strict rules and might welcome another child soon.
On September 1, 2022, the couple celebrated 20 years together. Sarah took to Instagram to share the milestone with an adorable picture of the couple where Freddie is kissing Sarah's hand as she gazes lovingly at him.
The couple has spent many years in wedded bliss, and their costars and fans immediately flooded the post's comment section with good wishes for the pair. One of them was Selma Blair, who referred to them by their Hollywood nickname.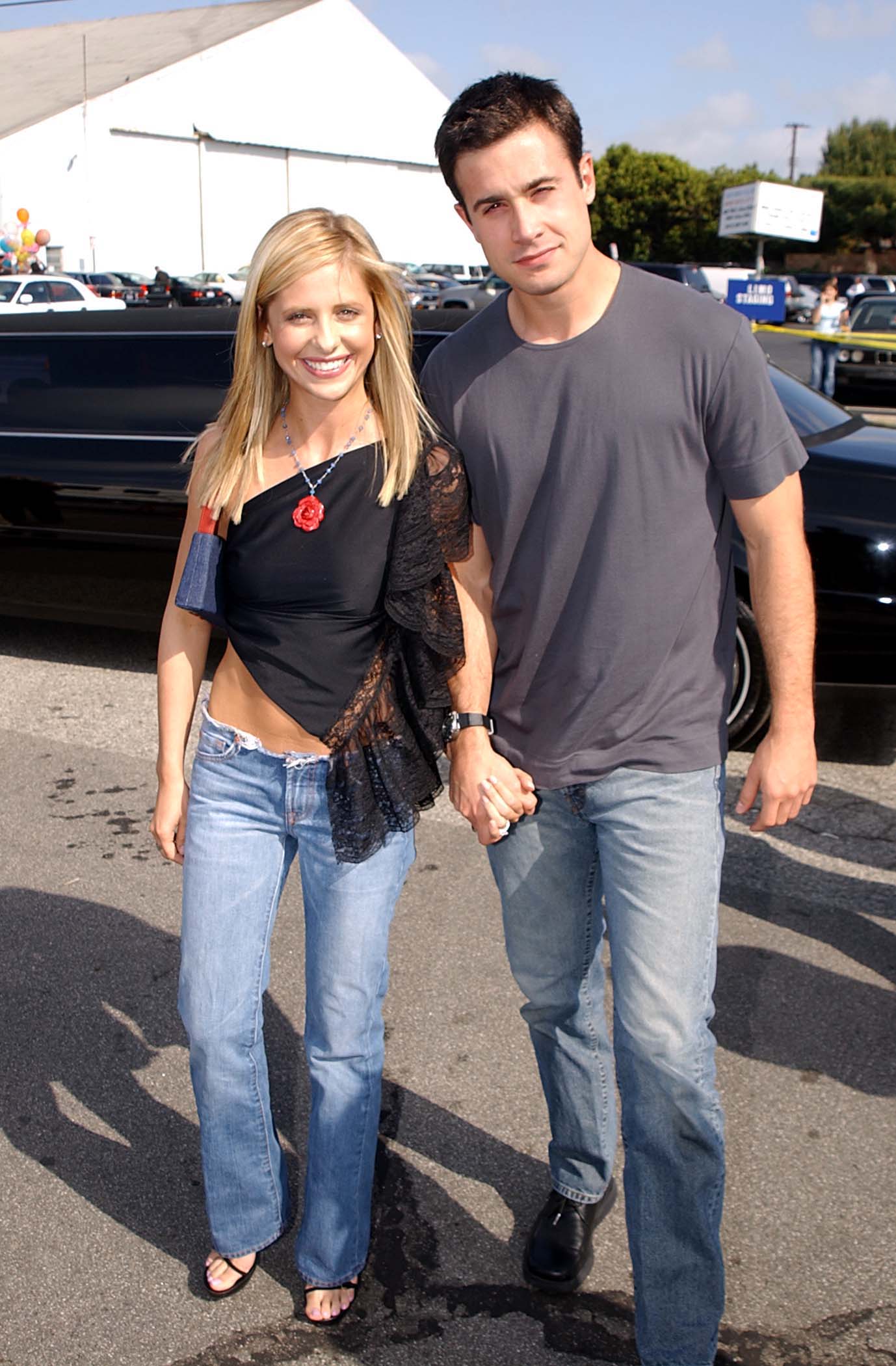 Freddie Prinze Jr. & Sarah Michelle Gellar during Kid's Choice Awards Arrivals in Santa Monica, California, United States. April 20 2002 | Source: Getty Images
Freddie and Sarah are often referred to as "The Golden Couple," and this is the term Blair used to address them in her comment. There was also a comment left by Angelique Cabral, where she called them "the cutest couple."
Although the couple has now captured the hearts of millions with their love story, it was not love at first sight for them. While they were close friends for a couple of years, they didn't make their relationship romantic until much later.
Freddie and Sarah Were Friends Before They Became Lovers
Freddie and Sarah met on the set of 1997's "I Know What You Did Last Summer." They didn't have many scenes together, but that didn't stop them from getting to know one another between takes.
Because the film was being shot an hour away from where Freddie and Sarah lived at the time, they had to travel there each time they were in a scene. However, Sarah didn't have a driver's license, and Freddie drove her to the set each time.
During these hour-long car rides, they got to know one another and became friends. Freddie explained that they were opposites but became good friends because they talked about everything on those car rides.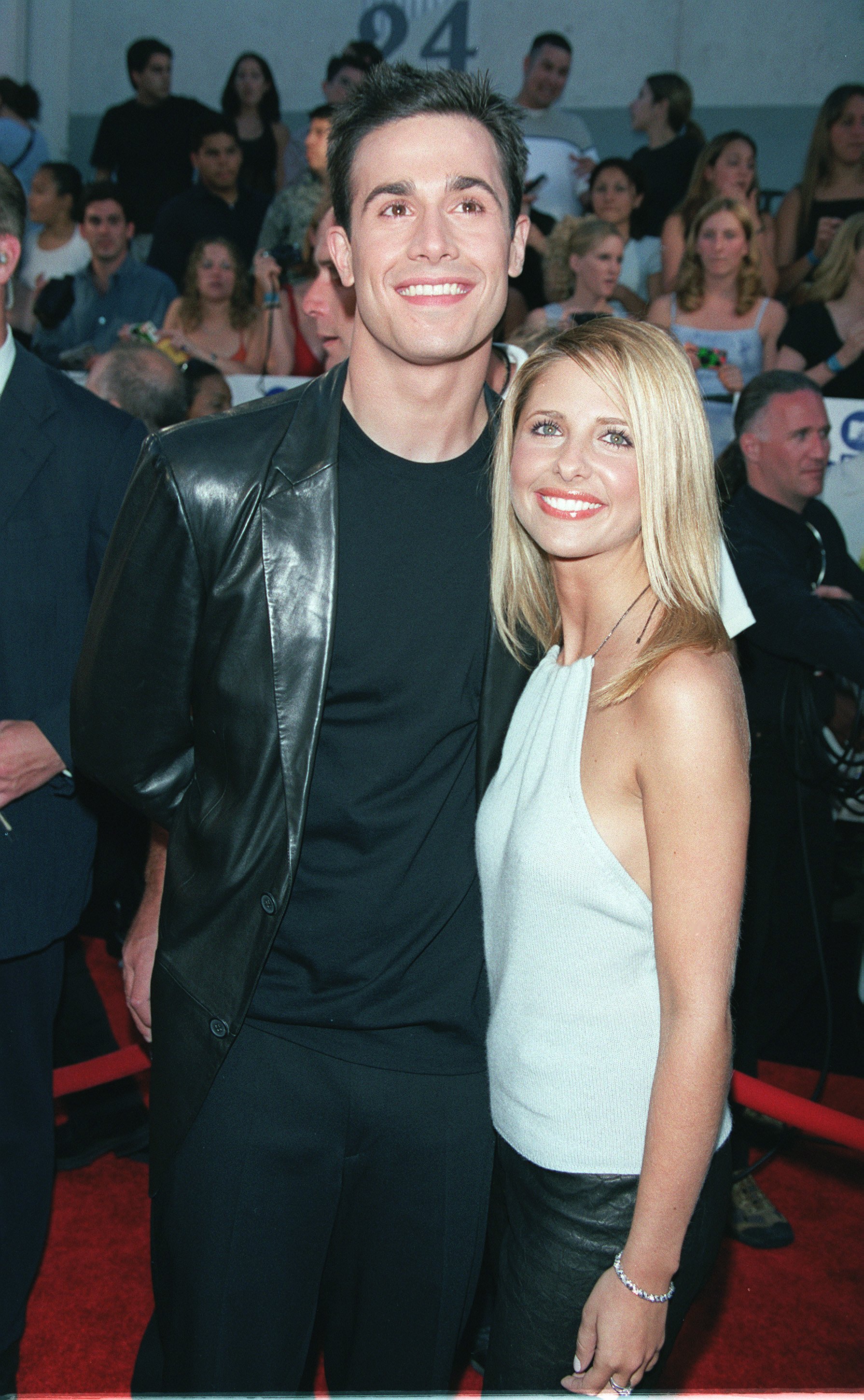 Freddie Prinze Jr. and Sarah Michelle Gellar arrive at the MTV Movie Awards in Culver City. June 3, 2000 | Source: Getty Images
Talking about how their relationship evolved, Freddie revealed that he was happy to be friends first. He admitted:
"We were just friends. That's one of the reasons I think our relationship has always been so good. We were just friends for a good two years before we ever went on a date … We already kind of knew all the faults in the other person."
However, everything changed when the couple went on their first date. Before becoming an actor, Freddie had dreams of being a chef. Food is very important to the actor, so when he saw that Sarah had a good appetite, he knew she was the one.
Freddie decided to take Sarah to his favorite sushi restaurant for their first date. When the couple arrived at Asanebo for dinner, Freddie expected Sarah to order something small, like a salad. He admitted this was what he was used to with actresses.
Sarah shocked him when she ordered a big meal and ate a crab that the restaurant let walk across the table before they cooked it. Freddie was impressed by her attitude toward food and knew he would marry her one day.
Freddie and Sarah Live In Wedded Bliss
In April 2001, Freddie finally popped the question. They were engaged for a year and a bit before they got married on September 1, 2002. Their wedding day was special, but Hurrican Hernan was just 300 miles from their venue.
Because of the hurricane, their wedding reception, which was supposed to be held outdoors, was moved inside. The reception went off without a hitch, but the next day, as their guests were leaving, an earthquake hit the area they were staying in.
While these events were catastrophic for many, Ron DiBlasio, a friend of Freddie's family, seemed to think they were a good omen. He said:
"Earthquake? Hurricane? Hey, I think it's a great way to start. All of those bigger-than-life natural events can only bode well for the marriage."
The couple finally welcomed their first child almost ten years after their wedding. In April 2009, the news of Sarah's pregnancy broke, and sources close to the couple shared how excited they were to welcome their baby.
Although there was much excitement around the couple's pending parenthood, they did not announce the gender of their baby. However, in September 2009, it was announced that Sarah had given birth to a healthy baby girl.
Charlotte Grace Prinze was born on September 19, 2009. Her arrival was met with even more excitement as the couple basked in the glow of their newborn daughter. Three years later, they expanded their family once again.
This time, they welcomed a son in September 2012. The boy's name was not released at the time of his birth but was later confirmed to be Rocky James Prinze. Charlotte is said to have been excited about being an older sister.
While the couple was at the height of their fame when their children were born, they wanted to focus entirely on being parents. Freddie lost his father after he was born and admitted:
"So when my daughter was born, that was pretty much it for me. I became a full-time father. It's not a job. It's what I love to do."
Sources close to the couple said they were great parents to their two beautiful children. They have put strict rules in place to ensure their children grow up as good people.
Freddie and Sarah Are Strict Parents
One of the rules that the couple has to keep their children safe is keeping them out of the public eye. While they have said that their children can pursue acting if they want to, the couple has explained that "fame isn't a job."
Now that their children are older, they have had to implement rules to ensure their behavior. Freddie joked that they have "100 rules" that their children have to follow, such as no social media accounts.
Sarah said their son isn't interested in social media yet, but their daughter is curious. However, they have clarified that social media is a responsibility, and she is not ready to have any accounts yet.
The family also has family dinners together as many nights a week as possible, and they ensure that there are no phones or other gadgets at the table to distract them from talking to one another.
The couple revealed that they do not discipline their children physically and instead ensure that their children follow their rules to avoid other consequences. Freddie admitted that his mother physically disciplined him, so he chose a different route with his children.
Talking about how his mother disciplined him, Freddie said that she would "whoop" him, so he knew how to be strict. Yet, he preferred not to lay his hands on his children and instead warned them of the rules until they knew what they were and weren't allowed to do.
Although the children are now 13 and 10 years old, they have been asking for a sibling for a long time. The couple has said they might get a sibling one day, and they don't give up asking for one.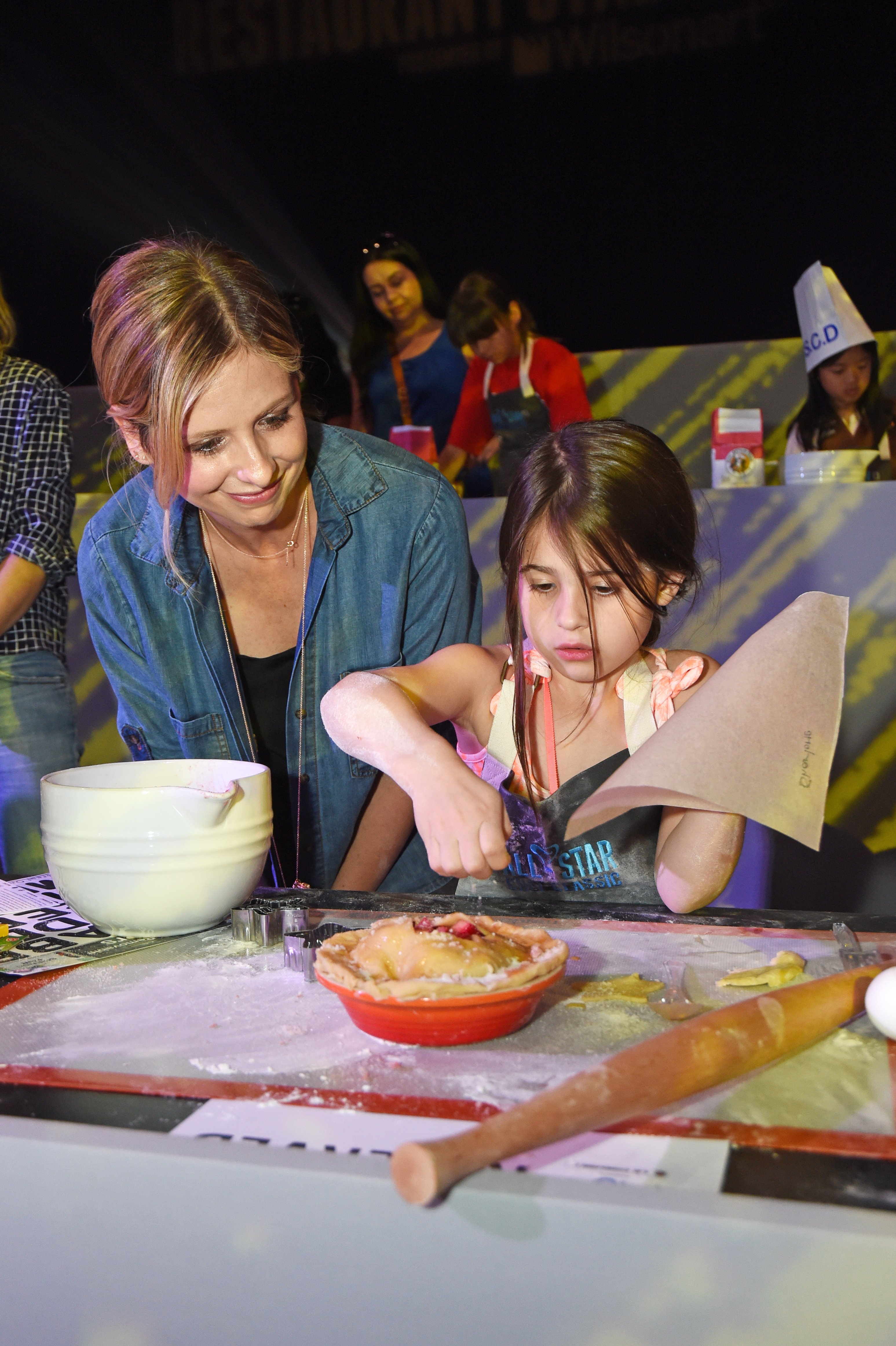 LOS ANGELES, CA - MARCH 14: Actress Sarah Michelle Gellar prepares a pie with her daughter Charlotte at L.A. LIVE's All-Star Chef Classic, Kitchen Kids, presented by Le Creuset on March 14, 2015 in Los Angeles, California | Source: Getty Images
In a 2019 "Us Weekly" article, Sarah said that her children were constantly asking for a sibling and her standard response to the question was for her children to ask their father if they could have one.
Although the children have been asking for a sibling for a long time, it has not happened for them yet. Yet the couple has not ruled out welcoming another child into their little family in the future.
Soon, they could be a family of five. Until then, we wish them nothing but health and happiness on their journey together.
Please fill in your e-mail so we can share with you our top stories!