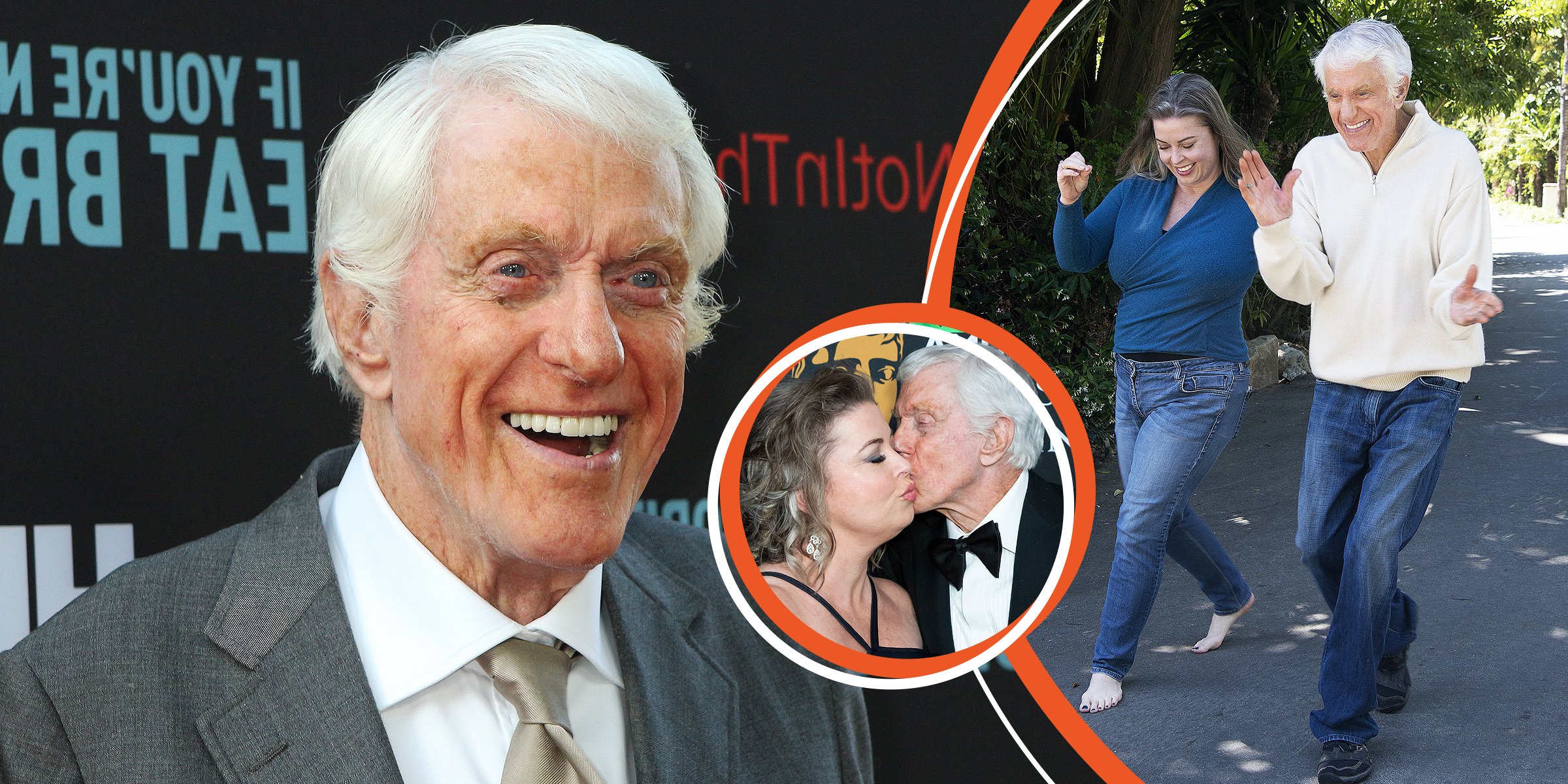 Dick Van Dyke | Dick Van Dyke and Arlene Silver | Dick Van Dyke and Arlene Silver | Source: Getty Images
Dick Van Dyke Took 'Leap of Faith' Marrying 46-Years-Younger Woman 28 Years after Divorce from Mom of His 4 Kids

After Dick Van Dyke's 36-year marriage to Margie Willett ended, the movie star was convinced that love would never find him again. However, many years later, he is happily married to his pretty wife, 46 years his junior. Here are details of how it all began.
American Actor, Singer, Dancer, and Comedian Dick Van Dyke is one of the icons of the golden age of entertainment. However, the Hollywood star has a very complex private life, especially where women are concerned.
In Dick's lifetime, he has been married twice and divorced once. He tied the knot for the first time with Margie Willett in 1948.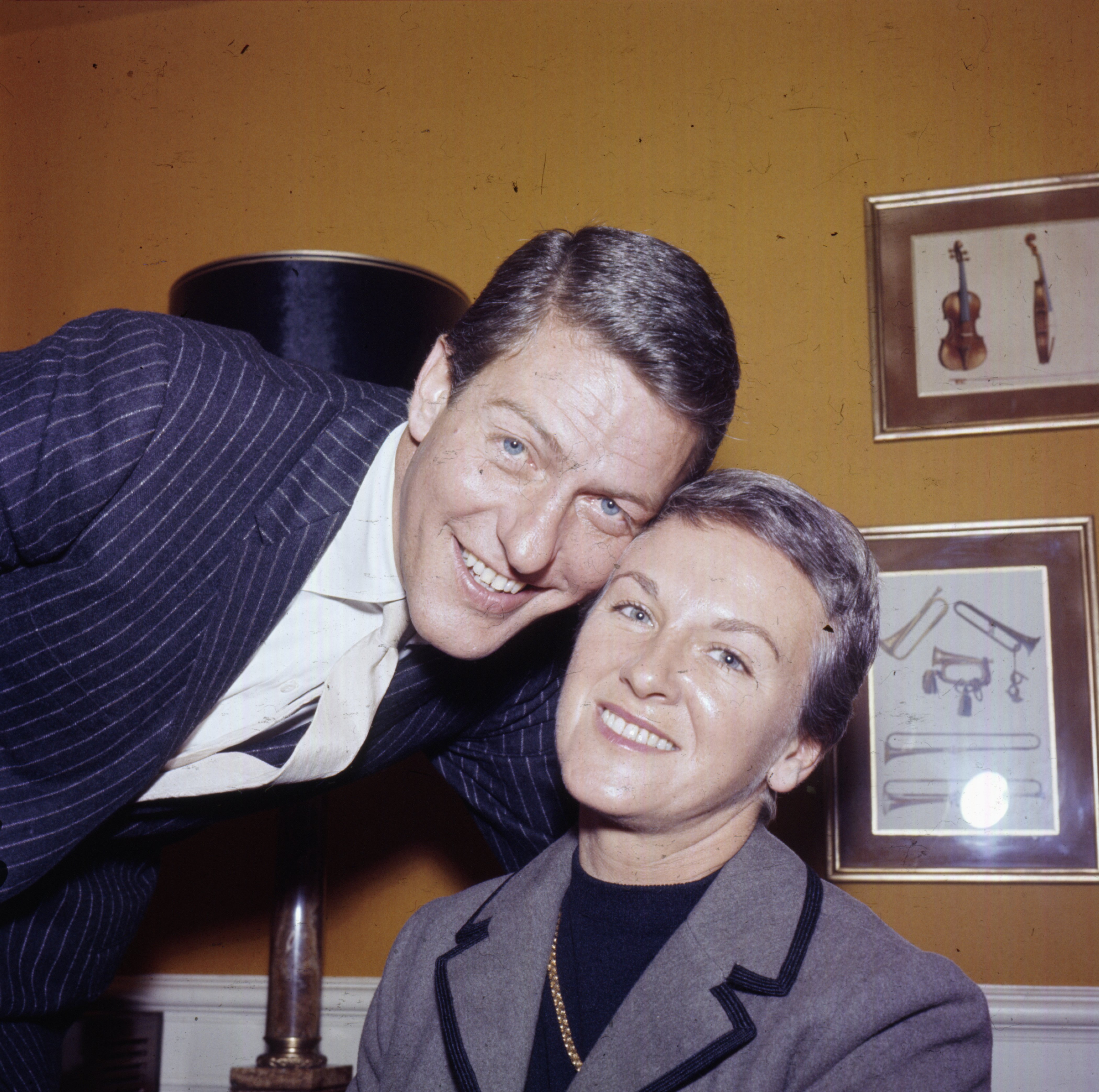 American actor Dick Van Dyke was pictured with his wife Margie Willett in London in 1964. | Source: Getty Images
The pair stayed married for almost four decades before separating in 1984. Despite going their separate ways, Dick and Willett cherished the bond they once shared and remained very close, which was why the actor was deeply affected when Willett passed away from pancreatic cancer in 2008.
He noted that even though they were long divorced, he lost a part of himself after her death. The former couple was so close that Dick did not think he would ever find love again after they parted ways.
However, everything changed when he met his second wife, Arlene Silver, in 2007. Upon their meeting, Dick and Silver became friends almost immediately, and the former felt like he had finally gotten a gift from the heavens.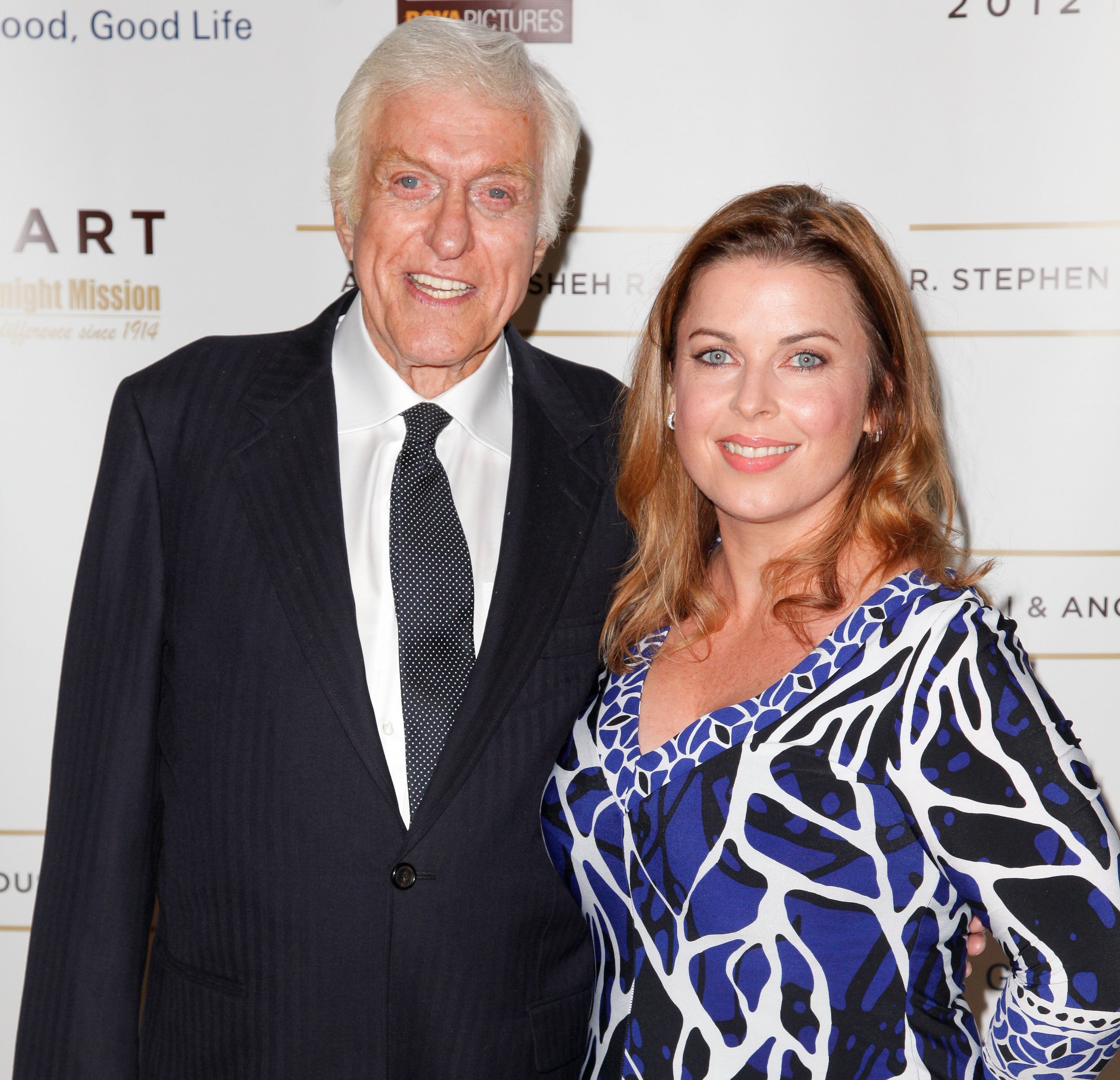 Dick Van Dyke and wife Arlene Silver attend the 12th Annual Golden Heart Awards Gala at the Beverly Wilshire Four Seasons Hotel on May 7, 2012, in Beverly Hills, California. | Source: Getty Images
Later, their friendship grew into love, and for the first time in a long while, Dick felt happy and at peace. During an interview with Closer weekly, the "Mary Poppins" actor confessed:
"She's delightful, a great cook, and a woman of great patience. She's given me a third life, and I'm tickled to death with it".
Although Dick and Silver are head over heels in love with each other, their romance has been criticized a few times due to their age difference.
However, the couple continues to prove that age is only a number when it comes to love. Here are more details about the pair's love story.
Dick and Silver's Love Story
The "Night at the Museum" star and his wife first encountered each other in 2007 at the Screen Actors Guild Awards. Dick had attended the event to present the lifetime achievement award to his co-star, Julie Andrews, while Silver was there as a makeup artist.
He also loves dancing, and Silver never fails to share videos of her husband moving his body with her Instagram fans.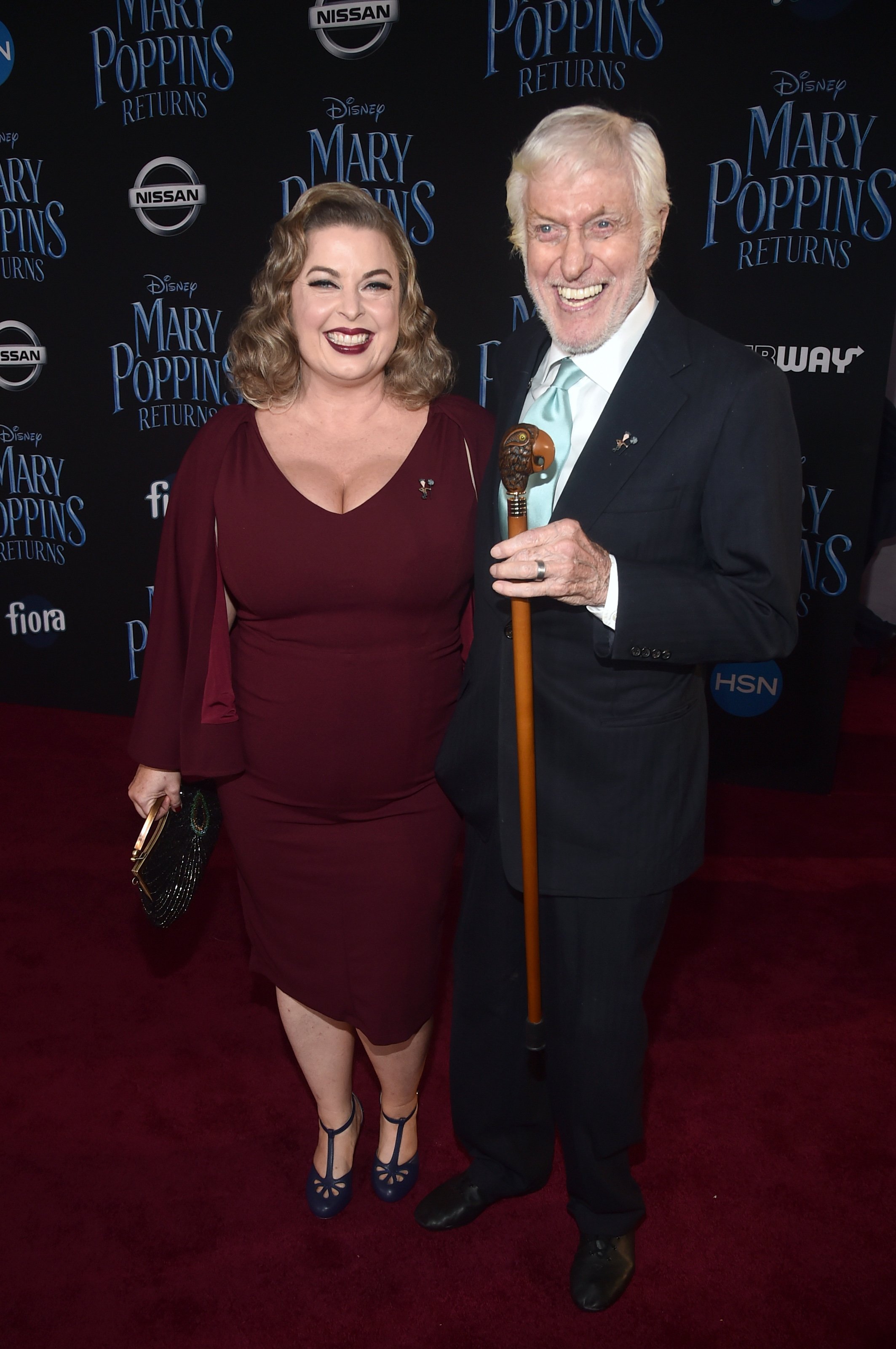 Arlene Silver and Actor Dick Van Dyke attend Disney's 'Mary Poppins Returns' World Premiere at the Dolby Theatre on November 29, 2018, in Hollywood, California. | Source: Getty Images
She was 46 years younger than Dick, but the age difference never bothered her. So, the pair immediately talked while Silver powdered the actor's nose. What began as a normal conversation would transcend into something even deeper, and in no time, Dick and Silver started dating.
The latter cared less about the public's opinion of their relationship as a couple. However, it was the opposite for Dick. He explained that he was worried people would object to their romance. In his words:
"I thought there would be an outcry about a gold digger marrying an old man".
Nevertheless, the love they shared was most important, and the couple took a "leap of faith" and jumped into a life filled with laughter, music, joy, positivity, kindness, and dancing. Dick and Silver tied the knot on February 9, 2012, at a low-key, intimate ceremony at a chapel near Dick's home in Malibu.
For the occasion, Silver donned a Fuschia-colored dress with flowers in her hair. Then, a few months later, on September 8, the couple had their second wedding.
This time, it was larger than the first, with the theme "seafoam circus". Silver captured hearts at the occasion with her beautiful white dress. Overall, it was amazing, and Dick could not be happier to have his bride by his side. Shortly after their wedding, the award-winning actor gushed about Silver during an interview. He said (via ABC News):
"I'm not a loner. I have to have a life partner. I found the perfect one".
Dick's Publicist, Bob Palmer, could not agree any less. He noted that the singer and his wife had a nice relationship, and most people liked Silver.
According to Palmer, Dick had never been happier despite the age difference. He added that Silver brought a lot of life into the Hollywood icon's life.
Details of Dick's Family/ His Current Life
Since Silver came into Dick's family, she has successfully formed a good relationship with other family members, including the actor's four children, Christian Van Dyke, Barry Van Dyke, Stacy Van Dyke, and Carrie Beth Van Dyke, all doing well in their various fields.
Born on May 13, 1950, Christian, the first child is an actor. He is best known for appearing in productions like "The Dick Van Dyke Show", "The Dick Van Dyke Show - Celebrating the 60th Anniversary", and "Hollywood Goes to a World Premiere".
Christian's younger brother, Barry, is the most famous of all the Van Dyke children. He is a legendary entertainer and has featured in several movies, including "Diagnosis Murder", "Gun Shy", "Mr. Mom", "The Redd Foxx Show", "Airwolf" and "Murder 101".
Besides his career, Barry is also a happy family man. He is happily married to his wife, Mary, and they share four children, Carey, Shane, Wes, and Taryn.
Barry's younger sister, Stacy, has also been on the big screen several times. She has appeared in "Diagnosis Murder", "Diagnosis Murder: Town Without Pity", and "The New Dick Van Dyke Show".
Carrie, like her siblings, is also known for "The New Dick Van Dyke Show". Meanwhile, at 96, Dick is still very active and living his best life with Silver. The actor practices a fitness routine to stay in shape and live a longer and healthier life.
He also loves dancing, and Silver never fails to share videos of her husband moving his body with her Instagram fans.
Netizens have also been privileged to see other interesting sides to Dick and his wife, including the duo singing together. Hopefully, their love stays intact until their final moments.
Please fill in your e-mail so we can share with you our top stories!