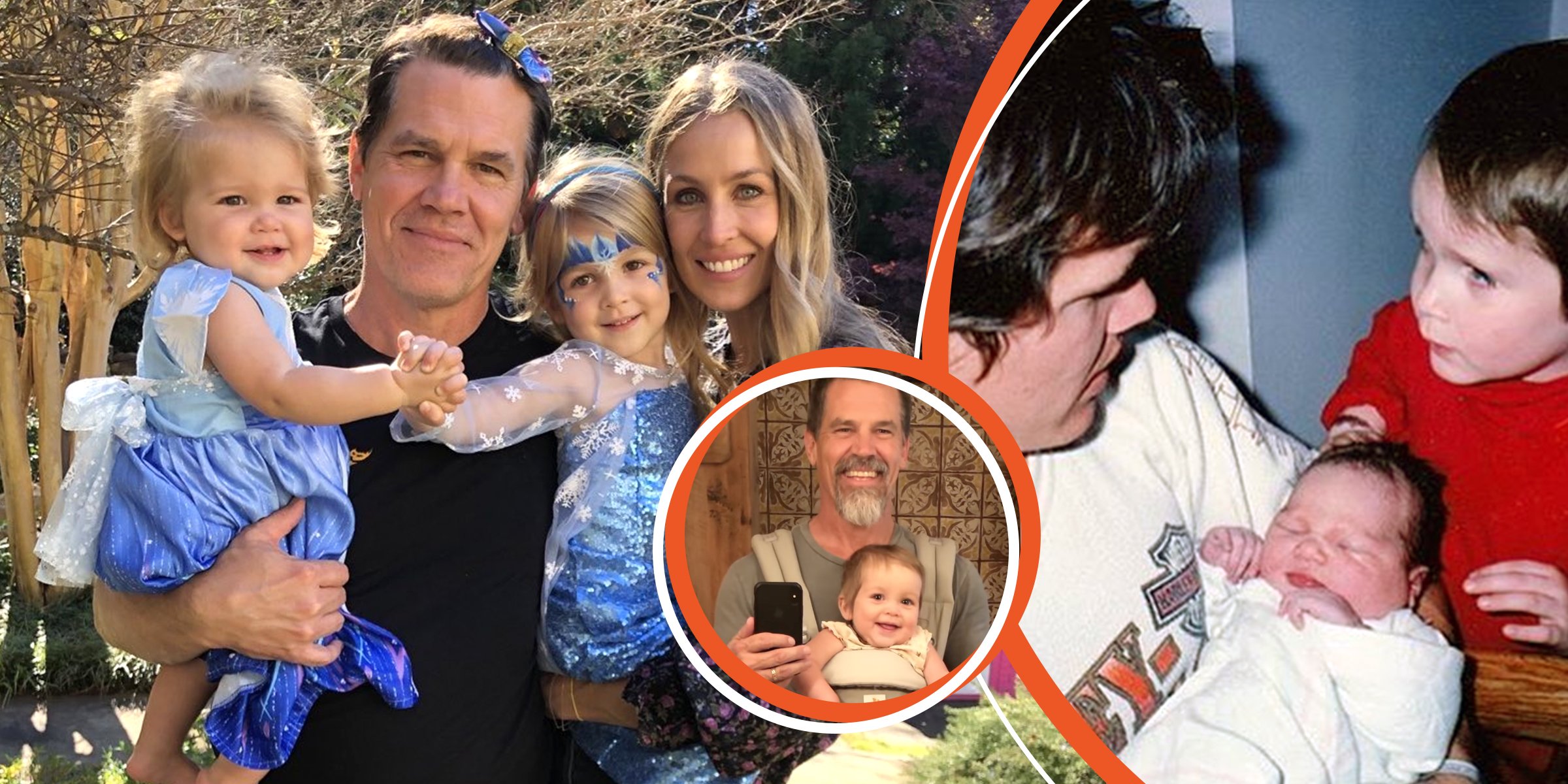 Josh Brolin, wife Kathryn and daughters Westlyn and Chapel | Brolin with Chapel [Inset] | Brolin with Trevor and Eden | Source: Instagram/Josh Brolin | Instagram/Eden Brolin
Josh Brolin Became Dad Again in His 50s & Paused Career to Not Repeat 'Horrible' Parenting like with Older Kids

Initially, parenting was not easy for actor Josh Brolin as he had to stay away from his family for work. But he vowed to make amends once he became a dad in later years. After welcoming his third child at 50, he took time off work to be with his family and is today enjoying life as a doting father of four.
After three marriages, "Everest" star Josh Brolin is a father of four. He married his first wife Alice Adair in 1988 and welcomed two children, Trevor in 1988 and Eden in 1994.
By 1995, the actor was experiencing some tough times. His mother had suddenly passed on from a car crash, and his career appeared to have stagnated. His marriage was not any better as he and Adair were on the verge of divorce.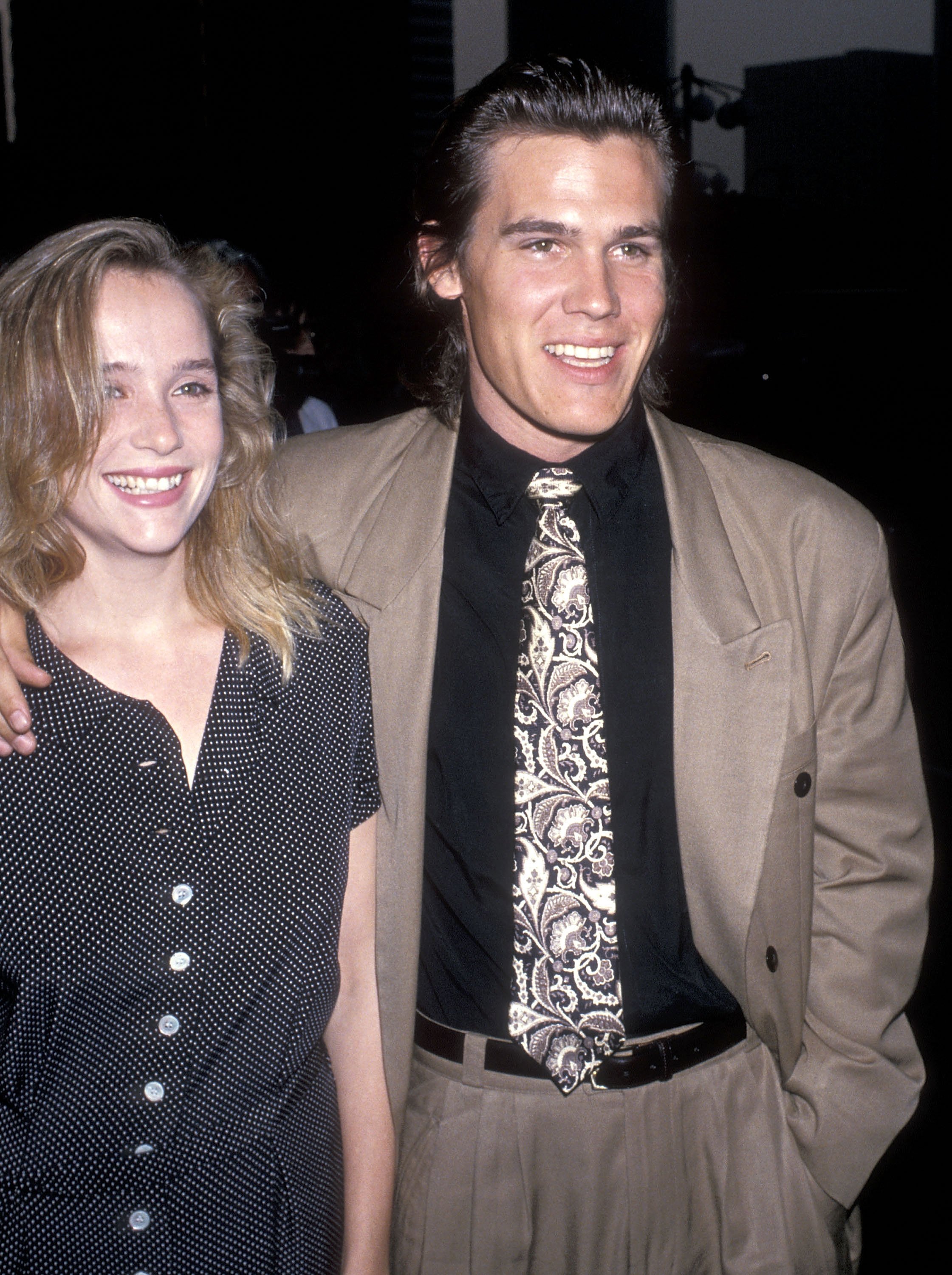 Actor Josh Brolin and wife Alice Adair attend the ABC Television Affiliates Party on June 14, 1989 at the Century Plaza Hotel in Century City, California | Source: Getty Images
With all that happening around him, Brolin, who previously had drinking problems, started drinking and using substances again. The pair finally split in 1996.
Despite his challenges, he loved being a dad. He was always into being a hands-on father to his kids, but he had to work to provide for them which translated to time away from his family. He recalls how terrible the situation was for him:
"The day after Eden was born, I was on a plane for New York to do a pilot. It was horrible."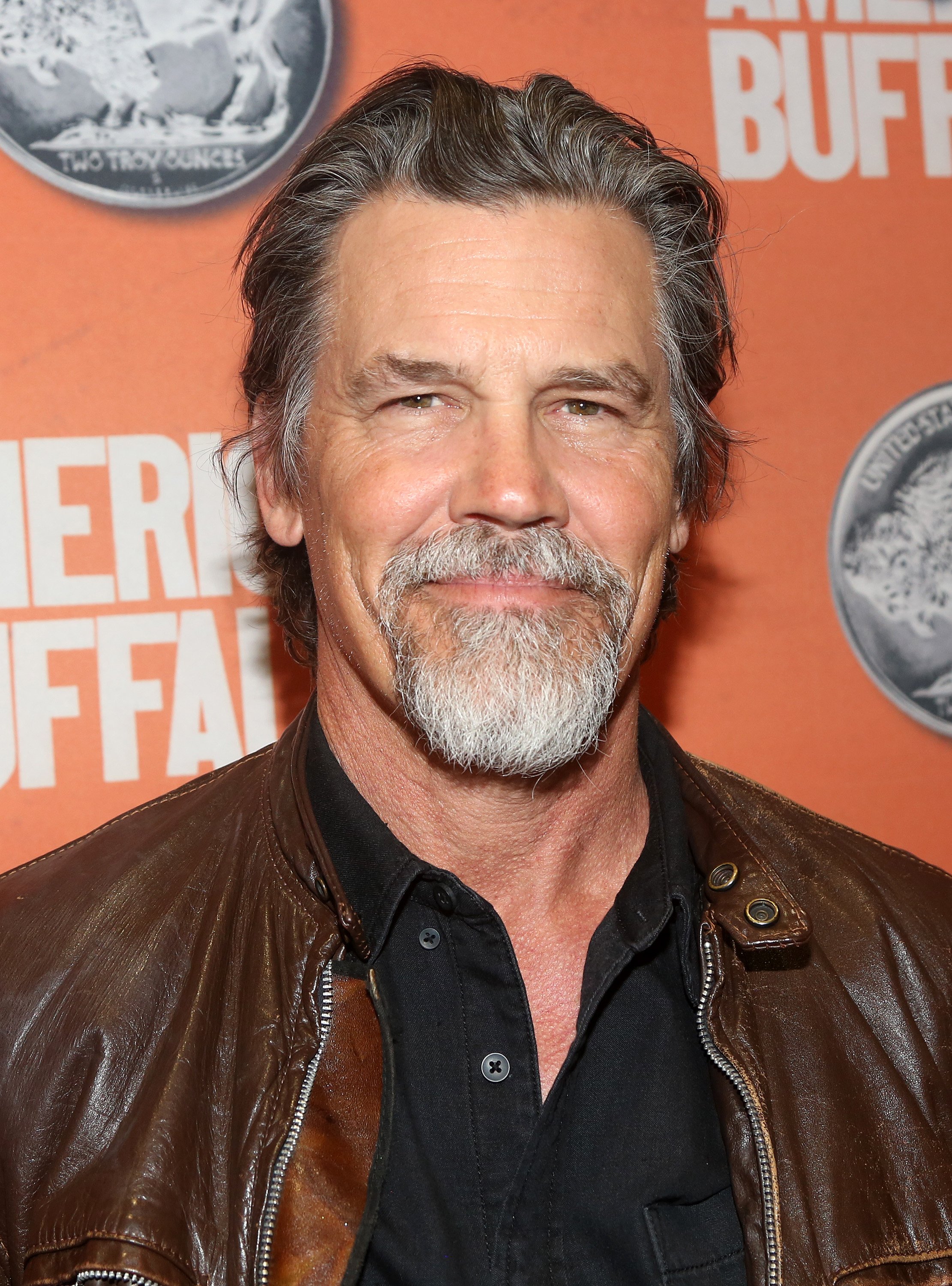 Josh Brolin poses at the opening night of "American Buffalo" on Broadway at The Circle in the Square Theatre on April 14, 2022 in New York City. | Source: Getty Images
Becoming a father so young posed numerous challenges for Brolin, but life shot him a second chance when he became a dad for the third and fourth time.
Brolin Vowed to Correct His Mistakes If He Became a Dad Again
Over two decades after welcoming his second child, Brolin became a father for the third time when he had his daughter Westlyn Reign Brolin, nicknamed Bean, with his third wife, model and designer Kathryn Boyd, founder of Midheaven Denim.
The couple, who got married in 2016, announced they were expecting in May 2018, and Brolin admitted how nervous he was before the birth. Brolin was 50 at the time, and it had been 24 years since he had welcomed his second baby, Eden.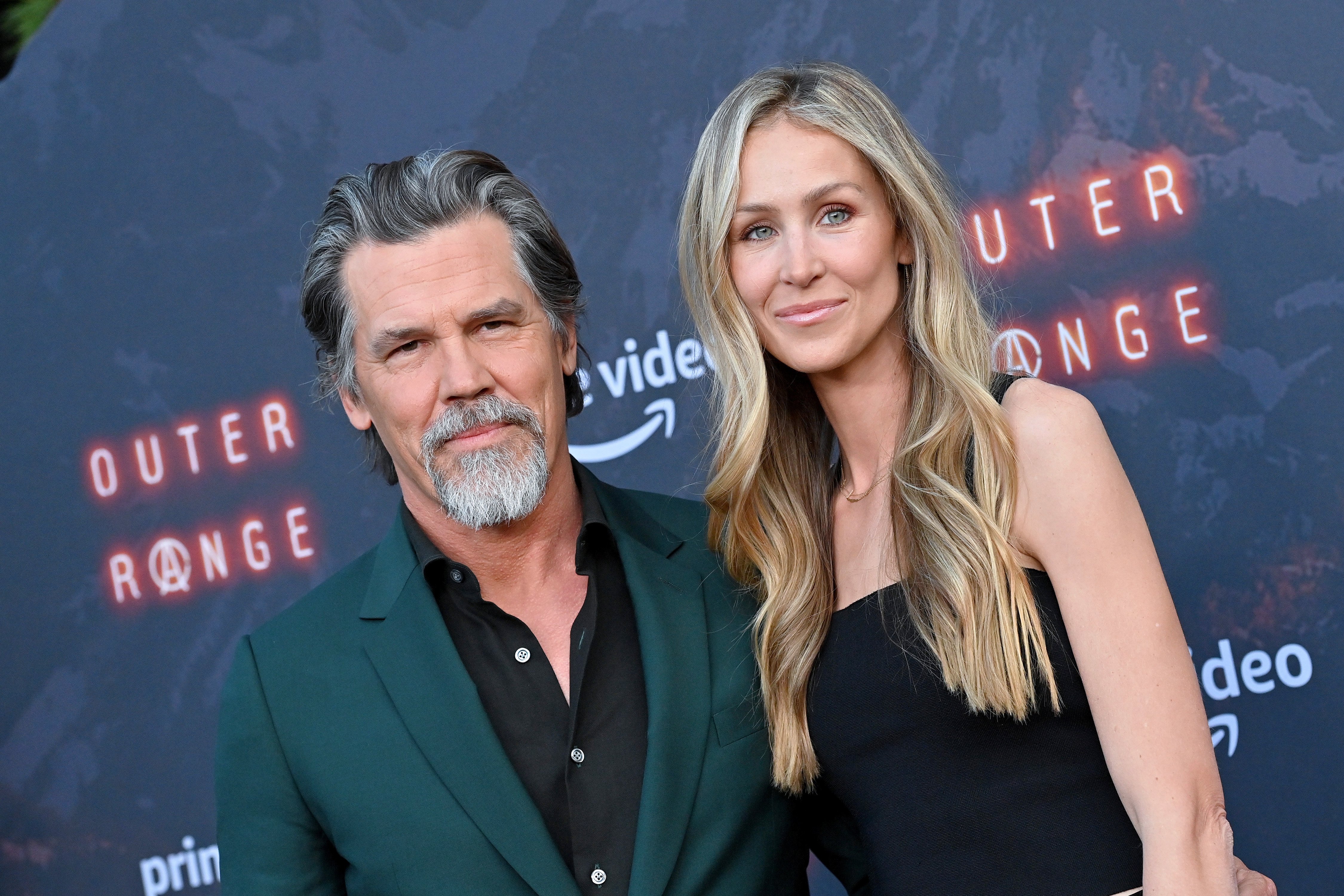 Josh Brolin and Kathryn Boyd Brolin attend the Los Angeles Premiere of Prime Video's Western "Outer Range" at Harmony Gold on April 07, 2022 in Los Angeles, California. | Source: Getty Images
However, even though he was nervous, he knew life had offered him a second chance to make things right. With an accomplished career and the privilege of not rushing to work at the expense of his child, he would now correct the mistakes he made with his first and second children. He would raise his baby on his own terms.
This time around, he took time off work to be with his wife during pregnancy and be present for his baby once she arrived. He told Fatherly:
"This time, I took 17 months off to be with Kathryn through the whole pregnancy and until the baby was four months old."
He also ensured that he would not sign up for work that took longer than two weeks, which allowed him to be home with his family for longer periods.
The actor's father, James Brolin, commended his son's dedication to raising his daughter, confirming that, indeed, Brolin did drop everything when his daughter was born. His father told People back in 2019:
"He dropped everything. You know how busy he was, for sure, he literally stopped everything and nothing but diapering for three months."
On Christmas day, 2020, Brolin and his wife became parents to their second baby, Chapel Grace Brolin. Brolin explained the name, saying that he and Kathryn always found solace in chapels everywhere they had traveled.
Who Are Brolin's Children?
While Chapel Grace is Kathryn's second child, she is Brolin's fourth. The actor, who plays a superhero in "Avengers," is also a real-life superhero to his kids.
His oldest, Trevor, born in 1988, is 34, and like his dad, he also pursued a career in Hollywood. His acting credits include appearing in the films "X," "Felt," and "All Kids Count."
Besides acting, he is also a producer, cinematographer, writer, and director. Recently, his grandfather James also revealed that Trevor was pursuing a new career as an electrician.
Brolin's second child, Eden, also followed in her father's footsteps and is a successful actress in her own right. She has appeared as Mia in the hit TV series, "Yellowstone," and as Charlie Singer in "Beyond." Other acting credits include "I Dream Too Much," "Emerald City," "Blood Bound," and "Arkansas."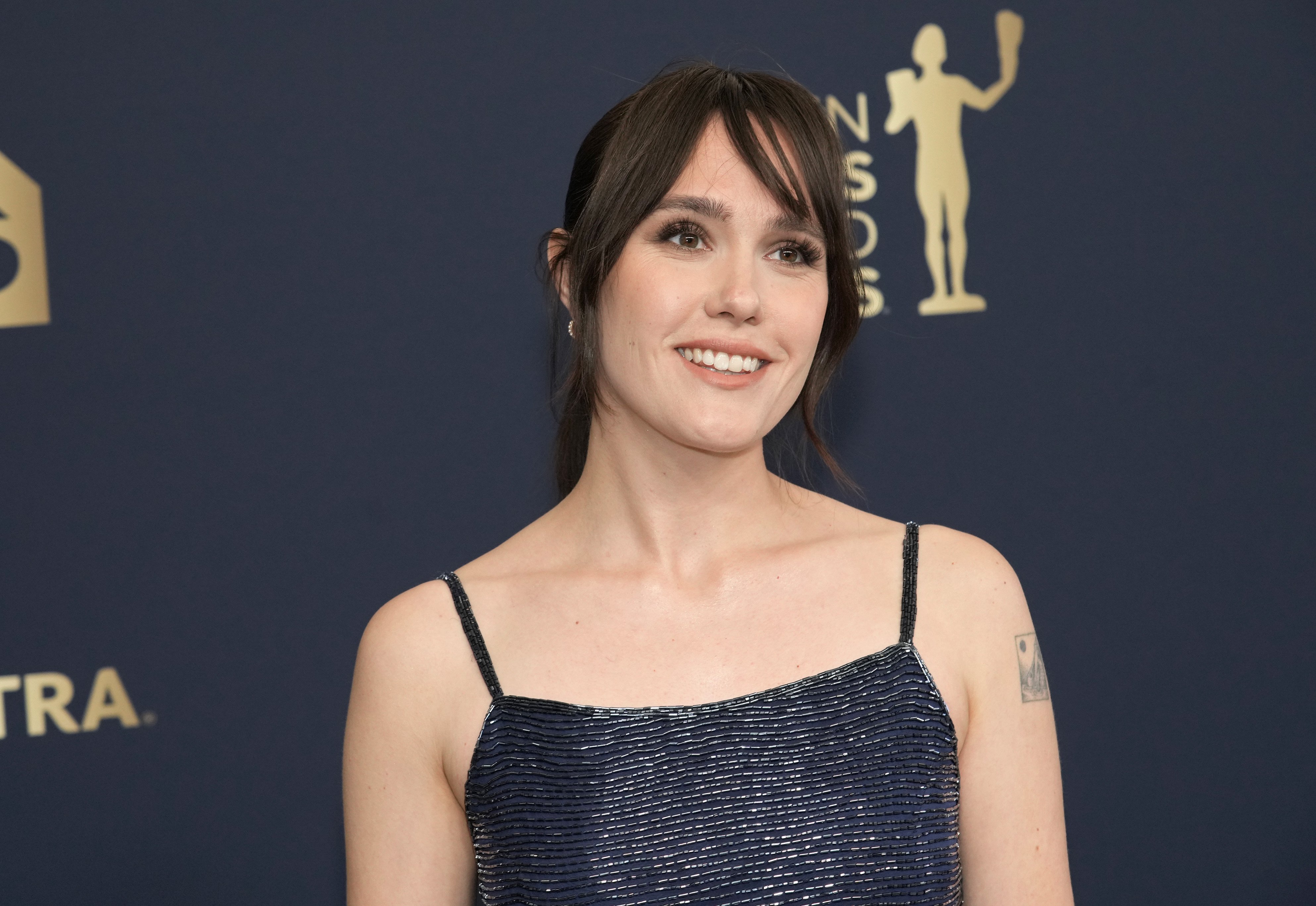 Eden Brolin attends the 28th Annual Screen Actors Guild Awards at Barker Hangar on February 27, 2022 in Santa Monica, California. | Source: Getty Images
Brolin could not be prouder of his two older children and often boasts about them on social media. In May 2021, he shared a rare photo taken with Trevor and Eden, alongside a heartfelt caption:
"My girl and my boy (@edenbrolin & @funtonofun) who jump-started my heart almost 33 years ago and has kept me real, kept me true, and has shown me what a diamond asset humility is. I love you both so much."
The actor's third baby, daughter Westlyn, is almost four, and according to her father, she is already her own firework. During her third birthday in 2021, Brolin shared that his daughter enlivened everyone around her, and he was honored to be a witness to who she was and growing into.
In his post, with Brolin holding their youngest daughter Chapel and Kathryn holding Westlyn, he also shared that his daughter had an obsession with "Frozen" and called him "truck driver daddy."
The actor's youngest, Chapel Grace, was born in 2020. Her name is a manifestation of the celestial feeling of the sanctuaries in which Brolin and Kathryn often sought and found peace and solace.
Fatherhood in later years has been fulfilling for the actor, but he has opened up about facing an unpredicted problem. He says he has to compete for attention from fans as his two little ones take the limelight.
"I bring them to school, and when I'm walking down the street when somebody says 'Hey, man, I love your work,' it makes it all worth it for me. But right now, there's been a lot of like, 'Oh, my God, what a cute little kid', and I'm like, 'Hello?'" he joked.
All said and done, Brolin enjoys being around his children. He said at the premiere of "Sicario: Day of the Soldado," as ET reports: "I'm always excited about kids. I prefer being around kids. You know, they have the imagination. They're fun."
Please fill in your e-mail so we can share with you our top stories!