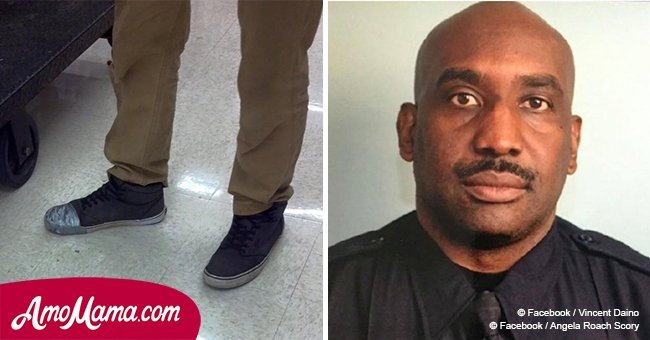 Cop sees teen with duct tape on shoes, thinks it's a fashion trend. But actually he has no money

How the cop reacted to the 19-year-old boy's plight is incredible.
As reported in an article published by America Now, a police officer in Alabama performed a random act of kindness by buying a new pair of shoes for a teenager whose shoes were tattered and worn out.
Cpl. Sebastian Goldman was picking up groceries and food items for prison inmates at a store in the neighborhood when he spotted the boy.
The 19-year-old boy was an employee at the store, and something about him caught Goldman's immediate attention. The boy was wearing an unusual pair of shoes, with the right one wrapped in layers of duct tape.
Intrigued by the weird-looking footwear, Goldman asked the boy about it. Goldman spoke candidly to the employee, asking him if duct tape shoes were a currently trending style among the youth.
The boy was surprised to be quizzed about his shoes by a stranger, and he responded by explaining that the condition of his shoes had nothing to do with fashion.
The boy narrated that his shoes got torn at work, and he did not have the money to buy a new pair at that moment. He added that he was hoping to finally purchase new shoes once he received his salary.
The next moment is what distinguished Goldman as someone with noble intentions. He did not end the conversation there but asked the boy what his shoe size was.
The baffled boy revealed his shoe size, and without a second thought, Goldman proceeded with his grocery shopping and left the store.
Goldman later shared that after buying supplies, he handed them over to the inmates as usual. He then went to the Shoe Dept. in Hueytown to buy the boy a pair of shoes.
The boy was shocked to see Goldman return to visit him at the grocery store later that day bearing a new pair of shoes. Goldman told him he bought the shoes because he had no way of knowing how many days it was until payday.
The teenager was touched by Goldman's kindness and asked what he could give him in return. To this, Goldman simply replied that the boy should do his best to pay it forward, by trying to do something nice for another stranger.
This story was eventually shared on social media, and several netizens have showered praise and support for Goldman's selfless act of humanity.
Please fill in your e-mail so we can share with you our top stories!