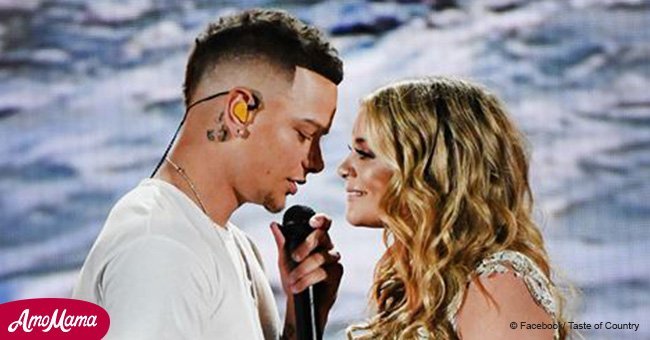 Kane Brown and Lauren Alaina delivered a performance we won't be forgetting any time soon
It is hard to believe the artists are in relationships with other people.
Country Rebel reported that Kane Brown and Lauren Alaina gave a scintillating performance at the ACM Awards held in Las Vegas on April 15, 2018.
Watching their performance, fans wondered they really are in relationships with other people.
Brown was only 13 and Alaina 12 when they first met at Lakeview Middle School in Fort Oglethorpe, Georgia.
Their paths to stardom were quite different, Alaine appeared on American Idol and was the runner-up on the 10th season of the show, while Kane gained popularity through social media.
However, the two have found success and their place in the country music industry.
Along their way, they gave the fans a chart-topping duet, What Ifs, which also earned them a nomination for Vocal Event of the Year at the ACM Awards 2018.
During their live performance at the award show in Las Vegas, the longtime friends left the viewers breathless with their incredible vocals and chemistry.
Brown and Alaina closed in as if they were going to share a kiss at the end of the performance. The tension was palpable and one could feel the audience hold their breath waiting eagerly for something to happen.
However, the two shared a friendly hug which led to a huge round of applause from the crowd.
It looked like they were having the time of their lives upon the stage as they effortlessly perfected the big notes.
The performance comes just weeks after their song topped the Billboard country charts.
The duo's ease on stage was helped by the fact that they were in the same chorus class in 7th grade and have been singing together since they were just teenagers.
Talking about their hit song, Alaine said that it was the perfect way for them to showcase what they can do. She said that Brown was a natural fit.
The song lost the award to Carrie Underwood and Keith Urban's The Fighter, while Alaine took home the honor of New Female Vocalist of the Year.
Brown was also nominated for New Male Vocalist of the Year, however, Brett Young was named the winner.
Please fill in your e-mail so we can share with you our top stories!