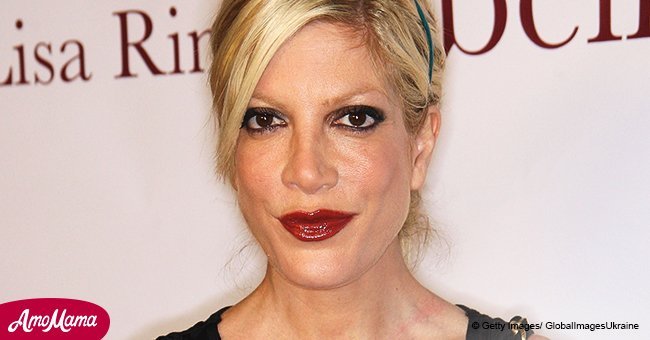 Tori Spelling is accused of shading her stepson, 19, after excluding him in a recent family snap
The actress has received social media backlash when she posted a photo of herself with her one-year-old son, Beau, to Instagram last Saturday.
Tori Spelling's post was for National Love Our Children Day. But what was supposed to be a celebratory post for it turned out to be an avenue for followers to bash her. Pop Culture has the deets.
In the picture she shared, Beau was drinking from a milk bottle and wearing a cute bear outfit while she cuddled him. Tori captioned:
"Being a #mamabear 5 times over is the most amazing gift in the entire world. I'm so blessed to be raising and loving these 5 unique and special humans."
"Thank you Liam, Stella, Hattie, Finn, and Beau for choosing me to be your mama! Loving every moment of our #bigfamilyadventures [heart emoji]"
Some fans were touched by the tribute but some of them could not help but bring up Jack, Dean McDermott's son from his previous marriage. Followers of the reality star couple often accuse Tori of overlooking Jack. They took this chance to prove it once again. One follower said:
"Your step son must feel so left out. You don't even consider him one of your kids?!?"
Others grilled her about their personal finances. Some of the exchange of comments included:
"Don't you feel like both you and you (sic) partner should get jobs and start paying off loans?"
"I think it's Dean who needs to start pulling his weight. Tori at least tries. He needs to man up."
"Yes she does! The boy lives with his mom; I think in Canada. Tori does more for that boy then (sic) his dead beat dad does."
Dean and Tori met on the set of a Lifetime TV movie, Mind Over Murder, and immediately began a passionate affair. They got married in 2006 and has had five children, starred in several reality shows together, and moved around a lot.
Please fill in your e-mail so we can share with you our top stories!