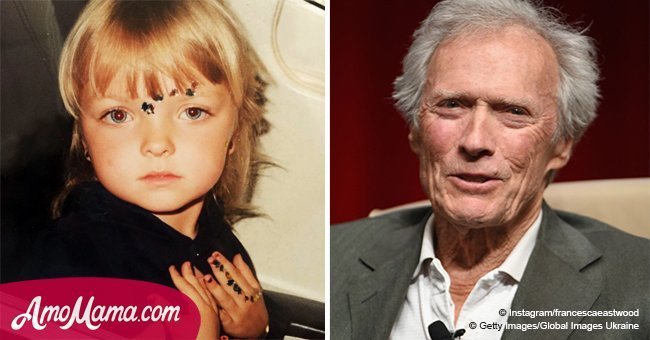 Clint Eastwood's daughter is all grown up and she is a stunning young lady
Clint Eastwood's daughter, Francesca, followed in her father's example and pursued an acting career. With a role model like Clint, she is bound to be a success.
As reported by Daily Mail, Clint and his wife, Frances, attended the Los Angeles premiere of Francesca's film, M.F.A on October 2, 2017.
The 24-year-old actress and fashion model, landed her first acting role in 1995 when she was cast as Mary Day in The Stars Fell on Henrietta. She was just two years old at the time.
She went on to appear in made-for-TV films, including Mother Of All Lies, Girl Missing and Wuthering High School. She can also be seen in several episodes of Heroes Reborn.
In 2012, she appeared on the reality television show, Mrs. Eastwood & Company. The show followed the lives of her step-mother, Dina Eastwood, as well as Francesca and her half-sister.
Francesca was named as Miss Golden Globe in 2013. Earlier this year, she starred in an episode of Fargo and fans can look forward to her upcoming film, Three Deaths.
Francesca only has to look towards her father's sterling career for inspiration. He rose to fame in 1970's as Harry Callahan in the Dirty Harry films.
Clint's career spans sixty years, and he won five Academy Awards. He won both Best Director and Best Picture award for Unforgiven in 1992 and Million Dollar Baby in 2004.
Eastwood was also awarded the Irving G. Thalberg Memorial prize in 1994. He was nominated for Best Actor in Million Dollar Baby and Best Director for Letters From Iwo Jima.
He married his first wife, Margaret Johson in 1953, but he admitted that they were too young to make it work. He also had a 14-year relationship with Roxanne Tunis, starting in the early sixties.
Fisher has six half-siblings on her father's side, including Kimber Tunis from his marriage to Roxanne, and Kathryn Reeves from his affair with Jacelyn Reeves.
Please fill in your e-mail so we can share with you our top stories!