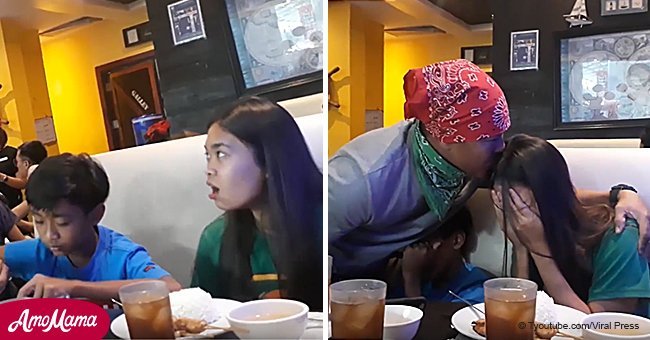 Father disguised himself as waiter to surprise children he hasn't seen in 3 years
Mario Sayson finally returned home after spending three years working abroad. He then pretended to be a waiter at a restaurant to surprise his two teenagers.
Mario, 40, arrived secretly in Batangas City, Philippines recently. He spent three years working as an overseas electrical engineer in Doha, Qatar, as reported by News Flare.
For his vacation, he wanted to surprise his children, Princess Hart Sayson, 17, and Nash Sayson, 16.
Mario's wife, Shell Sayson, who was in on the surprise, took Princess and Nash to a local restaurant in Batangas, where Mario disguised as a waiter.
Before they went to the restaurant, Shell coordinated with the staff to let them surprise their children.
Princess and Nash did not immediately recognize their father who was serving them, as his face was covered with a bandana. They really had no idea what was going on.
After returning three times to the table, Mario decided to remove the bandana. Princess was shocked and was not able to hold back her tears when she noticed him. Nash was likewise surprised and started to cry like his sister.
Mario then bent down to hug and kiss them both. He was also in tears as he missed his family. The emotional reunion was captured on video by his wife.
On April 27, 2018, Shell shared the video on Facebook, where it quickly went viral, with 1.5 million views.
The video has also been shared 10,000 times and generated 27,000 reactions. Many Facebook users also commented on the video.
Sean Ethan Hunt wrote that he cries while watching the video and that he misses his father badly.
According to News Flare, one out of every ten Filipinos work abroad. Usually, in the Middle East, but also increasingly in the United States and Europe.
Filipinos work overseas to escape the crushing poverty and unemployment in the Philippines.
Please fill in your e-mail so we can share with you our top stories!