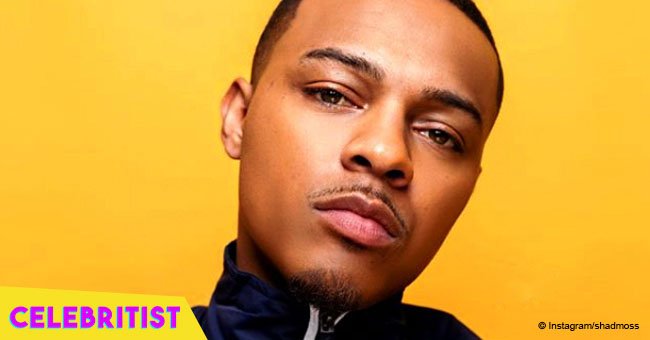 Bow Wow shares throwback pic with estranged father after revealing his biracial identity
Bow Wow has basically grown up in front of our eyes since he started his career in the entertainment industry being a kid. The rapper and reality star was always reserved about the whereabouts of his father, who walked out on his family when he was a kid. But last year, he finally reconnected with the man.
Celebritist learned that Shad Moss, better known by his stage name Bow Wow, recently share a throwback photo from his childhood showing off his bi-racial background while posing with his light-skinned father.
The man was not present in the rapper's life as he was growing up, and Shad was never interested in reconnecting with the man, or building a relationship with him until he had his own daughter in 2011.
The 30-years-old rapper, who's now part of the cast of the reality show "Growing Up Hip Hop" decided last year that it was time for him to forgive his father and move on with his life, and the cameras of the show were there to record the whole encounter.
"You see us trying to catch up, but what was weird is that I'm 30 years old now and I told him…, 'This is crazy, this is our first father and son talk; not when I was 12 or 15 or 16 when I really needed you…"
"I felt like I had to do that for closure. I didn't wanna get a call that something had happened to him, and I didn't want him to go the rest of his life thinking that I hated him, which is not the case."
Moss, who's a father of a six-year-old named Shai with model and dancer Joie Chavis, revealed to the Grio that after going through some struggles in his relationship with Chavis, he now understands a bit more why his father left all those years ago.
"I kinda understood why might have he ran out or why he wasn't around or why he left. There are reasons. My father was an alcoholic. Heavy. I didn't want to be around him when I was young and of course, my career took me to other places."
But the fact that they have reconnected doesn't mean they're back into each other's lives fully since Moss stated he's still a bit apprehensive around the man. He doesn't know where to start to build a relationship with a father that was absent from his life for thirty years.
Despite his reserves, we're glad to know that Bow Wow forgave his father because in that way both of them can move on with their lives. And it also shows how much the rapper has grown after becoming a father himself.
What do you think about Bow Wow's statements about his father?
Please fill in your e-mail so we can share with you our top stories!