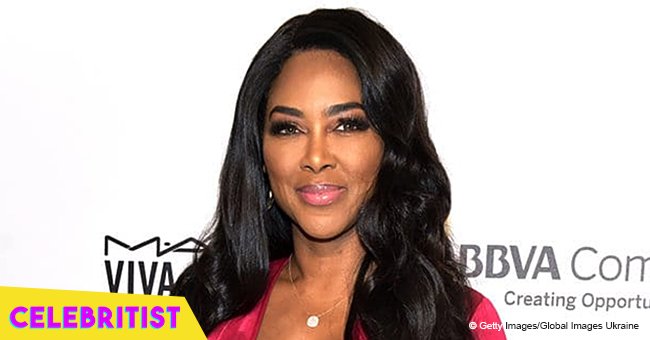 Kenya Moore sizzles in nude-colored bikini amid fake pregnancy drama
The pregnant reality star takes a relaxing break after she recently shut down rumors claiming her pregnancy was fake.
Kenya Moore is expecting her first child and she deserves to lay back and relax which is exactly what she was doing in a photo recently shared on her Instagram.
The 47-year-old beauty showcased her golden cleavage wearing a nude-colored bikini while soaking up some sun. She told her followers she was "just baking a little chocolate" in her caption and added the hashtags "#peace," "#relaxation," '#nostress," "#noworries," and "focused" to describe her current state.
The 'Real Housewives of Atlanta' star closed her eyes while taking in the rays of the sun that hit her glistening face and body. She's probably drowning out any kind of unwanted noise surrounding her pregnancy, making sure her baby gets all the tranquility it needs.
Not too long ago, when news broke that Kenya was expecting her child, skeptics doubted its authenticity, accusing the star of faking her pregnancy to remain relevant. At the time, the model simply took it in stride and allowed the rumors to unfold while she worried about the health and safety of her baby.
But earlier this month, Kenya creatively shut down all the "fake" talk by displaying her baby bump during a public appearance. She wore a tight fitting striped summer dress that showcased every curve including the one that mattered. Captioning the photo "Won't He do it?", Kenya seemed to be confirming the blessing that she was carrying in her belly while taking a swipe at those who suspected she was a fraud.
Kenya admitted previously that she conceived through in-vitro fertilization. She later shared to People how her life changed due to her pregnancy.
"I'm tired obviously. I don't have the stamina that I had before, so I'm taking it a little easy — not working out and going on long walks with the dogs. But it's nothing … I don't feel that bad. I have a little bit of sensitivity to smells that make me nauseous, and I have a slight loss of appetite."
As for their baby's gender, Kenya said she and her husband preferred not to know until the baby is born.
"We want to be surprised and we want to make it as natural as we can at this point. We just want a healthy baby. And it doesn't matter to either of us — boy, girl, we don't really care."
Marc and Kenya married in June 2017 in a romantic sunset ceremony on a Sta. Lucia beach. At the time, they already knew they wanted to start a family soon and luckily for the couple, it didn't take that long.
Please fill in your e-mail so we can share with you our top stories!