Aaron Hernandez's ex-fiancée welcomes baby girl one year after his suicide
Aaron Hernandez's former fiance has given birth just a year after his tragic demise. Reports reveal the father is a college teammate of the late New England Patriot who allegedly committed suicide while in prison.
Aaron Hernandez's former fiancé Shayana Jenkins has given birth to a baby girl just a year after the troubled football player killed himself in prison.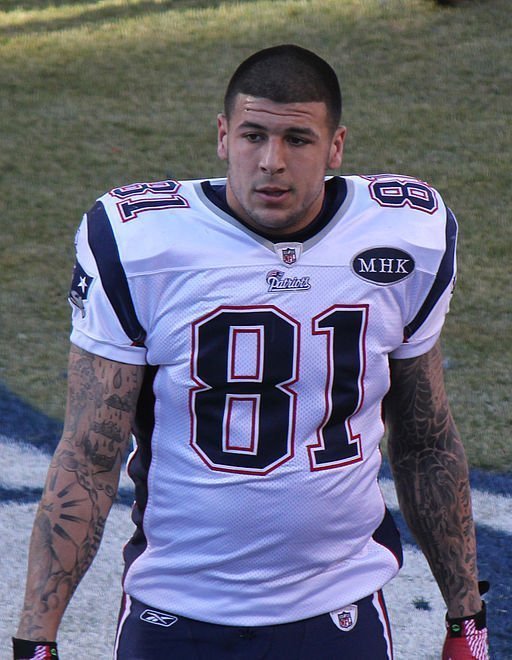 On June 16, Jenkins welcomed her second child near her home in Providence, Rhode Island, just a month after she announced her pregnancy. While many believed her new offspring is still Hernandez's through his frozen sperm, TMZ has confirmed the father is boxer Dino Guilmette who played college football with Hernandez at the University of Florida. The 39-year-old reportedly met Jenkins a year ago through mutual friends and just hit it off immediately. 
Jenkins has a daughter with Hernandez, 5-year-old Avielle. The couple were together for several years and were engaged in 2012 before the New England Patriot was arrested a year later for the murder of Boston Bandits player Odin Lloyd who was also Jenkins' sister's boyfriend. While he was awaiting trial, he was charged with the drive-by shootings of Daniel Jorge Correia de Abreu and Safiro Teixeira Furtado, both of whom succumbed to their deaths.  
Hernandez was convicted for the murder of Lloyd, but he was acquitted of the double-homicide in 2017. However, just days after his acquittal, he was discovered dead inside his prison cell with a bed sheet tied around his neck.  Authorities confirmed he died from hanging himself though Jenkins refused to believe her former fiancé had committed suicide. She revealed this during an interview with Dr. Phil a month after Hernandez's death.
News of Shayanna's pregnancy only surfaced last month when she announced it on her Instagram. She posted a photo of herself in a white dress showcasing her oversized belly and gushed over her excitement in her caption. 
"We are beyond excited about the new addition and chapter we will soon begin. I couldn't be a luckier woman to have such a perfect little girl that's prepared to become the best big sister, and even more blessed to welcome another babygirl to our home."
Shayana also explained that she kept her pregnancy to herself so she could have "a moment for myself alone with my daughter."
Having known Hernandez since college, Guilmette believed his former football teammate would have been happy about the news of Avielle having a daughter. He said last month,
"Aaron had demons; we all know that. But he really was devoted to his daughter. Boy, did he love her. I think he'd be very glad to know that she was going to have a little sister."Guilmette was equally excited that his daughter from a previous relationship was also welcoming a new sister.