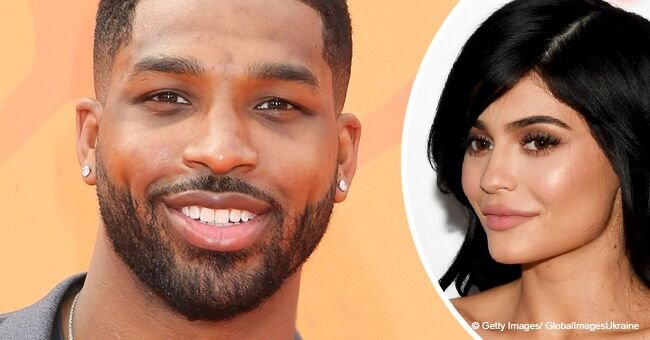 Kylie Jenner posts rare video with Tristan Thompson and baby True together
On Tuesday Kylie Jenner posted a cute video of her niece, True Thompson with her father Tristan Thompson. In the short clip, Tristan can be seen snuggling up with his daughter.
The Snapchat clip shows the father singing to his daughter before kissing her on the head. Throughout the video, the baby girl is seen staring at the camera.
Tristan, 27, was recently seen on a Snapchat video where he spent time with his daughter True Thompson, 2-months-old. He and girlfriend, Khloé Kardashian, welcomed the little girl in April.
In the video, he snuggles the little girl and sings, "Baby True! Baby True! Daddy loves you!" Then he smothers her with kisses on the side of her head
For more on this story go to our Twitter account @amomama_usa. True could be seen wearing a simple white onesie as she looked straight into the camera the whole time.
It appears as though the little girl may have had her ears pierced. In the caption of the video, Kylie Jenner politely asked followers to appreciate the cute clip and keep their negative comments to themselves.
'I LOVE HER she is so cute… please keep any negative comments to yourself and just appreciate a cute video of baby True with her dad.'
Kylie Jenner, Snapchat, June 26, 2018
The clip is only the second time that Tristan has posed with his daughter. Earlier this week he posted a photo of himself smiling alongside the infant and his son Prince, 1, from a previous relationship.
He and Kardashian recently returned to Los Angeles from Cleveland, where he lives during the NBA season. The couple has been keeping a low profile since before the birth of their child.
When Kardashian was pregnant with True, it was revealed that Tristan had been cheating on her. Neither one of the two had spoken publicly about the infidelities until Monday.
Kardashian addressed a fan on Twitter who claimed that her decision to stay with her boyfriend had made her a 'hypocrite.' In response, the reality star wrote, 'You have no knowledge of what goes on in our household or the enormous rebuilding this takes to even coexist.'
The star further added that she was proud of her strength and appreciated their opinion but hoped they held the same opinion for everyone else who has stayed in similar situations.
However, according to Us Weekly, the cheating will be addressed in the upcoming season of Keeping Up with the Kardashians. How far they will go into it still remains to be seen.
Please fill in your e-mail so we can share with you our top stories!