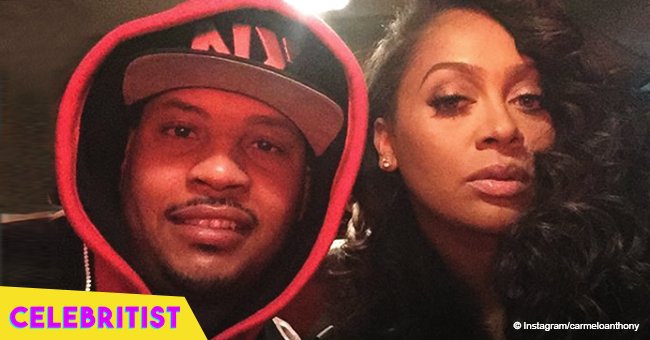 Carmelo Anthony cuddles wife La La in recent video from family dinner

NBA professional player Carmelo Anthony and his wife, La La Anthony visited one of the restaurants that Nusret Gökçe, best known as Salt Bae, has in the U.S.
In a video uploaded to the Sports Illustrated's Twitter account, Carmelo was portrayed cuddling and side-hugging his wife it the restaurant. After that, another short recording started, and it depicted Bae chopping meat and pouring salt on it, just as the famous meme.
Later, Bae appeared helping Carmelo and La La's son, Kiyan, to put on a shirt with the restauranteur's face on it. Carmelo was portrayed saying that his experience in the restaurant had been 'incredible, unbelievable.'
That video was posted more than a year after Carmelo had an affair with a stripper, which might suggest that La La has already forgiven her husband.
As Hollywood Life reported, Carmelo has praised La La on social media several times, and this recent outing might suggest that their relationship has improved a lot.
It was not the only time that the couple shared photos and videos next to each other as they spent La La's birthday together.
On June 25, La La and Carmelo went to New York to visit the mother of Lesandro 'Junior' Guzman-Feliz, who was dragged out of a Bronx deli and viciously stabbed to death by a gang five days earlier.
La La revealed that the victim's sister contacted her and told her that Lesandro loved Carmelo, so she asked him to come with her. She finished by saying that they did more than just giving them jerseys and shoes, but she didn't specify what they did.
In the photos that La La shared, most of the gifts the couple gave Lesandro's family were portrayed. Even though the victim's mother was sad for her loss, the visit helped her, at least for a short period.
Please fill in your e-mail so we can share with you our top stories!