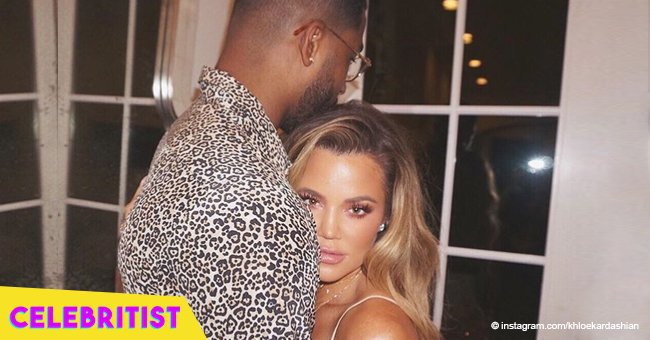 Khloé Kardashian calls Tristan Thompson a 'great daddy' after cheating scandal

TV personality and businesswoman Khloé Kardashian, best known for Keeping Up with the Kardashians, took to Snapchat to share how a 'great daddy' her boyfriend is.
On July 6, 2018, Khloé shared a short video in the previously mentioned social media platform saying that NBA professional player Tristan Thompson, the father of their 12-week-old baby True, was very good at parenting, reported People.
She revealed that he did all the feedings while Khloé was not around. The 34-year-old mother had her first day back at work at her brand Good American since she welcomed True, so Tristan had to take care of the baby himself.
Khloé even sent her regards to all the 'good dads' in the world as a way to put Tristan like a sort of role model for every parent.
Before that, she shared another video admitting that leaving True to go to work made her anxious. However, she felt eager to get back to work since she has a new 'push and motivation.'
'I've been thinking about the 6th, the 6th, the 6th, oh my God, I have to start work on the 6th, and I've been getting just anxious about it. And today I'm very anxious,' said Khloé.
Later, the TV personality admitted that she loved the routine she and True have together.
Finally, she apologized to Kourtney Kardashian about all the times she made fun of her for the struggles of being a working mother.
When Khloé got home, she celebrated by enjoying the rest of the day with True, posting videos of the girl smiling for the camera while her mother said 'who is that beautiful girl?'
Tristan and Khloé welcomed True to the world on April 16, a couple of days after videos and photos of him cheating on Khloé started circulating.
Pictures showed the NBA player cheating on Khloé, who was pregnant at that time, with an unidentified woman at his hotel in New York City, reported Insider.
After that, a video from October showing Tristan kissing two women in a club was also shared. Thankfully, the couple managed to talk through the problems and are doing their best to raise True as good as possible.
Please fill in your e-mail so we can share with you our top stories!