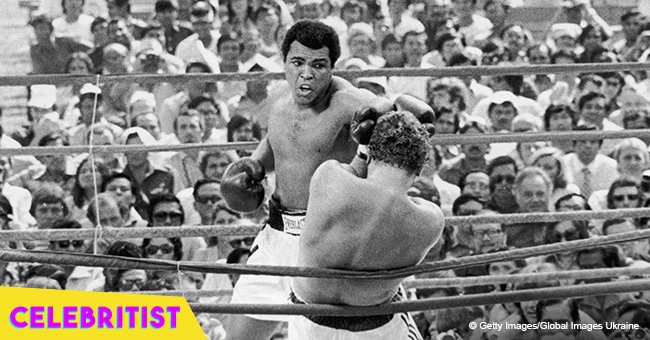 Muhammad Ali's 16-year-old grandson is now a young boxer, following in grandpa's footsteps
The young teenage athlete has some very large shoes to fill, but he's going for it anyway as he tries to carve out a career for himself as a boxer.
Nico Ali Walsh is the grandson of the great Muhammad Ali, and as such has royal boxing blood running through his veins. Now, almost 58 years after his grandfather burst onto the scene, Walsh is trying to make it as a boxer as well.
Nico was just 16 in 2016 when his grandfather passed away, but it was also the year he started drawing attention as a boxer in his own right.
Just months after Ali passed away, Nico stepped into the ring at the gym at Los Angeles Valley College in the San Fernando Valley. Had he been billed as just Nico Walsh, no one would have paid him any mind.
But instead the teenager chooses to wear his maternal surname as a badge of honor, and so the several hundred fans packed into the bleachers immediately recognized the legacy attached to him.
"Now that my dad's no longer with us, it's even more special that he's pursuing this career because my daddy's looking down on him as our angel," Nico's mother, Rasheda Ali Walsh, told FOX Sports. "My daddy's visited Nico in his dreams. And I think he feels like my dad's passed the torch over to him. We're spiritual beings and I feel that if Nico feels that his grandfather wants him to follow in his footsteps and do good things by this career, I'm not going to interfere with that."
Nico also told the publication that his grandfather had wanted him to box, and he felt that he was taking on the sport with his grandfather's blessing.
Before Ali passed, Nico would show him videos of his practice sparring, and his grandfather would give him advice on where he could improve, and even lifestyle tips to keep in shape to stay competitive.
But despite having his grandfather's encouragement to box, Nico's parents were initially hesitant by his desire to get involved in the sport.
"Originally we tried to get him to go out for football," his father Bob Walsh told FOX Sports. "He did it for a few weeks and hated it."
Nico's parents' concerns hinged around his safety, as boxing is a sport notorious for serious injuries. They were also concerned that the public expectation of him because of the name he carries would be too much to cope with.
For Nico's part, he is very well aware of the legacy attached to his last name.
"I know what my last name means to people because that's my family," Nico told the Chicago Sun Times.
In honor of his grandfather, Nico uses Ali's life as a guide for himself, both in and out of the ring. Part of that is Nico's participation in a bout at the Celtic Boxing Club of Chicago, where all proceeds go to Christmas Without Cancer.
Nico was to be the featured fighter, with the legacy of his name expected to draw in the crowds.
"It was an opportunity for me to get a fight here," Nico said of the invitation. "It's hard to find (amateur) fights in Vegas so it was the perfect opportunity to come here and box for a good cause."
Please fill in your e-mail so we can share with you our top stories!